The second gunman suspected in the attack on a free speech event in Garland, Texas, has been identified as Nadir Soofi, the roommate of the previously identified attacker Elton Simpson, according to several reports. Both men reportedly lived together in Phoenix.
NEW: 2nd gunman in Garland ID'd as Nadir Soofi of Phoenix, roommate of other shooter @NBCDFW http://t.co/ZxnIzPLTVd pic.twitter.com/QYXGGdsYzP

— ScottGordonNBC5 (@ScottGordonNBC5) May 4, 2015
NEW: We have just obtained this old mugshot of Elton Simpson, suspect in #garlandshooting http://t.co/ZxnIzPLTVd pic.twitter.com/nL3WpGcInj

— ScottGordonNBC5 (@ScottGordonNBC5) May 4, 2015
While Simpson was reportedly known by the FBI and convicted in 2010 for lying to authorities about plans to travel to Africa, Soofi was apparently not under surveillance by law enforcement or widely known.
Both Simpson and Soofi were both shot and killed after they allegedly opened fire outside a Prophet Muhammad art exhibit cartoon contest in Texas. The stated purpose of the event was to promote free speech.
Arizona lawyer Kristina Sitton, who previously represented Simpson, told the Associated Press that the man was a devout Muslim and respectful of the legal process. She said he had converted to Islam as a young man.
Federal law enforcement officials reportedly searched Simpson's property in Phoenix on Monday as well as vehicles at the location.
As previously reported by TheBlaze, it was speculated that Simpson sent out a cryptic tweet before allegedly attempting to carry out the attack in Garland.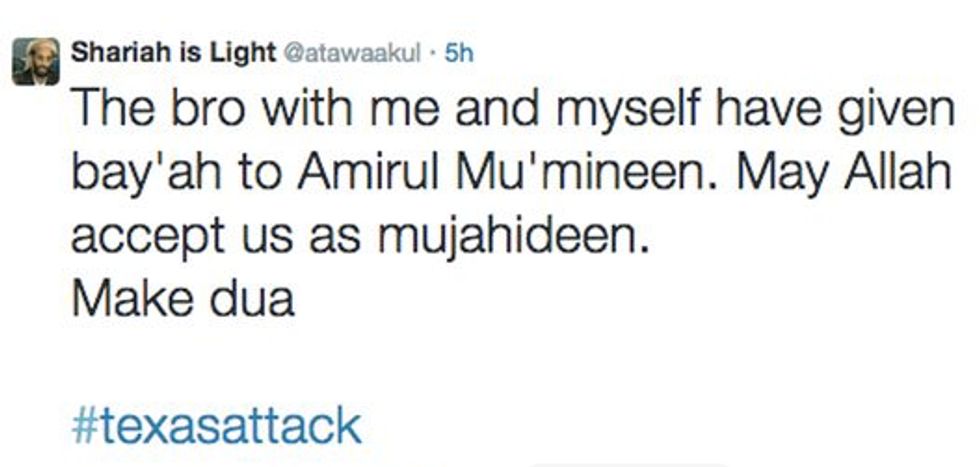 Twitter
The Associated Press contributed to this report.
---