© 2023 Blaze Media LLC. All rights reserved.
Possible Suspect Identified in Texas Muhammed Cartoon Shooting, Lived in Phoenix
As police continue to investigate the shooting outside of a controversial contest for the best cartoon depicting the Prophet Muhammad that left two attackers dead, a possible suspect has reportedly been identified.
A Phoenix man named Elton Simpson, 30, is suspected of having involvement in the shooting, which unfolded on Sunday evening outside of an event held at the Curtis Culwell Center in Garland, Texas, according to ABC News.
Simpson has a history with the FBI, as he was convicted for lying to authorities about plans to travel to Africa, though a judge ruled that there was not adequate proof that he had plans to engage in terrorism, according to the outlet.
Court documents detail that Simpson was initially suspected of making false statements in January 2010 that involved "violent jihad."
"The defendant falsely stated to special agents of the FBI that he had not discussed traveling to Somalia, when in fact he had discussed with others traveling to Somalia for the purpose of engaging in violent jihad," a complaint reads.
Simpson was convicted, but placed on probation due to the lack of terror evidence, ABC News reported.
Read more about Simpson here and see a court document detailing the case below:
Details about the Garland case are still unfolding, though a bomb squad was purportedly sent to Simpson's home in Phoenix, Arizona, overnight, with authorities believing that he also sent a series of cryptic tweets prior to the attack.
A now-suspended Twitter account that went by the name of "Shariah is Light" and had the username @atawaakul reportedly wrote, "The bro with me and myself have given bay'ah to Amirul Mu'mineen. May Allah accept us as mujahideen. Make dua. #texasattack."
The message was sent not before the shooting, WFAA-TV reported.
The term "mujahideen" is used by those who consider themselves warriors of the Muslim faith, according to Encyclopedia Britannica.
That initial Twitter account linked to a separate account with the username of @_AbuHu55ain, with the subsequent account tweeting, "The knives have been sharpened, soon we will come to your streets with death and slaughter," before the attack.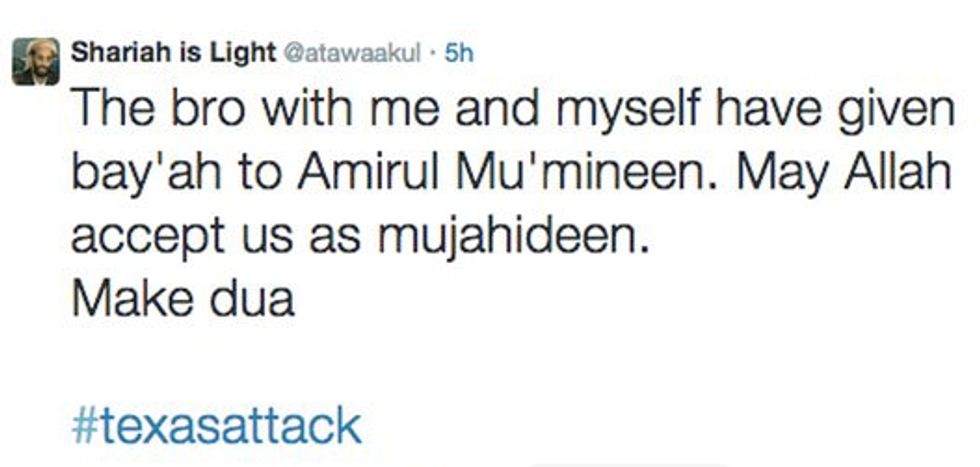 Twitter
And that wasn't the end of the activities on the now-suspended @_AbuHu55ain account, as tweets following the shooting offered support for the attack, with one even claiming that those insulting Muhammad should be killed; that tweet used the hashtag #GarlandShooting, WFAA-TV reported.
The cartoon contest — which sparked anger among Islamic State adherents who called for attacks against it in recent days — was organized by American Freedom Defense Initiative, a group that is run by Pamela Geller. 
(H/T: WFAA-TV)
Want to leave a tip?
We answer to you. Help keep our content free of advertisers and big tech censorship by leaving a tip today.
more stories
Sign up for the Blaze newsletter
By signing up, you agree to our
Privacy Policy
and
Terms of Use
, and agree to receive content that may sometimes include advertisements. You may opt out at any time.