© 2023 Blaze Media LLC. All rights reserved.
Two Gunmen Open Fire Outside Muhammad Cartoon Contest in Texas; Bomb Squad Responds
Police official: One officer and two suspects have been shot.
UPDATE: 12:58 a.m. -- There were reports of an explosion near the convention center in Garland, Texas, as police continued to work the scene of the shooting.
It was not clear if police found explosives in the suspects' vehicle.
BREAKING: Explosion heard as bomb teams worked around the vehicle police say was driven by two gunmen @NBCDFW pic.twitter.com/HN4zTb9zMR

— Jocelyn Lockwood (@JocelynNBC5) May 4, 2015
Garland police had warned of electronic magnetic pulse prior to event @NBCDFW

— Kevin Cokely (@KevinCokelyNBC5) May 4, 2015
Prior to the reported explosion, several reporters said police had warned they might deploy an electronic magnetic pulse, or EMP, though the claim was not confirmed and there are still questions about such a device being available to law enforcement.
Original story below
---
GARLAND, Texas (TheBlaze/AP) — A contest for cartoon depictions of the Prophet Muhammad in a Dallas suburb was put on lockdown Sunday night and attendees were being evacuated after authorities reported a shooting outside the building.
An officer dressed in SWAT gear took the stage toward the end of the event at the Curtis Culwell Center in Garland and told attendees, including an Associated Press reporter, that a shooting had occurred. He said one officer -- who was later released from the hospital -- and two unidentified suspects were shot. Both suspects were reported dead on Sunday.
It wasn't immediately clear if the shooting was related to the event and police said they recieved no "credible threats" beforehand. The city of Garland later issued the following statement on the incident: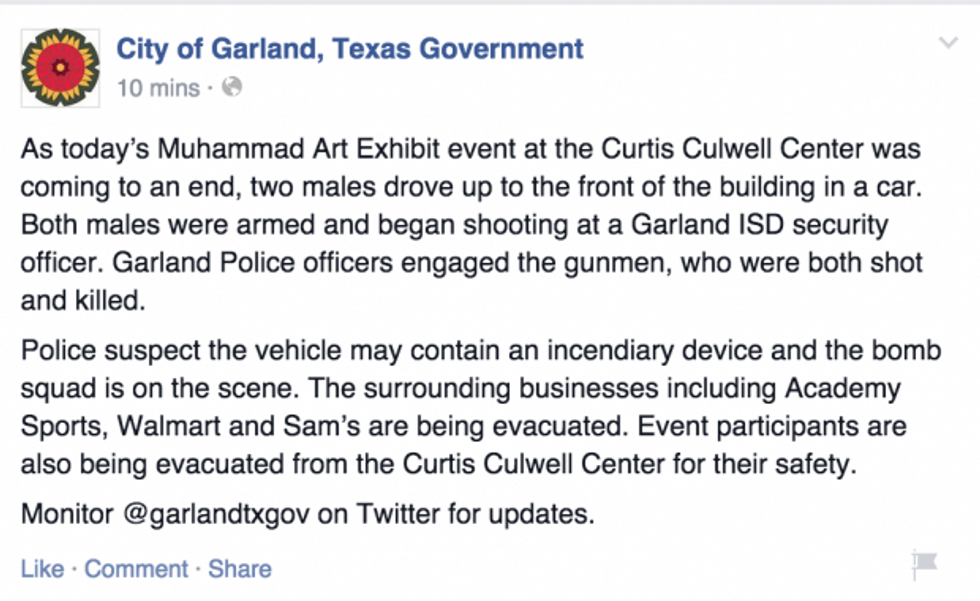 (Facebook)
The bomb squad from Plano, Texas, was seen arriving to assist during the tense situation:
Plano bomb squad is arriving on scene to assist.. @NBCDFW pic.twitter.com/NmF33JnjL0

— Jocelyn Lockwood (@JocelynNBC5) May 4, 2015
It was later reported that the suspects' vehicle, believed to possibly contain "incendiary devices," would be detonated.
Pamela Geller, president of the American Freedom Defense Initiative, said that she planned the Sunday event to make a stand for free speech in response to the outcries and violence over drawings of Muhammad.
Geller's group is known for mounting a campaign against the building of an Islamic center blocks from the World Trade Center site and for buying advertising space in cities across the U.S. criticizing radical Islam.
The group did not immediately respond to an emailed request for comment late Sunday.
Shots fired at our free speech event #sharia #islam

— Pamela Geller (@PamelaGeller) May 3, 2015
Cop shot, 2 suspects shot - possible explosives at our free speech event #freespeech #afdi #jihad

— Pamela Geller (@PamelaGeller) May 4, 2015
Video from the event also emerged:
Officers move crowd out of main hall for safety pic.twitter.com/R7k7uU3FZ4

— Gabriel Roxas (@cbs11gabriel) May 4, 2015
Crowd asked to wait in stands pic.twitter.com/TS5WwgeGF6

— Gabriel Roxas (@cbs11gabriel) May 4, 2015
While on lockdown, the audience reportedly broke into song and prayer, singing "God Bless America" and the national anthem.
While in lockdown, audience breaks into song and prayer. National Anthem an God Bless America pic.twitter.com/ufgR8BOOpr

— Bob Price (@BobPriceBBTX) May 4, 2015
SWAT inside confirms one officer shot & transported, 2 suspects shot, possible explosives outside pic.twitter.com/QKZpOQjXFz

— Gabriel Roxas (@cbs11gabriel) May 4, 2015
About 75 attendees were taken to another room. Later, a group of 48 people were escorted to a school bus. Authorities told attendees they would be taken to a nearby high school. A second group was set to be moved shortly after.
Johnny Roby of Oklahoma City, Oklahoma, was attending the conference. He told the AP he was outside the building when he heard around about 20 shots that appeared to be coming from the direction of a car passing by.
Roby said he then heard two single shots.
He said he heard officers yell that they had the car before he was sent inside the building. The officer injured in the shooting has been identified as Garland ISD security officer Bruce Joiner. He was treated for a gunshot to the ankle and released from the hospital on Sunday.
Photo of Bruce Joiner, Garland ISD security officer shot at Muhammad event. 2 others killed: http://t.co/m1ff3TNgTQ pic.twitter.com/e6kRUjgPJe

— NBC DFW (@NBCDFW) May 4, 2015
The New York-based American Freedom Defense Initiative was hosting a contest that would award $10,000 for the best cartoon depicting the Prophet Muhammad at the venue.
Such drawings are deemed insulting to many followers of Islam and have sparked violence around the world. According to mainstream Islamic tradition, any physical depiction of the Prophet Muhammad — even a respectful one — is considered blasphemous.
In January, 12 people were killed by gunmen in an attack against the Paris office of the satirical newspaper Charlie Hebdo, which had lampooned Islam and other religions and used depictions of Muhammad.
---
Want to leave a tip?
We answer to you. Help keep our content free of advertisers and big tech censorship by leaving a tip today.
more stories
Sign up for the Blaze newsletter
By signing up, you agree to our
Privacy Policy
and
Terms of Use
, and agree to receive content that may sometimes include advertisements. You may opt out at any time.