© 2023 Blaze Media LLC. All rights reserved.
Matt Walsh Clashes With Christian Pastor Over Bruce Jenner and How Best to Respond to the Transgender Issue: 'God Creates a Man or He Creates a Woman
"We've gotten to that point in our culture, which is a very dangerous, evil place, because Christian leaders haven not stood up and said, 'This is wrong.'"
Conservative commentator Matt Walsh and Christian preacher Jarrid Wilson have starkly different viewpoints about how Christians and non-Christians should be responding to former Olympian Bruce Jenner's recent decision to come out as transgender.
Walsh, who penned the op-ed for TheBlaze, "Bruce Jenner Is Not A Woman. He Is A Sick And Delusional Man," and Wilson, who responded to Walsh's piece with an open letter of his own, "Dear Bruce Jenner: Jesus Loves You and Cares For You," appeared on The Church Boys podcast this week, where the two clashed over the contentious issue.
While Walsh and Wilson, who are both Christians, agreed that they believe God designs every individual as either male or female, they disagreed over how believers should approach the transgender issue, with Wilson arguing that Walsh's op-ed lacked compassion.
Listen to the two debate their responses to Jenner's announcement and the transgender issue more generally:
"I think the article itself just frustrated me and I would say frustrated other believers," Wilson said of Walsh's initial piece during the debate. "As a Christ follower or as a pastor … I'm trying to encourage people on a daily basis to consistently show love to people, even if they don't necessarily understand what they're going through. It doesn't mean that they have to agree with what they're doing."
But while Wilson, whose piece was a direct response to Walsh, was concerned a lack of compassion, Walsh's focus was on the overwhelming praise being showered upon Jenner, and his contention that a counter-narrative hadn't been perpetuated in media.
"[I was] watching and reading and listening to the reaction and analysis after the fact and just this completely absurd and over the top adulation … bordering on worship of the man because of what he's doing," he said. "So, I thought, 'Maybe I should jump into this.'"
Walsh expressed his worry that society is in a moral crisis, seeking to address the transgender issue by encouraging people to think deeper and Christian leaders, in particular, to take a stand.
"What I do care [about] is that we all come to an understanding that, as Christians, we have to stop sacrificing the hard, difficult truth for the sake of seeming accepting, because I think that's what's driven us to the point we're at in our culture, where we have a million babies being killed every year, the definition of marriage crumbling — we have now even the reality of man versus woman is no longer accepted," Walsh said. "And I think we've gotten to that point in our culture, which is a very dangerous, evil place, because Christian leaders haven't not stood up and said, 'This is wrong' and just laid out the truth."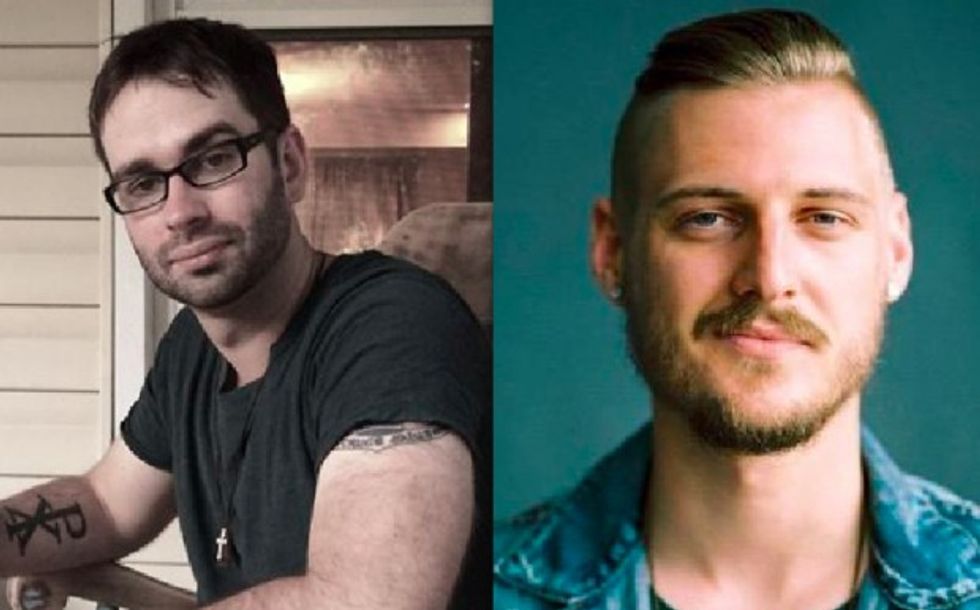 Matt Walsh (left) and Pastor Jarrid Wilson (right)
Wilson said that he believes wholeheartedly in standing up for truth, but that Christians must do so with love.
"God doesn't make mistakes when he creates a man or a woman. God creates a man or he creates a woman," Wilson said. "But I also believe when it comes to an experience or a circumstance — when somebody says they are transgender I definitely believe that there is a personal and relational understanding that needs to take place when you are trying to talk to somebody about, let's say what you perceive as truth or what somebody else perceives as truth, instead of wadding it up in a ball and throwing it at their face."
The two didn't come to an agreement, as Wilson wanted more compassion and Walsh wanted his opponent to "stand up" more fervently on the issue in his op-ed, though they respectfully listened to one another as they debated and discussed the topic. What do you think?
Read Walsh's original op-ed here and Wilson's response here. 
Want to leave a tip?
We answer to you. Help keep our content free of advertisers and big tech censorship by leaving a tip today.
more stories
Sign up for the Blaze newsletter
By signing up, you agree to our
Privacy Policy
and
Terms of Use
, and agree to receive content that may sometimes include advertisements. You may opt out at any time.