Tuesday night's Sports Emmy Awards ceremony in New York City delivered a touching moment as TNT's veteran anchor, Ernie Johnson, took the Emmy he had just won and gave it away.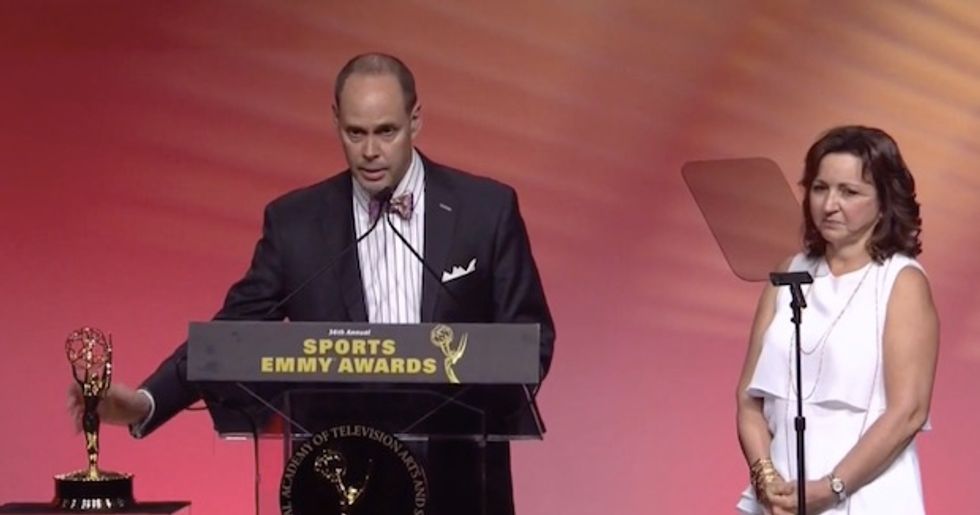 Image source: YouTube
Johnson, a three-time Emmy winner surprised everyone during his acceptance speech when he picked up the trophy and announced, "As for this, there's only one place it belongs, and that's on the mantle at Stuart Scott's house."
Scott was the veteran ESPN anchor who lost his battle with cancer in early January.
The crowd stood and cheered as TNT anchor invited Taelor and Sydni, Scott's daughters, to come to the stage, telling them, "Like a lot of people in this room, I loved your dad."
Johnson, who fought and beat cancer himself in 2006, was visibly emotional, recalling the encouraging messages he exchanged with Scott during his treatment: "You may have cancer, but it doesn't have you. And you just fight, and you lean in on people who love you."
As he handed the award to the girls, Johnson added, "We loved Stuart Scott, this is your Emmy."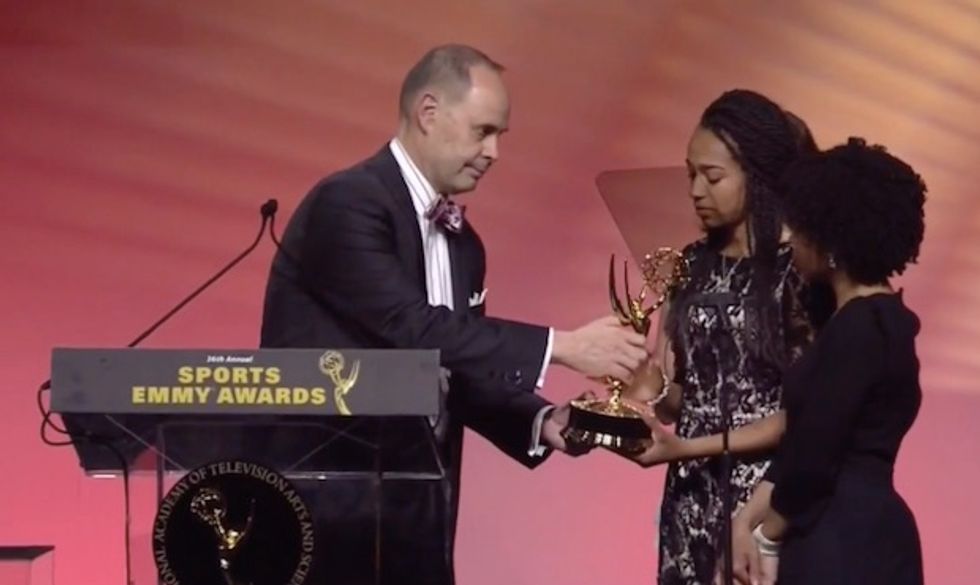 Image source: YouTube
Within minutes, social media outlets were buzzing with praise for Johnson's move.
Ernie Johnson, in an all time class move, gives his Emmy to Stuart Scott's daughters pic.twitter.com/xZbs37Rseo

— Mike Soltys (@espnmikes) May 6, 2015
Already knew that Ernie Johnson is a wonderful guy, but giving his Emmy to Stuart Scott's daughters takes a special brand of humanity...

— Michael Wilbon (@RealMikeWilbon) May 6, 2015
Who says there are no role models left? Ernie Johnson gave his Emmy to Stuart Scott's daughters.

— Don Van Natta Jr. (@DVNJr) May 6, 2015
Watch the emotional moment:
Sports Illustrated covered the story for the magazine's online readers.
___
Follow Mike Opelka (@Stuntbrain) on Twitter.