Story by the Associated Press; curated by Oliver Darcy.
—
OKLAHOMA CITY (AP) — Tornadoes raked the southern Plains Wednesday, overturning cars on an Oklahoma City interstate and destroying dozens of homes.
No deaths were immediately reported from the tornadoes that hit Oklahoma and rural parts of Kansas and Nebraska.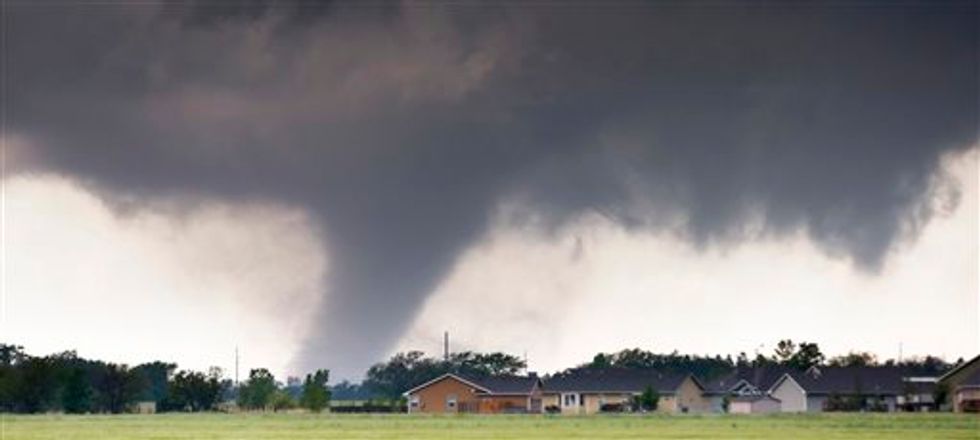 A tornado passes near Halstead, Kan., Wednesday, May 6, 2015. A swath of the Great Plains is under a tornado watch Wednesday, including parts of North Texas, Oklahoma, Kansas and Nebraska. (Travis Heying/The Wichita Eagle via AP)
The worst damage seemed to be in the Oklahoma City area. A twister destroyed homes at Bridge Creek, Amber and Blanchard, southwest of the city, and it appeared another tornado touched down later Wednesday evening when a second storm came through the area.
"We have damage reports, so we do strongly think there was a tornado on the south side of Oklahoma City," meteorologist Michael Scotten with the National Weather Service in Norman said after the second storm that hit around 8:40 p.m.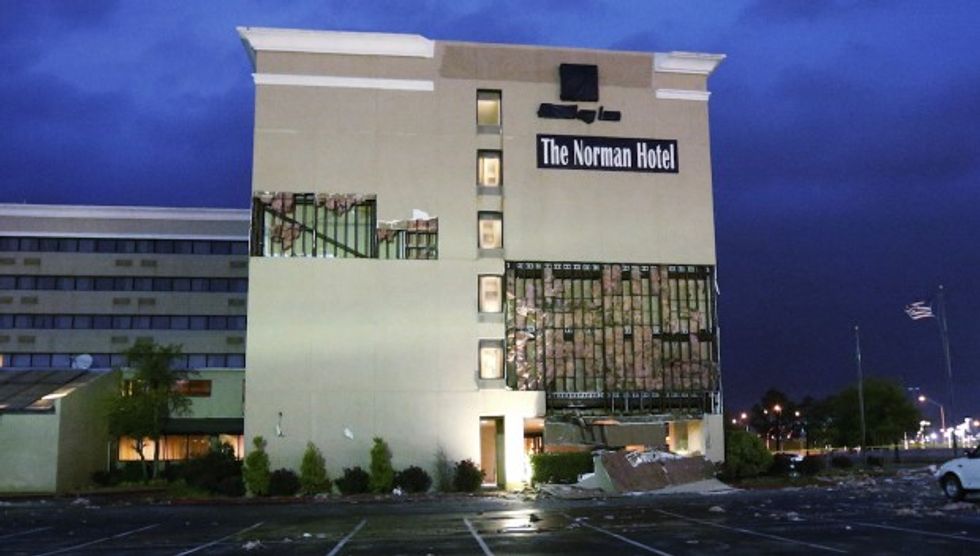 Debris scatters the parking lot of The Norman Hotel in Norman, Okla., Wednesday, May 6, 2015. A tornado grazed Oklahoma City and its suburbs Wednesday, threatening rush hour drivers and prompting schools to hold children in safe rooms until the danger passed. (AP Photo/Sue Ogrocki)
That storm flipped vehicles on Interstate 35 and left power lines strewn across the roadway, Scotten said.
It wasn't immediately clear whether anyone was hurt. The Oklahoma Highway Patrol and an ambulance company spokeswoman both said emergency personnel were sent to the scene, though no injuries were immediately reported.
In Grady County, about 25 miles southwest of Oklahoma City, a zoo was hit by a tornado, prompting concerns that animals could be on the loose. Alisa Voegeli, a dispatcher at the sheriff's office, said the zoo's owner and a deputy were on scene Wednesday night inspecting the damage.
Another threat also loomed: flooding. The storms dumped up to 6 inches in the southern part of Oklahoma City, prompting the city to issue a flash flood emergency for the first time in its history, said city spokeswoman Kristy Yager. Road crews were waiting for the storms to abate to set up barricades and evaluate trouble spots.
"They'll dispatch as soon as the storms end and the weather clears," Yager said.
The Storm Prediction Center had warned that bad weather would come to Tornado Alley, and more storms were possible later in the week, with flooding a major concern.
"People just really need to stay weather aware, have a plan and understand that severe storms are possible across portions of the southern Plains almost daily through Saturday," National Weather Service meteorologist Jonathan Kurtz said.
Another possible #tornado happening to my southwest from highway 9 at I-44 #okwx http://t.co/1kixHSkist

— JR Hehnly (@JR Hehnly) 1430958827.0
In Oklahoma, Grady County Emergency Management Director Dale Thompson said about 10 homes were destroyed in Amber and 25 were destroyed in Bridge Creek. As the storm moved to the east, forecasters declared a tornado emergency for Moore, where seven schoolchildren were among 24 people killed in a storm two years ago. When the first of the storms moved through Wednesday, school districts held their pupils in safe places.
At Will Rogers World Airport in Oklahoma City, people were twice evacuated into a tunnel outside the security zone.
Due to severe #okwx, WRWA is again evacuating all passengers-visitors-employees to our pedestrian Tunnel.

— Will Rogers World Airport (OKC) (@Will Rogers World Airport (OKC)) 1430956571.0
All flights are canceled for the rest of the night. There will be no more flights tonight at WRWA.

— Will Rogers World Airport (OKC) (@Will Rogers World Airport (OKC)) 1430968099.0
In Nebraska, 10 to 15 homes were damaged near Grand Island, and between Hardy and Ruskin, near the Kansas line.
At least nine tornadoes were reported in Kansas, the strongest of them in the sparsely populated north-central part of the state. That included a large tornado near the tiny town of Republic just south of the Nebraska state line, where some homes were damaged. In Harvey County, a tornado destroyed a hog barn and damaged trees, according to the National Weather Service.
—