© 2023 Blaze Media LLC. All rights reserved.
Woman Discovers Substance Inside Her Granola Bar Wrapper That's Definitely Not Supposed to Be There
How did it get there?
A San Antonio woman opened up her granola bar expecting to find just that – a granola bar. But the illicit substance she found with her snack has police investigating how it got there.
Cynthia Rodriguez said she notified policed March 18 after finding a small bag inside the her Nature Valley granola bar wrapper. The bar was one of many packed inside a box she got from someone who hands out samples at area grocery stores.
That bag? Cocaine.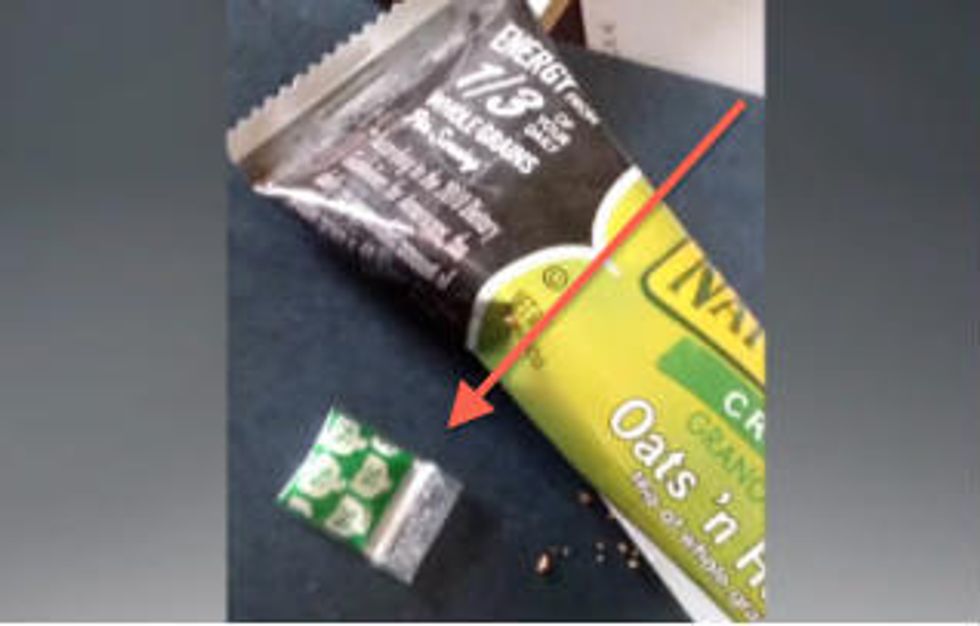 Image source: KENS
Rodriguez said the packaging didn't look like it had been opened before and the company that produces the snacks maintains there's no way it could have gotten there inside the factory, KENS-TV reported.
A San Antonio Police Department officer and detective first tested the drug to see if it was heroine but determined that wasn't it. They later tested it to see if it was cocaine and the results were positive.
"And they both looked at each other and he goes 'oh my goodness, its high quality cocaine,'" Rodriguez said.
San Antonio Police Sgt. Javier Salazar told KENS-TV that authorities still are not sure if the cocaine was added on purpose or if it may have fallen out of someone's pocket along on the assembly line.
General Mills, the company that produces Nature Valley products, has tried to discredit the second possibility by saying it is "confident" the incident did not occur in its facility.
However it happened, Rodriguez can't help but wonder what might have happened if one of her 11 grandchildren, three of whom live with her, opened the package instead.
"What if they thought it was sugar?" Rodriguez said.
"You think of a child getting a hold of a package that's got interesting symbols on it, dollar signs in this case, and ingesting something like cocaine that could have a possibly dangerous effect, maybe even deadly on a child," Salazar added.
(H/T: KENS-TV)
–
Follow Jon Street (@JonStreet) on Twitter
Want to leave a tip?
We answer to you. Help keep our content free of advertisers and big tech censorship by leaving a tip today.
more stories
Sign up for the Blaze newsletter
By signing up, you agree to our
Privacy Policy
and
Terms of Use
, and agree to receive content that may sometimes include advertisements. You may opt out at any time.