It was one man's first selfie – and just might be his last.
The Melbourne Herald Sun reported that a man in his 40s was shopping for a present for his partner at the the Westfield Knox mall on Wednesday when he saw a large "Star Wars" display and walked over to take a picture of himself in front of Darth Vader.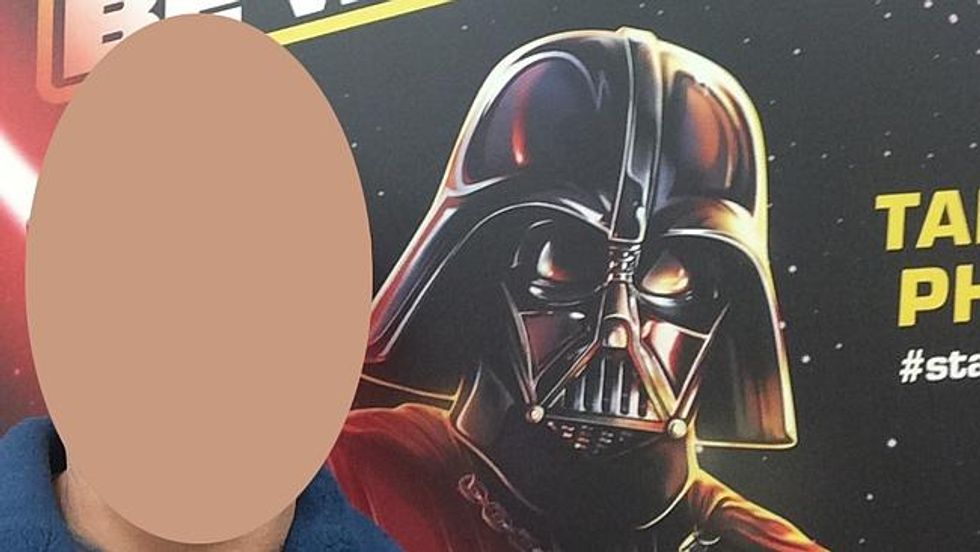 Image source: Instagram via the Melbourne Herald Sun
"There were some children there and I thought they were waiting to have a look at the display and I said to them 'kids, I won't be a second, I'm just taking a selfie to send to my children',"the man told the Herald Sun.
From there he snapped the photo and was on his way, having no idea that one woman who saw him mistook his "selfie" for him taking photos of the kids. The woman managed to snap a photo of him taking the selfie and uploaded that picture to her Facebook profile.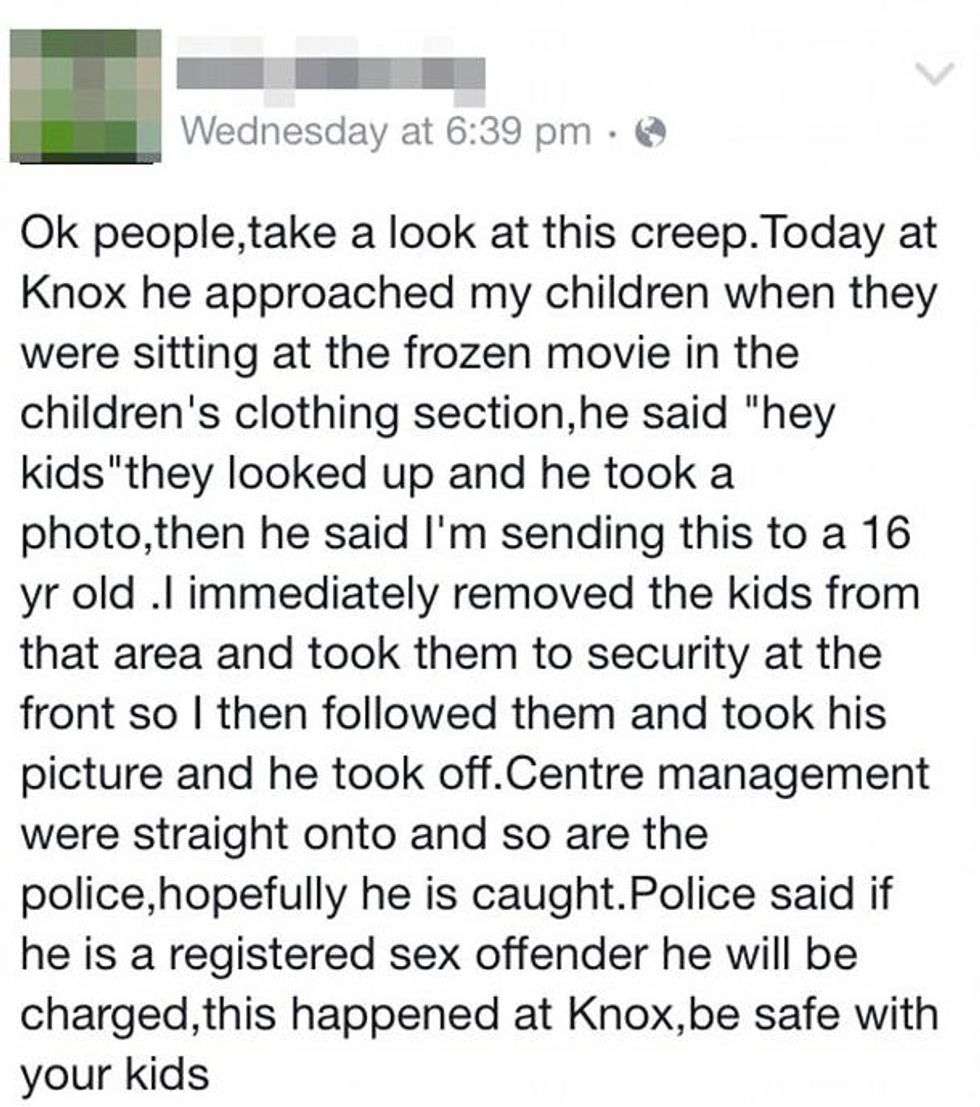 Image source: Facebook via the Daily Mail
The woman described in her post what she thought happened. Her status read:
"Ok people take a look at this creep. Today at Knox he approached my children when they were sitting at the frozen movie in the children's clothing section, he said 'hey kids,' they looked up and he took a photo. Then he said I'm sending this to a 16-yr-old. I immediately removed the kids from that area and took them to security at the front so I then followed them and took his picture and he took off. Centre management were straight onto and so are the police, hopefully he is caught. Police said if he is a registered sex offender he will be charged, this happened at Knox, be safe with your kids."
But the man still didn't know that the woman had even taken the photo, much less labeled him a child predator. He said he started getting a lot of phone calls and messages while he was in a business meeting. When he left the meeting he returned one of his missed calls and that's when he heard the news.
"I felt sick. I am so embarrassed and devastated," he said.
The man eventually went to the police to make them aware of the situation and to explain his side of the story. Police then went through his phone looking for any questionable photos and investigated the matter further.
"That's more than what the woman did who posted my photo without any investigation or course of natural justice," the man pointed out.
But the damage had already been done.
The man is urging others to not jump to conclusions and to think before they share things online. He said that he understands that in the woman's mind she probably thought she was doing the right thing, but that her decision was now causing a lot of "problems" for him.
"People need to get their information from proper news sources rather than rely on drama queens who share things without thought on Facebook," he told the Herald Sun.
The man later said that was the first time he'd ever taken a selfie.
(H/T: Daily Mail)
–
Follow Jon Street (@JonStreet) on Twitter