There are a plethora of products and techniques to help people who snore kick the habit and in the process, hopefully give anyone else within earshot a better night sleep. Little white strips that open up nasal passages, weight loss recommendations and adjusting sleeping positions are just a few tactics often recommended.
But a Brazilian study published in the journal "Chest" this week suggests that mouth and tongue exercises can help reduce the frequency of snoring by 36 percent and the intensity of it by 59 percent.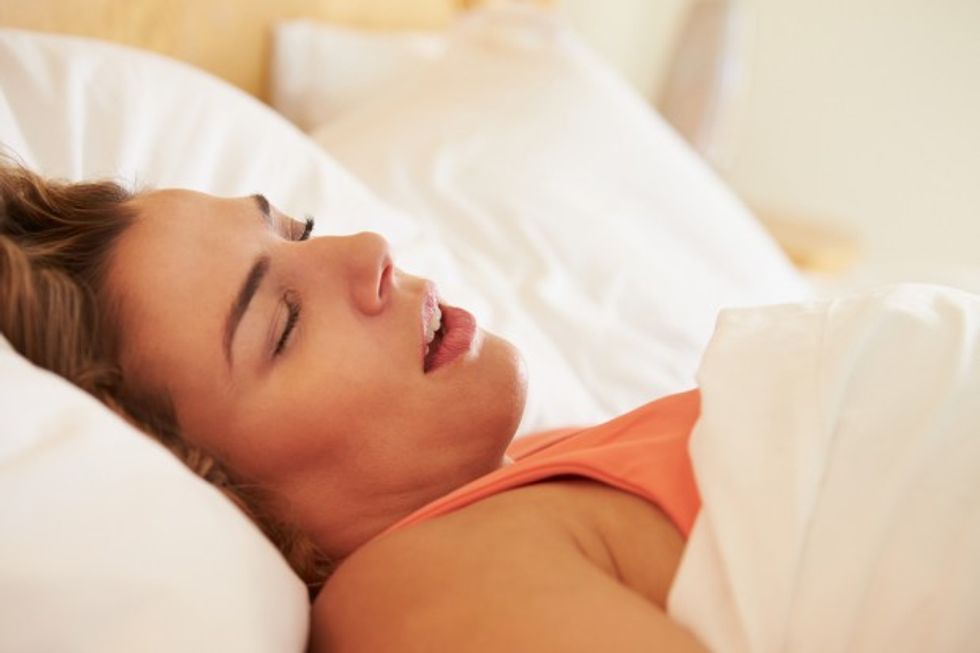 A new study suggests that you don't necessarily need fancy devices or more extreme procedures to curb snoring. Just a few mouth exercises might do it. (Photo credit: Shutterstock)
"Past studies have focused on self-reporting questionnaires. New forms of treatment for snoring focusing on objective measures were needed. We tested the effectiveness of oropharyngeal exercises to reduce snoring," Dr. Geraldo Lorenzi-said in a statement. "The exercises significantly reduced snoring in our study group."
If you're a snorer or know someone who is, here are some exercises to try as recommended by the researchers:
Pushing the tip of the tongue against the roof of the mouth and sliding the tongue backward

Sucking the tongue upward against the roof of the mouth, and pressing the entire tongue against the roof of the mouth

Forcing the back of the tongue against the floor of the mouth while keeping the tip of the tongue in contact with the bottom, front teeth

And elevating the back of the roof of the mouth and uvula while saying the vowel "A"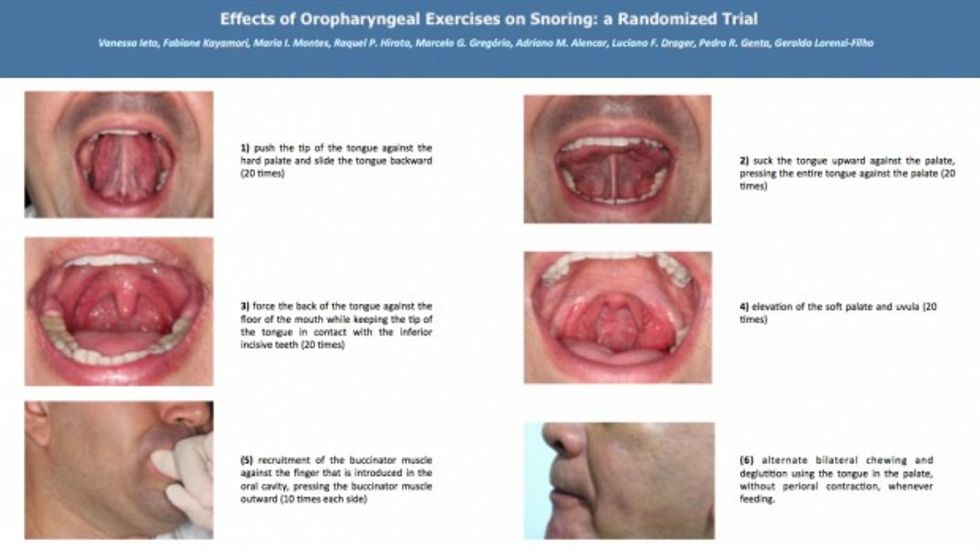 Image credit: American College of Chest Physicians and Vanessa Ieto
"This study demonstrates a promising, noninvasive treatment for large populations suffering from snoring, the snorers and their bed partners, that are largely omitted from research and treatment," said Dr. Barbara Phillips, president-designate of the American College of Chest Physicians and medical director of the sleep laboratory at the University of Kentucky College of Medicine. "Frankly, this will change the advice that I give to my patients who snore. And that's a lot of people."