The smoke billowed high, blackening the sky over Atlanta's Interstate 285 on Friday.
The victims: a family of four, killed while flying to a college graduation.
The four people killed in the crash have been identified as Greg Byrd, a 53-year-old retired North Carolina police officer, his two sons, Phillip, 26, and Christopher, 27, and Christopher's fiancee, 27-year-old Jackie Kulzer, the Daily Mail reported.
Police said the quartet was traveling, along with the family dog who was also killed in the crash, to Ole Miss in Oxford, Mississippi, for the graduation of Byrd's third son, 22-year-old Robert Byrd.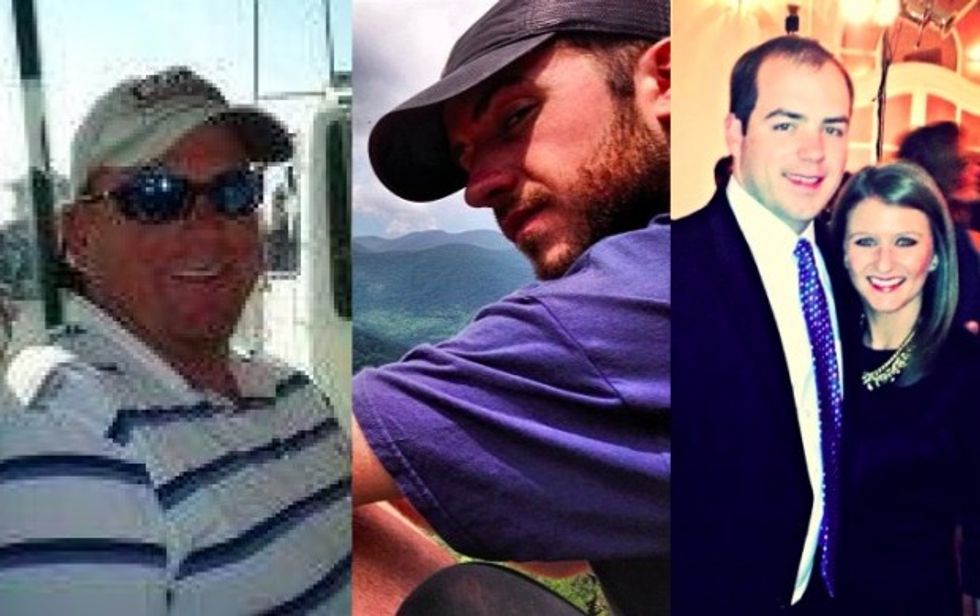 Greg Byrd, Phillip Byrd, Christopher Byrd and Jackie Kulzer were killed Friday in a plane crash on at Atlanta highway, police said. (Images via Facebook/Daily Mail)
The family's six-seater Piper PA-32 smashed into Interstate 285 within minutes of taking off from a nearby airport around 10 a.m. ET Friday.
"It grazed my hood, and the next thing I knew I looked over to my left and that plane had crashed against the median wall," truck driver Gerald Smith told the Associated Press. "I first started to walk over there, but it was blazing up and there was no way to help anybody try to get out of the plane. I just turned and dropped my head and walked away."
DeKalb County Fire Capt. Eric Jackson said the plane barely missed hitting several vehicles.
"It's a miracle, literally a miracle, that no other cars were hit," Jackson said.
WSB-TV reported that the flight had originated in Asheville, North Carolina, and that Greg Byrd had flown to Atlanta to pick up Phillip and his fiancee.
Peggy Swicegood, mother of Greg's ex-wife, told the station the tragedy left the extended family reeling.
"They were just precious," she recalled. "Christopher and his fiancee, Jackie, they went to Ole Miss. They both were going to be 28 the day before they were [to be] married in October."
She wondered how the youngest brother, her grandson, would handle the terrible loss.
"What's little Robert going to do?" she said. "He lost his two brothers and his dad."
A family friend told the Asheville Citizen-Times that Greg was an experienced pilot. Why the plane began struggling and came down hard on the Interstate remains unclear, but police told the AP they are investigating.
Online, eulogies poured out as the communities of which the family was a part grappled with the news.
R.I.P. To my big cousins Phillip Byrd and Christopher Byrd the whole family misses you guys and loves you guys. pic.twitter.com/OLcnIbknNG

— SWICE (@andrewswice) May 9, 2015
We are devastated to hear about the loss of Delta Rho alumnae, Jackie Kulzer. Please keep her family in your prayers during this tragedy.

— Ole Miss KKG (@OleMissKAPPA) May 8, 2015
Ole Miss issued a statement in support of the family:
The university is always saddened when we lose members of the Ole Miss family, and we are all heartbroken at the news of this tragedy. The circumstances of the accident, coming on the eve of Commencement, make it even more heartrending.

We offer our prayers for Robert Byrd, his extended family and their friends and will do everything we can to offer support and comfort during this time.
—
Follow Zach Noble (@thezachnoble) on Twitter