HATTIESBURG, Miss. (TheBlaze/AP) — At the shooting scene, blood stained the street beside New Hope Baptist Church.
Inside the sanctuary church members prayed for relatives of police officers Benjamin Deen, 34, and Liquori Tate, 25, who were shot and killed during a traffic stop late Saturday.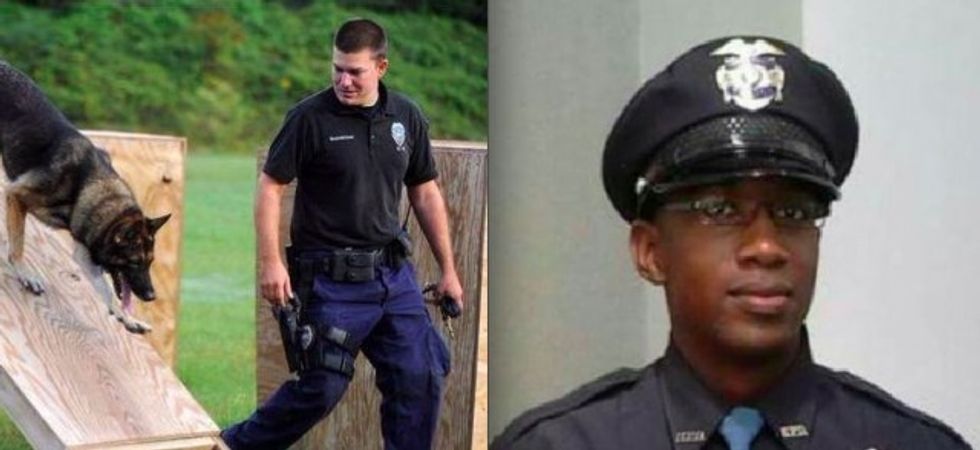 These undated photos released by the Hattiesburg Police Department show Officer Benjamin Deen, left, participating in K-9 training at the police academy in Hattiesburg, Miss., and Officer Liquori Tate, right. Both officers were fatally shot during a traffic stop Saturday evening, May 9, 2015, in southern Mississippi. (Photos: Hattiesburg Police Department via AP)
The circumstances were especially difficult because Sunday morning worship coincided with Mother's Day.
Dorothy Thompson, wife of the pastor, felt the sadness. "It's just a tragedy, going from one mother to another." She added, "Every day is a bad day (for violence), but especially on a day like today."
The U.S. flag flew at half-staff outside the Hattiesburg Police Department and red roses placed on a concrete sign wilted under the hot afternoon sun.
Here's more on the aftermath of the shooting:
—
Follow Dave Urbanski (@DaveVUrbanski) on Twitter