JAFFA, Israel (TheBlaze) — Supporters of Israel's "Freedom Movement" gathered in a theater that on all other days stages shows featuring deaf and blind actors, a powerful metaphor for the challenge they too face: promoting their libertarian aspirations in a country where the slogan "social justice" carries the day.
Hundreds of Israelis met up Thursday to hear ideas that locally are considered so radical that they're almost never heard in the Israeli mainstream media: Should Israel's strict gun control be loosened? Should the Israel Defense Forces – and the mandatory draft — be replaced by a professional army? Should marijuana be legalized? How to get the government to sell some of the 97 percent of land it owns? How to loosen crippling government regulations, monopolies and labor union control? How to institute civil marriage in a country where interfaith couples – not to mention same-sex couples — can't get a marriage license.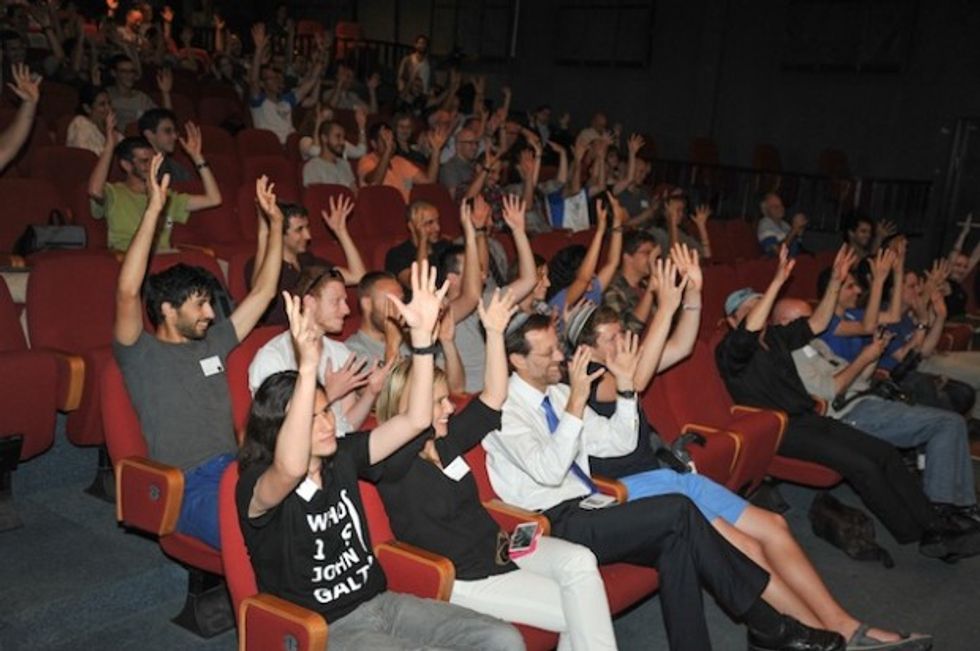 The libertarian crowd gave a round of sign language applause when deaf actors from the Na Lagaat Center in Jaffa demonstrated how to say "individual freedom" and "free market" in Israeli sign language. (Photo: Israeli Freedom Movement)
But the rallying cry of the day was this: getting the government out of the lives of individuals.
"How do we take a country that's so collectivistic in its core and ... how do you turn it into an individualistic country that respects its Jewishness, but at the end of the day the individual is sacred and the individual is the supreme value?" asked Yaron Brook, president and executive director of the Ayn Rand Institute, who traveled from the U.S. to Israel for the conference joint-organized by the Israeli Freedom Movement and Israel's Ayn Rand Center.
Many of those who came said they look to the U.S. for inspiration and hope they can be of support to their ideological allies across the ocean who face the encroachment of statism, whether it be through ever-expanding government or the progressive monopoly on education from kindergarten through college.
"We're trying from across the ocean to change this trend in Israel and aspiring to the same change to take effect in the U.S.," said conference organizer Boaz Arad, who heads the Ayn Rand Center's Israel branch.
"Our friends in America should know that there is a live and kicking movement that aspires to freedom according to the principles of the Declaration of Independence of the United States," Arad said.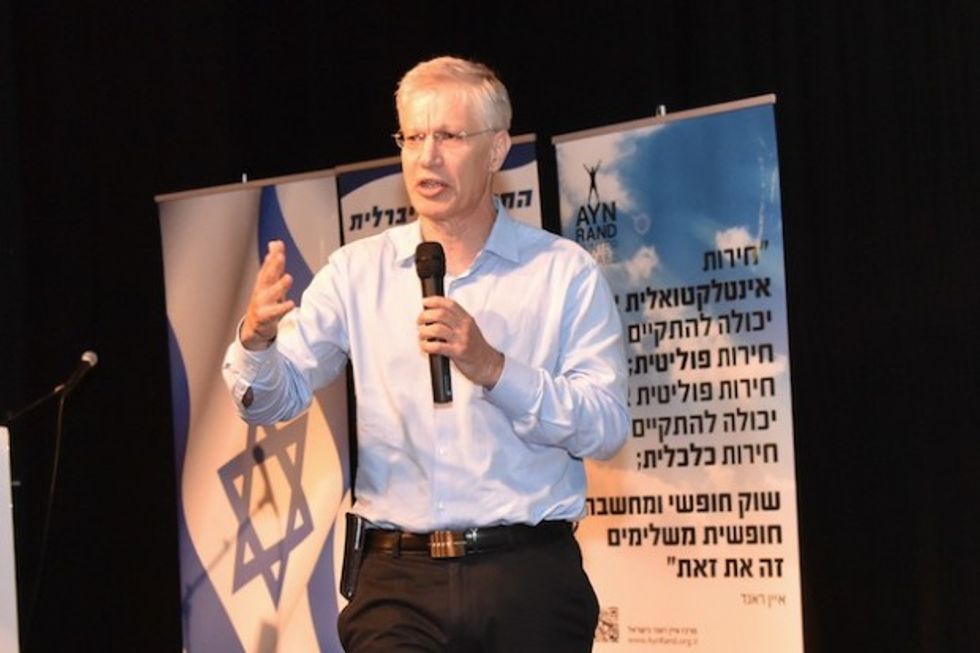 Ayn Rand Institute President Yaron Brook said it's "going to be a rough fight" to reverse the trend of statism. (Photo: Israeli Freedom Movement)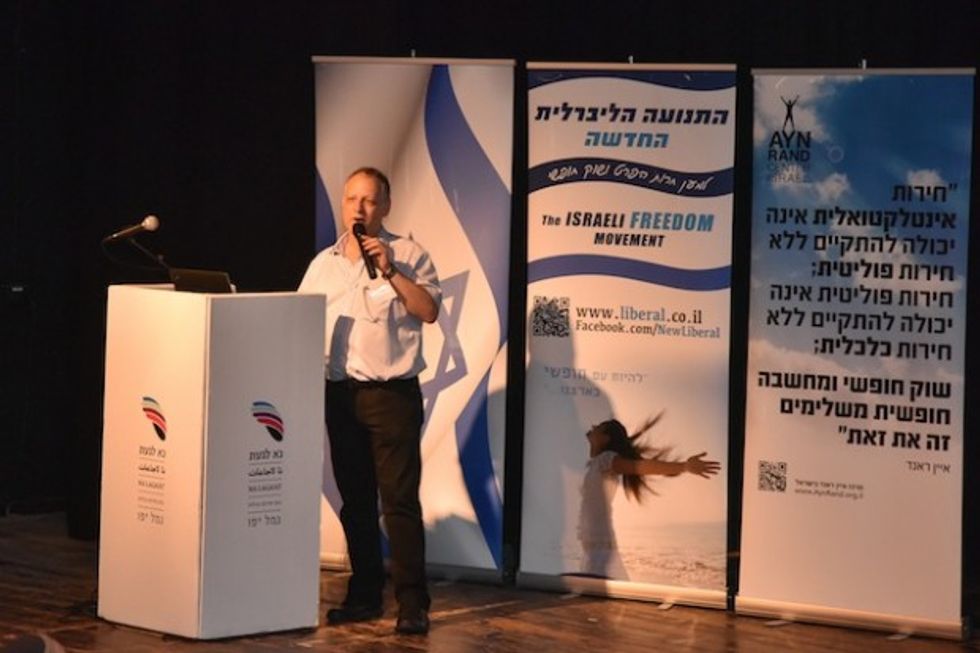 Israel's Ayn Rand Center head Boaz Arad said the U.S. Declaration of Independence has inspired Israeli individual liberty activists. (Photo: Israeli Freedom Movement)
Some of the attendees told TheBlaze they listen to conservative American talk radio shows, including those hosted by Glenn Beck and Sean Hannity, because it's hard to find libertarian voices on their own radio dials.
Yoav Kisch, a freshman member of Knesset with Prime Minister Benjamin Netanyahu's Likud Party, told those gathered that his main goal as a lawmaker is to revoke as many laws as possible.
That's not so easy when the first 30 years of Israel's statehood saw politics dominated by the socialist Labor Party, and lawmakers measure their success based on the number of laws they've successfully passed. Recent efforts include a law setting price controls on books, a law mandating pharmaceuticals be labeled in four languages and a bill mandating rent control.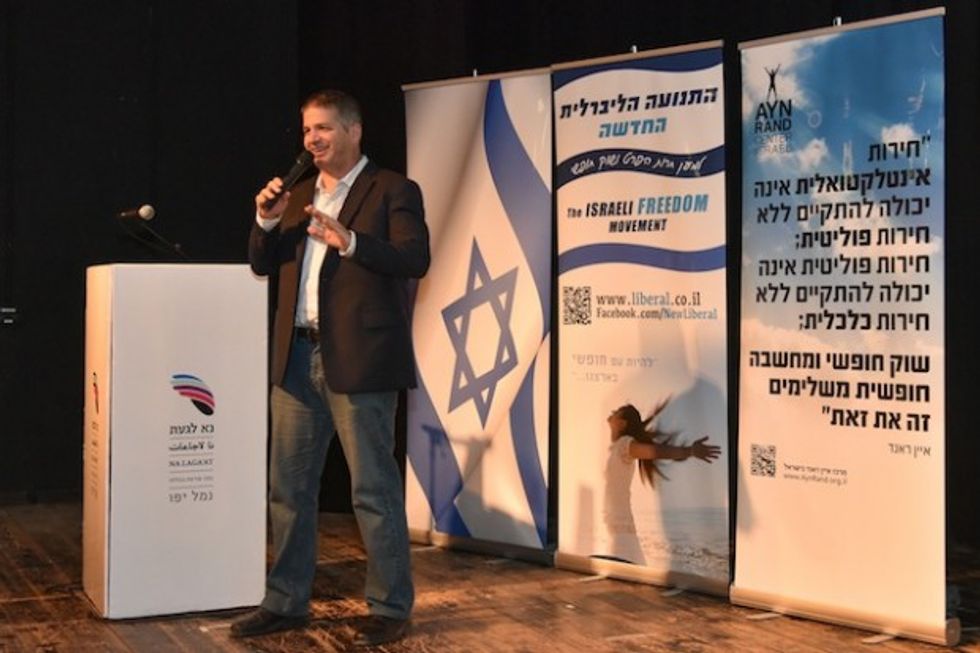 Likud Member of Knesset Yoav Kisch has the most unorthodox goal for a lawmaker: to revoke as many laws as he can. (Photo: Israeli Freedom Movement)
Asked what the U.S. might learn from Israel's experience, Brook told TheBlaze, "It can learn socialism doesn't work, central planning is a disaster, that Israel, when [it] lets certain sectors be a little bit free, it flourishes."
Brook said he believes international pro-liberty groups are gaining traction, not only in Israel, but also, for example, in Poland and China.
"YouTube and the Internet has made it possible for us to go global at a very low cost, and that's a beautiful thing and an amazing thing," Brook said. "One thing that I can say I'm optimistic about is if we can harness the Internet optimally we have a chance of beating the statists. It's going to be a rough fight."