Police in Michigan arrested someone for alleged reckless driving last week and the whole incident — from the driver speeding dangerously around cars on the highway's shoulder to him being pulled over — were caught on a fellow motorist's dashcam. But that video might show something else too.
Some are saying that the car going "well over 120 mph" and the car that was pulled over are similar but different.
"That poor guy is going to get charged for the first guy speeding, wrong place at the wrong time," someone going by the username lukesparksoff wrote on the forum camaro 5.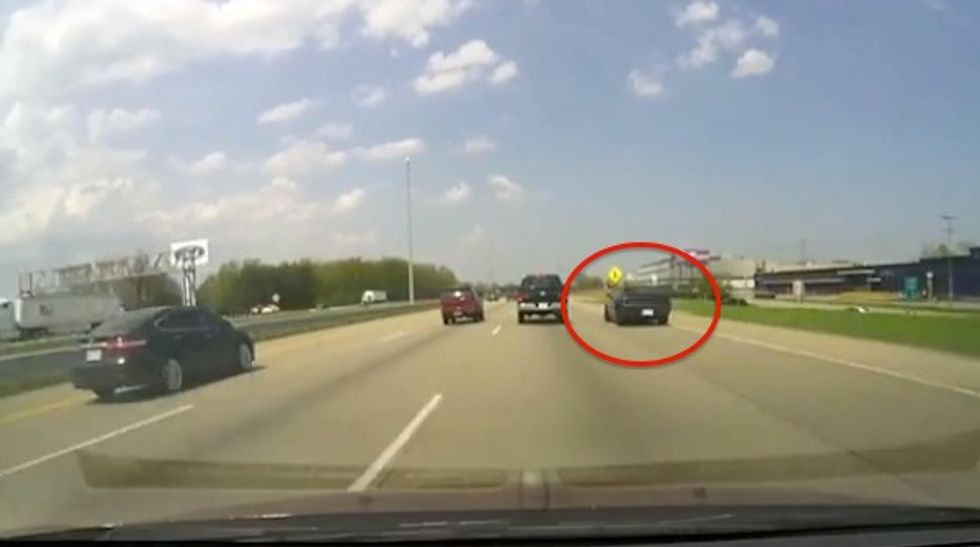 A person driving in the Detroit area has dashcam footage of a car that appeared to be speeding and drove in the right-hand shoulder. (Image source: YouTube)
The user going by MR.Sarge on the forum, who says his dashcam captured the incident on Friday, wrote that the driver was "definitely going well over 120mph and passes by zooming by me on the side strip."
"Saw him from behind and had to shift to the left a bit. Luckily nothing happened and no one was hurt and he got caught," MR. Sarge wrote.
But after people noticed a subtle difference in the Dodge Challenger that appeared to be speeding and the Challenger that was pulled over, MR. Sarge shared his video and thoughts with the automobile news site Jalopnik.
First, here's the video:
You can see that the Challenger that passes MR. Sarge has different wheels and taillights. Another noticeable difference is that the Challenger pulled to the side of the road has a silver gas cap that the other car did not.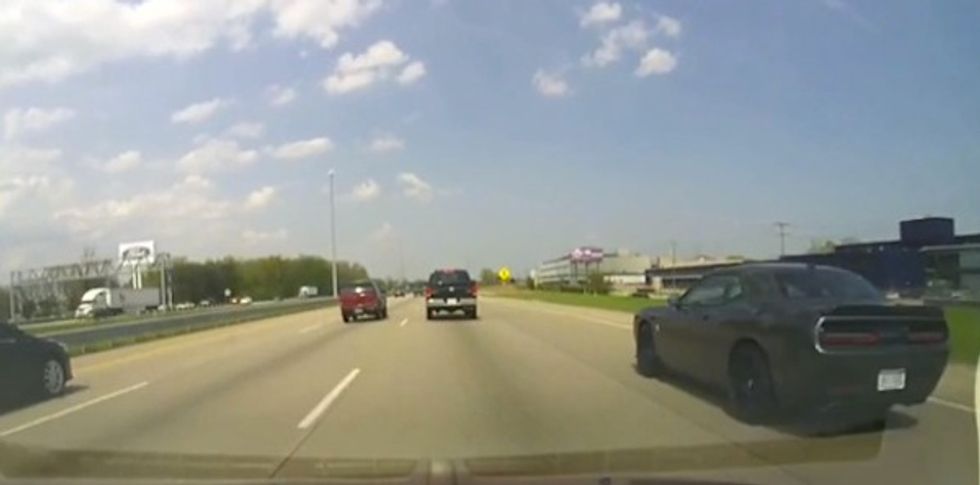 The car allegedly speeding on the highway. (Image source: YouTube)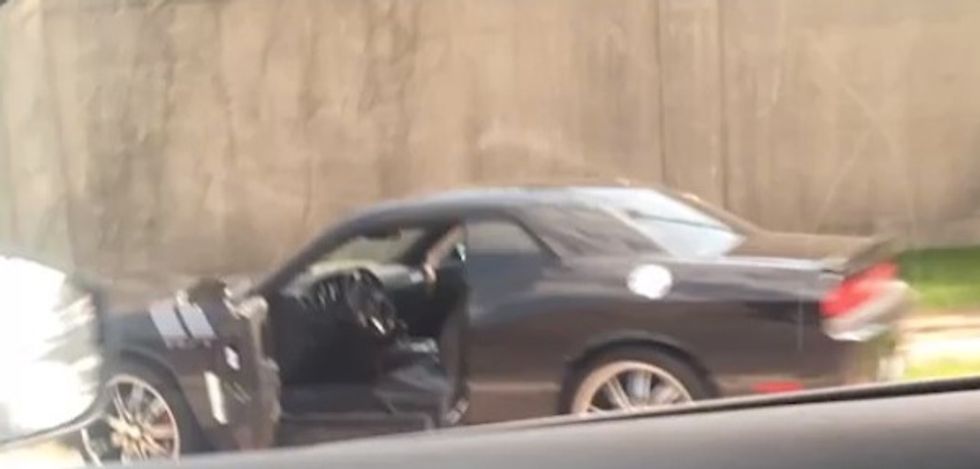 The car that was pulled over. (Image source: YouTube)
Now, Jalopnik pointed out that the two cars could have been racing each other, which would merit either being pulled over, but the news site noted that neither witnesses nor police have said anything about racing vehicles. 
So back to MR. Sarge and his video. The man told Jalopnik he contacted the officer at the Allen Police Department who apparently conducted the traffic stop and arrest.
"I called the officer and told him he caught the wrong person and I had visual dashcam and picture proof he caught the wrong person and was slightly aggressive with me saying, 'No, I caught the right person!'" MR. Sarge told Jalopnik. "I insisted on bringing my footage to them to see and he said he didn't need it." 
MR. Sarge said he later spoke with the department's chief who told him he could file a complaint for review.
Jalopnik reached out to the police department about the video and was told by Det. Lt. Dave Williams that he would review the video and "make sure this gets cleared up." MR. Sarge told Jalopnik he would be bringing the footage to the police department Tuesday.