© 2023 Blaze Media LLC. All rights reserved.
"This is thunder and lightening in the palm of my hand."
Leftover from riots earlier this month, forgotten in a gutter but found by a Seattle man was a potentially dangerous piece of police equipment.
Called a "blast ball," the grenade-like device was found by Hugh Ramsey, who said he saw police "just lobbing them" into crowds of protesters at May Day riots, KOMO-TV reported.
"An officer lost track of his personal explosive device," Ramsey told the news station, explaining his concern that it could have gotten into the wrong hands and that he questions police use of them as well.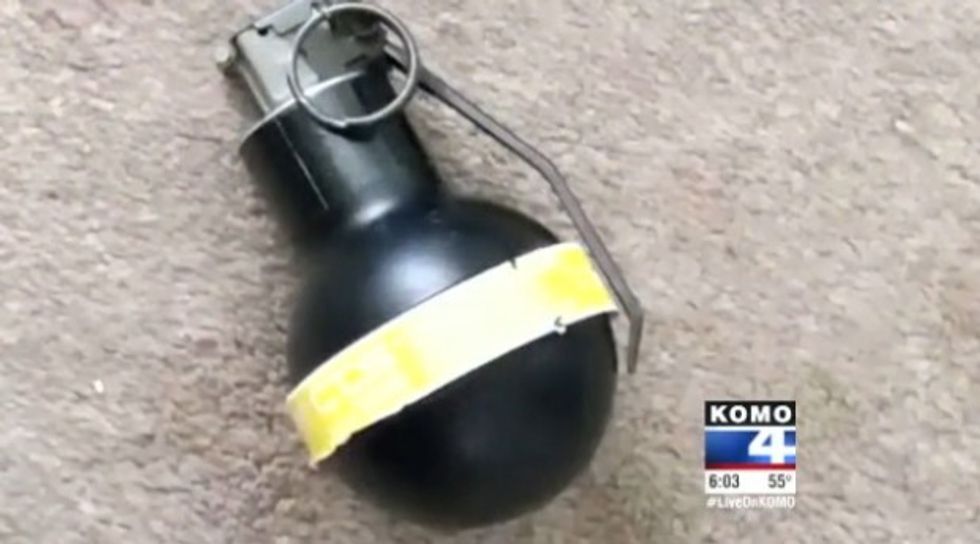 A "blast ball" with the pin still in it was found by a Seattle man after protests earlier this month. (Image source: KOMO-TV)
He later returned the device to the police department.
Demonstrations were held in Seattle and around the country at the beginning of this month to decry racism and income inequality. Most were largely peaceful, but some protesters clashed with cops, who attempted to keep them from damaging property and disrupting traffic.
In Seattle, police said black-clad marchers threw wrenches, sticks and rocks at officers in the city's Capitol Hill neighborhood, injuring three officers. Police responded with pepper spray and pepper balls and arrested 15 people. Several dozen vehicles were damaged, police said.
"This is no longer demonstration management, this has turned into a riot," Seattle police Capt. Chris Fowler said at the time.
The devices are used as a "less lethal" form of crowd control. (Image source: KOMO-TV)
Seattle's the Stranger detailed how the device came up at a recent city council meeting as controversial, with people showing bruises and cuts they say were the result of blast balls. It noted that the device picked up by Ramsey was a tear-ball made by Combined Systems, Inc. The company describes them as "explosive 'rubber-ball' style grenades that upon initiation eject a powder payload of CS, CN, OC or talc into a radius surrounding the device. Tear-Balls are primarily used for crowd control in indoor and outdoor situations."
While some people at the city council meeting said the blast injured them to the point where they couldn't walk, an anonymous man told KOMO he could feel the impact, "but it didn't hurt."
"I didn't notice anything but pressure," he said, also pointing out two small cuts apparently from the blast.
Watch KOMO's report:
The Seattle Police Department in a six-minute training video about "less-lethal crowd control" said that it started using these tactics after riots in 1999.
"From a force options point of view, it's actually pretty safe," Seattle police officer Chris Meyers said in the video, explaining that in tests they only saw some minor singe-like potential from the device.
"This is thunder and lightening in the palm of my hand," he said later, explaining how just the sound and flash from the blast ball can be enough to help police control crowds.
Watch the video posted by BluTube, a video sharing site run by Police One:
—
The Associated Press contributed to this report.
—
Front page image via Shutterstock.
Want to leave a tip?
We answer to you. Help keep our content free of advertisers and big tech censorship by leaving a tip today.
more stories
Sign up for the Blaze newsletter
By signing up, you agree to our
Privacy Policy
and
Terms of Use
, and agree to receive content that may sometimes include advertisements. You may opt out at any time.