Speaking to fans outside a Toronto FC match on Sunday, CityNews reporter Shauna Hunt was interrupted on live TV by an unfortunately familiar and vulgar stunt.
"F*** her right in the p****y," a man said after sneaking into the shot.
But rather than awkwardly powering through the segment, Hunt decided to confront — and thoroughly shame — the men behind the prank.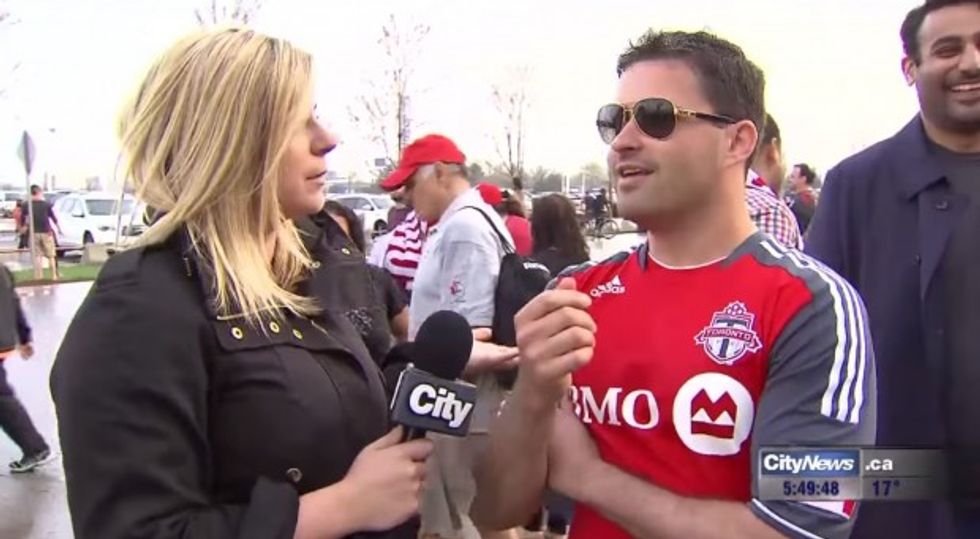 (YouTube)
"Were you guys waiting around to see if you could 'f her in the p' me on live television?" the reporter asked.
"Not you, but yes," one man replied.
"Seriously, it's a disgusting thing to say, it's degrading to women — you would humiliate me on live television?" the reporter pressed.
Realizing the fed-up reporter had him on the ropes, the seemingly embarrassed man then asked, "Are you actually filming this?"
"Well, because, you know what, I'm sick of this," Hunt added. "I get this every single day, 10 times a day by rude guys like you."
At least one of the men was completely unrepentant, telling Hunt that the overdone stunt is "f***ing hilarious." Watch the full exchange via CityNews below:
As for future pranksters in the area, Kingston Police suggested the act could amount to "causing disturbance" under the law.
Our media partners should not have to deal with #FHRITP. Cause Disturbance seems to apply. http://t.co/qxwek6SLnW pic.twitter.com/gqiN2oNoXH

— Kingston Police (@kingstonpolice) May 12, 2015
(H/T: BuzzFeed)
---