Last month, Michael Moore issued a demand calling for guns to be taken away from police in America.
Next demand: Disarm the police. We have a 1/4 billion 2nd amendment guns in our homes 4 protection. We'll survive til the right cops r hired

— Michael Moore (@MMFlint) April 30, 2015
Tuesday night on MSNBC, a host advocated for the same thing.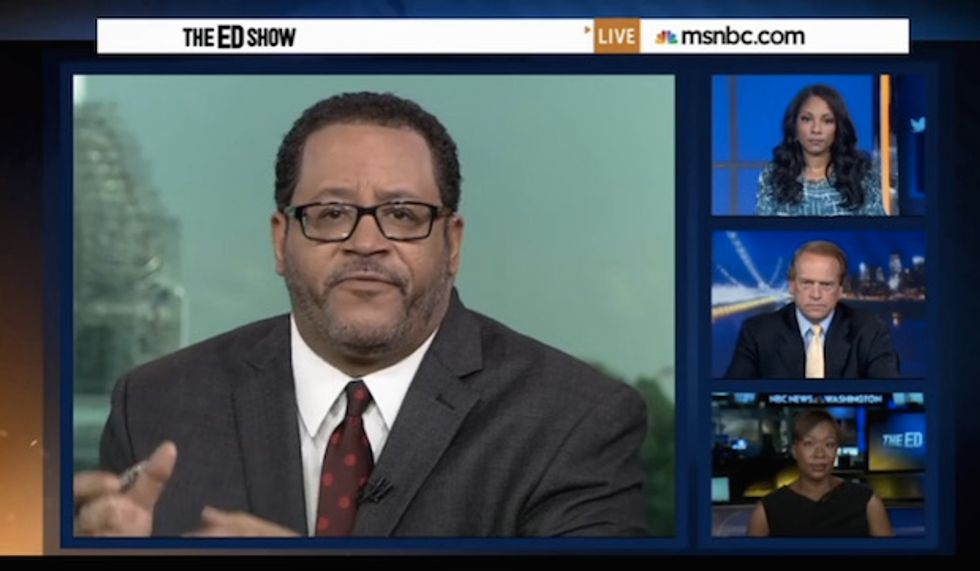 Image source: YouTube
Michael Eric Dyson was filling in for Ed Schultz on Tuesday night. The lead story on the "Ed Show" was about a Wisconsin prosecutor's decision to not press charges in the police shooting death of a young black man in Madison. While the network waited for the victim's family to hold a press conference, Dyson, and panelists Joy Reid, Zerlina Maxwell and John Kelly talked about "inherent" and "implicit bias" in law enforcement.
At one point Kelly, a defense attorney, shared an off-camera discussion he had with Zerlina Maxwell. They speculated deaths like this don't happen in London where police do not carry guns. Dyson wondered, "Maybe we should take a line from the Bobbies there."
Watch the clip ending with Dyson's comment:
See an entire MSNBC segment with Dyson leading the panel in a discussion of the "inherent bias" among police officers.
__
Follow Mike Opelka (@Stuntbrain) on Twitter.