Senate Democrats on Wednesday gave in to demands from the Obama administration and Senate Republicans, and agreed to allow a series of votes on a handful of trade-related bills starting on Thursday.
Democrats caved just hours after Senate Minority Leader Harry Reid (D-Nev.) insisted that four major trade bills would have to be considered as a single bill, instead of in a few separate votes as Republicans had demanded.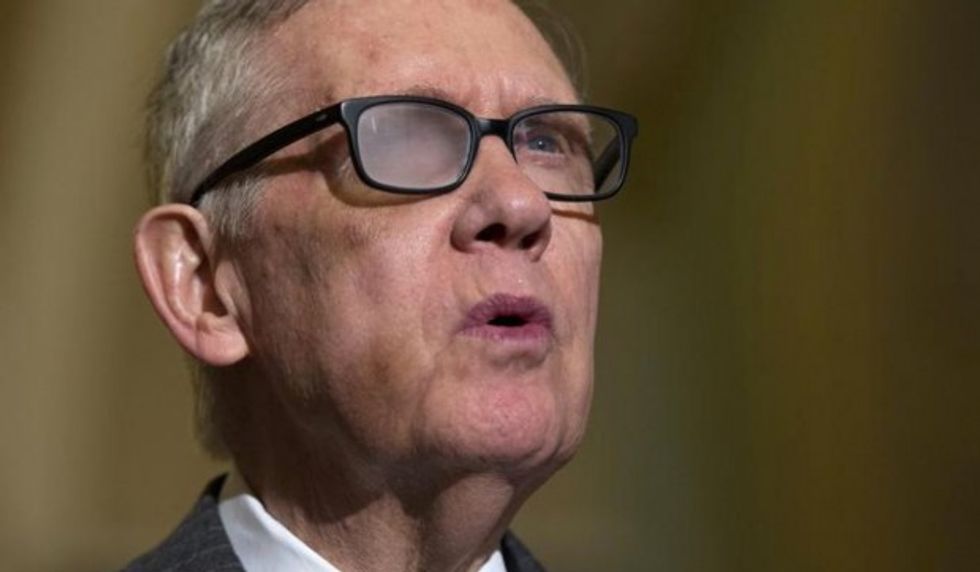 Senate Minority Leader Harry Reid (D-Nev.) had been pushing for a single bill on trade, but on Wednesday he settled for separate votes, as Republicans had insisted. Image: AP Photo/Molly Riley
That demand prevented the Senate from advancing a bill on Tuesday that would give President Barack Obama the authority to negotiate trade agreements that cannot be amended by Congress. Tuesday's failed vote on trade promotion authority, or TPA, dealt a huge political blow to Obama, and prompted a late Tuesday meeting between Obama and several Senate Democrats on a way forward.
Wednesday morning, Senate Majority Leader Mitch McConnell (R-Ky.) continued to insist that separate votes would have to be held. And by Wednesday afternoon, McConnell got his way.
There are four main pieces on trade that Democrats have said must be considered — TPA, assistance to workers who lose their jobs due to trade, market access for sub-Saharan African countries, and a trade enforcement bill.
Under the new agreement announced Wednesday afternoon, the Senate will vote on the last two bills on Thursday. After that, they will start work on a bill that combines TPA with the trade adjustment assistance bill.
McConnell announced the agreement in a floor speech shortly after it was reached.
"It's reasonable," McConnell said of the deal. "So I look forward to our friends across the aisle now joining with us to move forward on this issue in a serious way."
The only minor victory Democrats might be able to claim is that the Senate will vote first on Africa and enforcement before the TPA bill. But McConnell has said for several days now that he would allow those bills to move forward anyway, so Republicans appear to have given up very little to get the deal done.
One of the reasons why McConnell opposed combining all of the bills together is that the enforcement bill includes language allowing the U.S. to take measures against countries deemed to be manipulating their currencies for a trade advantage. Republicans have called that language a "poison pill" that would prevent passage of the TPA language.