© 2023 Blaze Media LLC. All rights reserved.
U.S. Beekeepers Lost 40 Percent of Honeybee Colonies in Just One Year, But That's Not What Surprised Experts
"Years ago, this was unheard of."
The problem with honeybees in the U.S. has been known for a long time now, but just how bad has it gotten?
According to new analysis, American honeybee keepers reported losing more than 40 percent of their colonies within the last year. And that's only the second worst annual loss since annual tallies have been taken.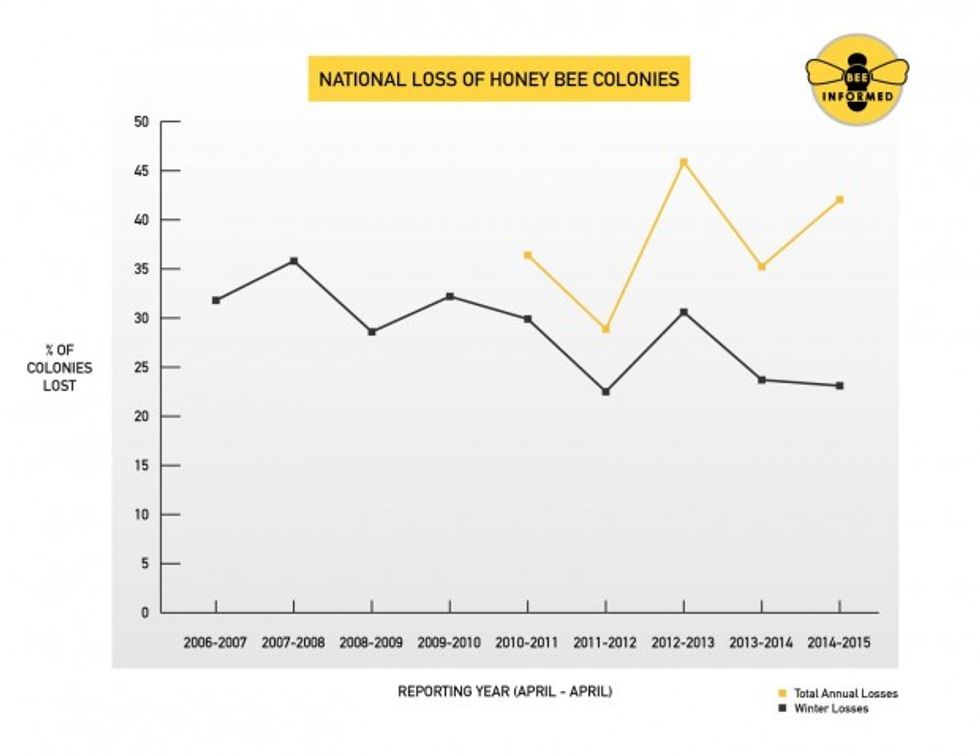 Image credit: Bee Informed Partnership/University of Maryland/Loretta Kuo
The Bee Informed Partnership, which includes the U.S. Department of Agriculture, and Apiary Inspectors of America surveyed more than 6,000 commercial and small-scale beekeepers, learning that from April 2014 to April 2015 winter losses actually improved compared to last year. It was summer losses that surprised experts, and that helped dip total colony loss for year to 42.1 percent.
"We traditionally thought of winter losses as a more important indicator of health, because surviving the cold winter months is a crucial test for any bee colony," Dennis vanEngelsdorp, an assistant professor of entomology at the University of Maryland and project director for the Bee Informed Partnership, said in a statement. "But we now know that summer loss rates are significant too. This is especially so for commercial beekeepers, who are now losing more colonies in the summertime compared to the winter. Years ago, this was unheard of."
Image credit: Bee Informed Partnership/University of Maryland/Loretta Kuo
Jeffery Pettis, an entomologist with the USDA who is involved with this survey, said that while the improvement on winter loss numbers was encouraging, the colony loss see in the summer and overall is still "very troubling."
"If beekeepers are going to meet the growing demand for pollination services, researchers need to find better answers to the host of stresses that lead to both winter and summer colony losses," he said in a statement.
For small beekeeping operations, vanEngelsdorp said a lethal parasite was mostly likely to blame for loses this year, whereas the cause for commercial operations was not clear.
"Backyard beekeepers were more prone to heavy mite infestations, but we believe that is because a majority of them are not taking appropriate steps to control mites," vanEngelsdorp said. "Commercial keepers were particularly prone to summer losses. But they typically take more aggressive action against varroa mites, so there must be other factors at play."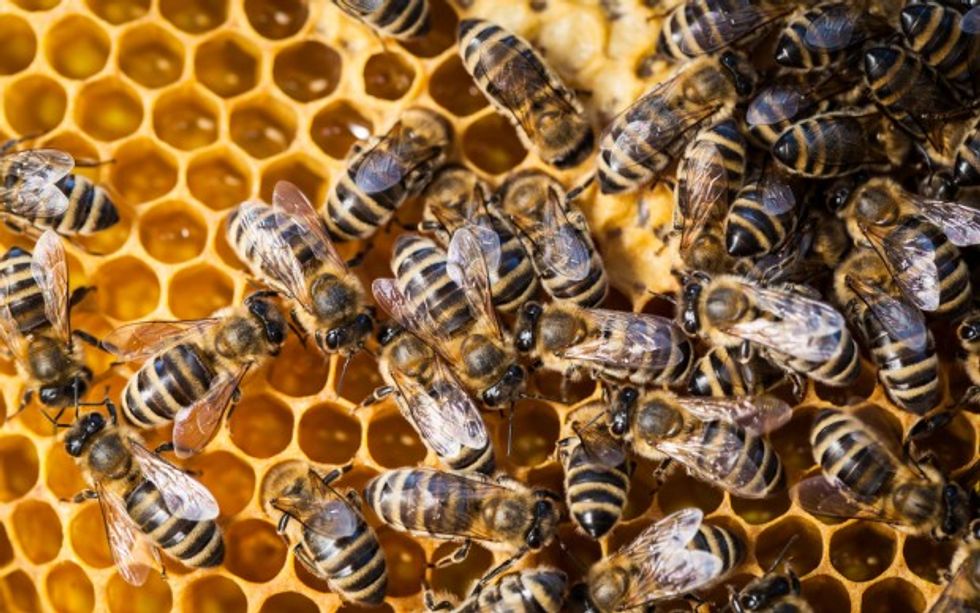 Photo credit: shutterstock
Dick Rogers, chief beekeeper for pesticide-maker Bayer, said the loss figure is "not unusual at all" and said the survey shows an end result of more colonies now than before: 2.74 million hives in 2015, up from 2.64 million in 2014.
That doesn't mean bee health is improving or stable though, vanEngelsdorp said. After they lose colonies, beekeepers are splitting their surviving hives to recover their losses, pushing the bees to their limits, study co-author Keith Delaplane at the University of Georgia said.
"What we're seeing with this bee problem is just a loud signal that there's some bad things happening with our agro-ecosystems," Delaplane said. "We just happen to notice it with the honeybee because they are so easy to count."
Read more of the preliminary results of the most recent survey on the Bee Informed Partnership's website.
—
The Associated Press contributed to this report.
—
Front page image via Shutterstock.
Want to leave a tip?
We answer to you. Help keep our content free of advertisers and big tech censorship by leaving a tip today.
more stories
Sign up for the Blaze newsletter
By signing up, you agree to our
Privacy Policy
and
Terms of Use
, and agree to receive content that may sometimes include advertisements. You may opt out at any time.