A Georgia private school principal has been fired for a racially charged comment she made during a graduation ceremony last week.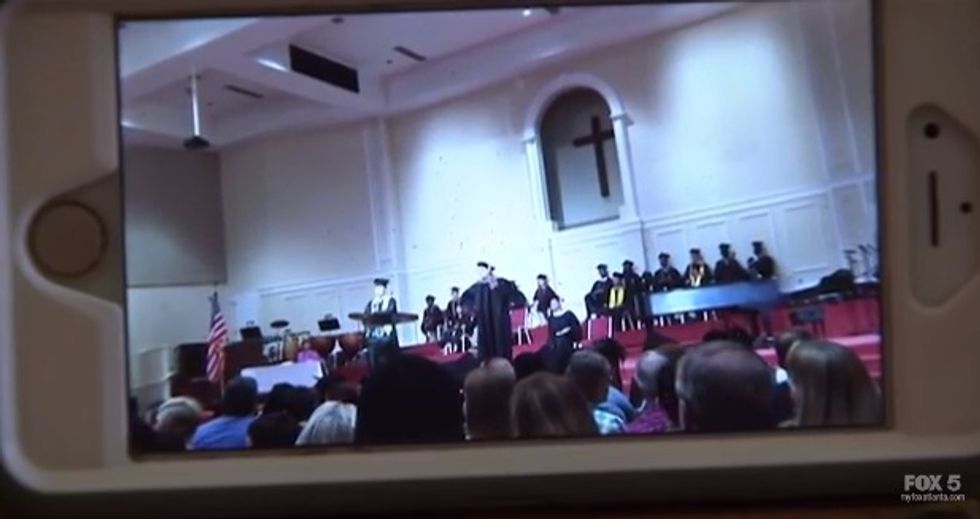 Image source: YouTube
TNT Academy principal Nancy Gordeuk made national headlines for calling attention to "all the black people" leaving after she accidentally dismissed the audience.
Heidi Anderson, chairwoman of TNT's board of directors, sent a letter to the Gwinnett County NAACP amid the firestorm to announce the decision to let Gordeux go, Atlanta's WXIA-TV reported.
"In light of recent events, the board of directors of TNT Academy has moved to dismiss Nancy Gordeuk as principal," Anderson wrote. "During the coming transition, we will continue to prioritize support for our most recent graduates. Moreover, we will continue our commitment to providing students with the best educational classes, transcription services and academic credit recovery possible."
Georgia NAACP President Francys Johnson said that while citizens are entitled to free speech, those who work in schools must do better.
"Beyond the inappropriate remarks, the former principal attempted to legitimize the bizarre episode by claiming 'the devil made her do it,'" Johnson told WXIA-TV. "This is not just about Mrs. Gordeuk's comments."
Johnson added, "The NAACP would defend Mrs. Gordeuk's right as a private citizen to free speech. However, those entrusted with responsibility for our children must set a high standard marked by civility. That is obviously a test the former principal failed."
Gordeuk mistakenly ended the school's graduation ceremony Friday before the valedictorian had the chance to give his speech.
Realizing her error, she began to call people back into the auditorium. But when the audience kept talking and moving about, Gordeak let out her frustration.
"You people are being so rude to not listen to this speech. It was my fault and we missed it in the program," Gordeuk said. "Look who's leaving, all the black people."
Gordeuk quickly walked back her comment: "I apologize I said that. But everybody sit down."
See the situation as it unfolded:
(H/T WXIA-TV)
–
Follow Jon Street (@JonStreet) on Twitter