(TheBlaze/AP) -- The National Transportation Safety Board says it's examining damage on the Amtrak train that derailed in Philadelphia to see if it was hit by an object.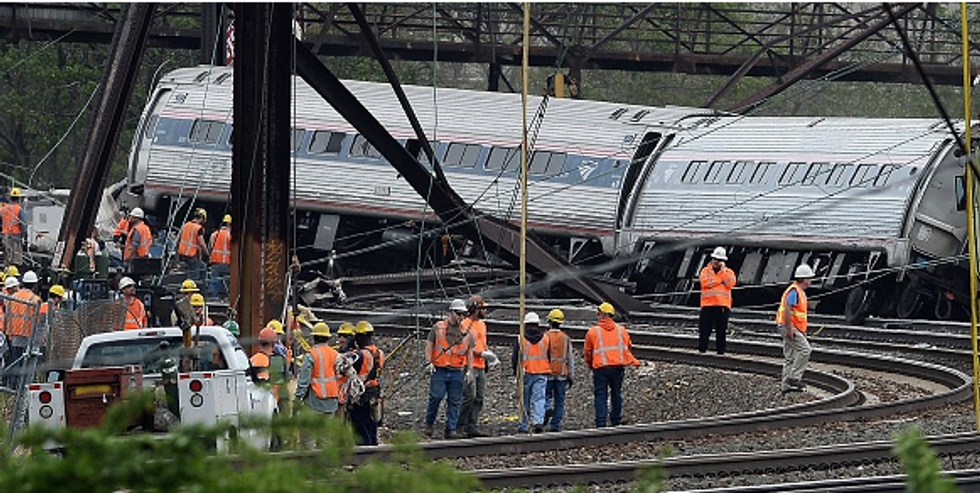 Rescuers work around derailed carriages of an Amtrak train in Philadelphia, Wednesday, May 13, 2015, after it derailed Tuesday night en route from Washington to New York City. Six people were killed and hundreds injured. (JEWEL SAMAD/AFP/Getty Images)
The NTSB says an assistant conductor in the cafe car of the Amtrak train said she heard the engineer talking to a regional rail train engineer who said he'd been "hit by a rock or shot at." She says she thought she heard the Amtrak engineer say his train had also been struck.
During a Friday press conference, the agency said it has asked the FBI to join the investigation.
NTSB member Robert Sumwalt says his team has "seen damage to the left hand lower portion of the Amtrak windshield."
The derailment of the Washington-to-New York train killed eight people.
BuzzFeed News reported on Friday that investigators are trying to determine whether "consistent vandalism along a section of the Northeast Corridor – namely people throwing objects at passing trains" may have played a factor in the fatal derailment.
Prior to the deadly crash on Tuesday, a SEPTA commuter train and a different Amtrak train in the area were reportedly hit by projectiles, according to the Philadelphia Inquirer. One of the reported "projectiles" smashed the engineer's window on one of the trains.
Passenger aboard another train in area before deadly #Amtrak188 derailment https://t.co/VbSgbNIkW8

— Jon Passantino (@passantino) May 15, 2015
There was no information available on Friday that suggests a link between the incidents and the deadly Amtrak derailment.
(H/T: @JohnEkdahl)
---