For months they've been threatening to smuggle militants into Europe by boat. Now one Libyan government official says the Islamic State group has succeeded in getting jihadists onto the European continent by hiding them on migrant boats transporting illegal immigrants.
Libyan government adviser Abdul Basit Haroun told the BBC Sunday that smugglers are placing members of the terrorist group among African migrants setting out on the often perilous Mediterranean Sea journey.
Haroun said the Islamic State allows boat owners to launch their boats from Libya and in exchange demands the transportation of its fighters and a "tax" of 50 percent of the fare paid by the other passengers.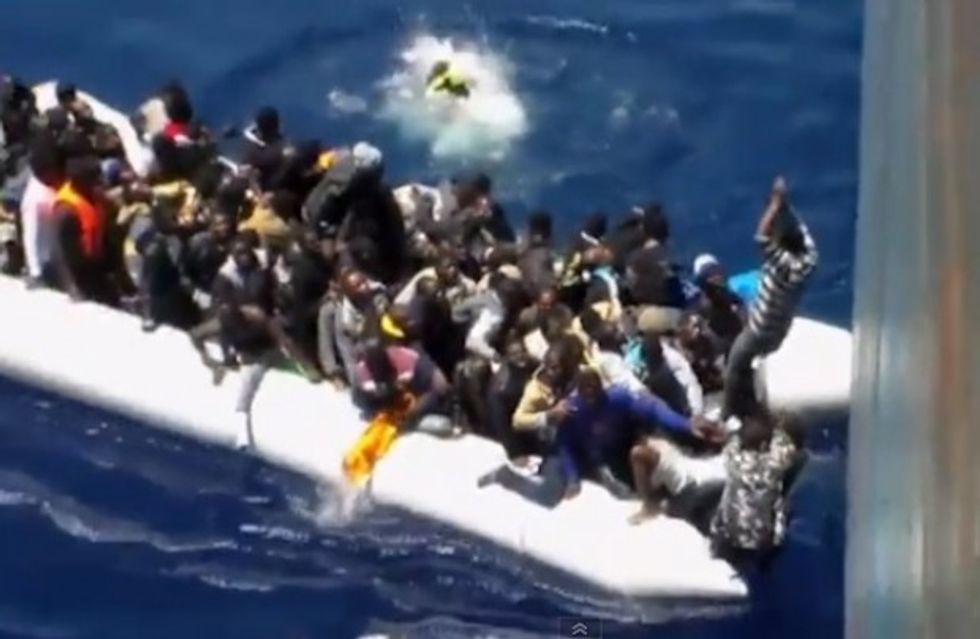 African migrants rescued at sea by a cargo ship, May 5, 2015. (Screenshot: YouTube/AP)
The boats are "for their people who they want to send to Europe, as the European police don't know who is from IS [Islamic State] and who is a normal refugee or not," the Libyan adviser said.
A suspected Islamic State group recruiting document in January suggested the militant group was planning to launch boatloads of jihadists into Europe using Libya as a staging ground with the aim to create "pandemonium."
Haroun said he learned about the clandestine efforts from conversations with smugglers in North Africa.
Europe has been gripped with the Mediterranean boat crisis during which an estimated 60,000 have tried to sail north into Europe just this year.