Israeli government antiquities officials were tipped off by a Jerusalem resident who was jogging one recent evening when she stumbled upon what looked like a meticulously excavated archaeological site.
The jogger thought it was strange that the site didn't have all the usual markings of a professional excavation, including signs warning passersby not to touch, prompting her to call the Israeli Antiquities Authority, Israeli media reported Monday.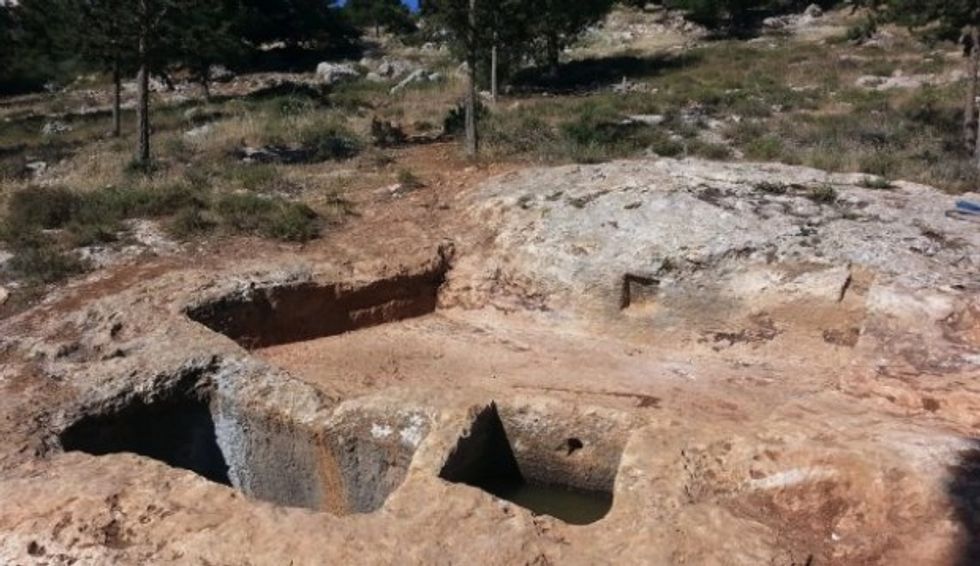 The 1,400-year-old wine press that the teenage boys dug up. (Photo: Alex Vigman for Israel Antiquities Authority)
Archaeologists with the Antiquities Authority arrived at the location, near the Jerusalem neighborhood of Neve Yaakov, and saw that, yes, the site had been carefully dug — but they knew there was no professional dig underway there.
They soon discovered that the careful dig was the work of local young teens who just thought it would be fun.
An ultra-Orthodox boy approached the archaeologists when they arrived and told them he and his friends are archaeology buffs.
"Before we could even ask what he was doing there, the boy ran up and openly and proudly told us that he and his friends were archaeology buffs and had done this excavation," archaeologist Amit Ram of the Antiquities Authority told Haaretz.
What they found was a 1,400-year-old wine press carved into the hill and measuring 16 square feet. The boys managed to uncover the area where grapes were once crushed by foot, the crevices that acted as pipes to transport the liquid and the pit where the liquid was gathered.
Ram told Haaretz that the wine press dates to either the sixth or seventh century A.D.
"Our team was shocked," an Antiquities Authority spokesperson told the Tazpit News Agency. "They saw a carefully exposed ancient wine press where none existed before, where not a single archaeologist has ever even been digging."
Tazpit reported that the teens were commended by the archaeologists for digging gently and taking such care of the site.
At the same time, they warned those without archaeological training not to engage in digs, because key historical evidence can potentially be destroyed.
Archaeological digs in Israel require first obtaining a permit from the Antiquities Authority.
"On the one hand, it's a crime," Ram told Haaretz of those who dig without a permit. "On the other hand I realized it was done in innocence, and I was touched to the core by the boy's story – which reminded me of my boyhood, at age 12 or 13."