© 2023 Blaze Media LLC. All rights reserved.
Two of Music's Biggest Names Allegedly Wired Thousands of Dollars to Quietly Bail Out Ferguson and Baltimore Protesters
"Remind me to never tweet again."
An activist who reportedly ghostwrote rapper Jay-Z's 2010 autobiography "Decoded" claimed in a series of tweets on Sunday morning that the famed performer and his wife, Beyoncé, wired thousands of dollars in bail money to assist detained protesters in both Ferguson, Missouri, and Baltimore, Maryland, amid the fury in the streets that landed some people behind bars.
Activist Dream Hampton wrote that Jay-Z — whose real name is Shawn Carter — wired "tens of thousands in [minutes]" when she asked for help, and that he and Beyoncé also assisted the Black Lives Matter movement.
"When we needed money for bail for Baltimore protesters, I ... hit Jay up, as I had for Ferguson, wired tens of thousands in mins," she reportedly wrote. "When [Black Lives Matter] needed infrastructure money for the many chapters that we're growing like beautiful dandelions, Carters wrote a huge check."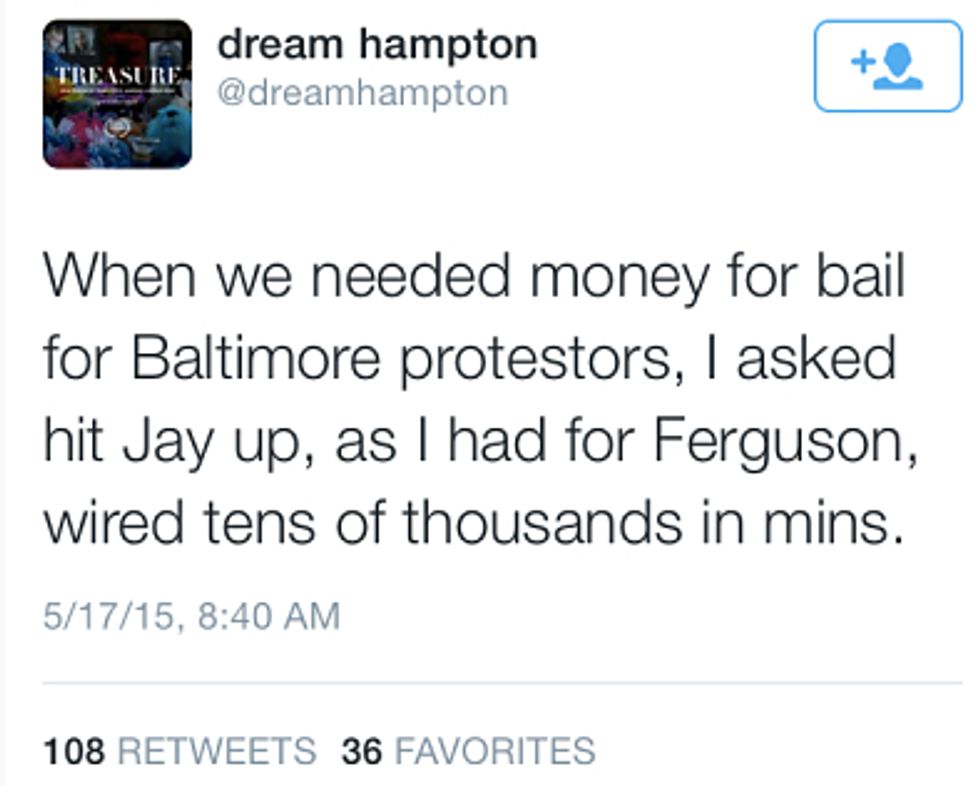 Hampton then sent a tweet announcing that she would be erasing her "error ridden rant" and that she hoped people got their "little screenshot." Complex was seemingly the first to report on the tweets not long after they were sent on Sunday morning.
The now-removed rant was possibly intended to defend Jay-Z and Beyoncé against people who have accused the power couple of only verbally supporting protestors who have taken to the streets to rail against police violence and brutality, the Daily Mail reported.
Hampton later sent a tweet with a frown face and a link to the Complex story after it was published on Sunday, adding in a subsequent tweet that she doesn't understand "how people try to build a story around a series of tweets." Still, she defended her initial claims.
Beyonce & Jay-Z (Getty Images)
"Jay & B for stacks. It's true they gave, which is why I tweeted it. but I erased it within minutes, because ppl believe what they want to," Hampton wrote, later adding, "Remind me to never tweet again."
Jay-Z and Beyoncé recently met with the mother of Michael Brown and the family of Freddie Gray — two men whose deaths sparked protests and claims of excessive police brutality — at the "Rally 4 Peace," as both men's deaths sparked massive protests, the Daily News reported.
(H/T: Daily Mail)
Want to leave a tip?
We answer to you. Help keep our content free of advertisers and big tech censorship by leaving a tip today.
more stories
Sign up for the Blaze newsletter
By signing up, you agree to our
Privacy Policy
and
Terms of Use
, and agree to receive content that may sometimes include advertisements. You may opt out at any time.