Update 12 p.m. ET: John Kessler, a fellow Royals fan who says he was at the game, emailed TheBlaze to give more context to the video. He claims to have sat near the woman in this video, though, he says, he was at the concession stand at the time the ball was caught. When he returned, he said she was saying "give me back my ball." This, he said, was 10 to 15 minutes after she had caught it.
"In the video of her catching the ball, she catches the ball before the kid in the front row caught it. He wound up with at least 4-5 baseballs that night," Kessler wrote. "The kid she tossed the ball to was 10-15 rows up and had came down to get a ball. When she was stating about getting a ball back, it was to the kid in the front row, we were all giving him a hard time, joking with him to get a baseball since he was getting so many."
Original story follows.
—
It wouldn't be the first time an adult was caught on camera catching a fly ball at a Major League Baseball game while eager young children also reached upward for the prize, experiencing disappointment when the longer-limbed adult snagged it from above them.
Such was the scene at a Kansas City Royals game Saturday, but the blond woman who grabbed the ball tossed into the stands by first baseman Eric Hosmer ended up giving it to a child nearby. That's not exactly where the story ends though.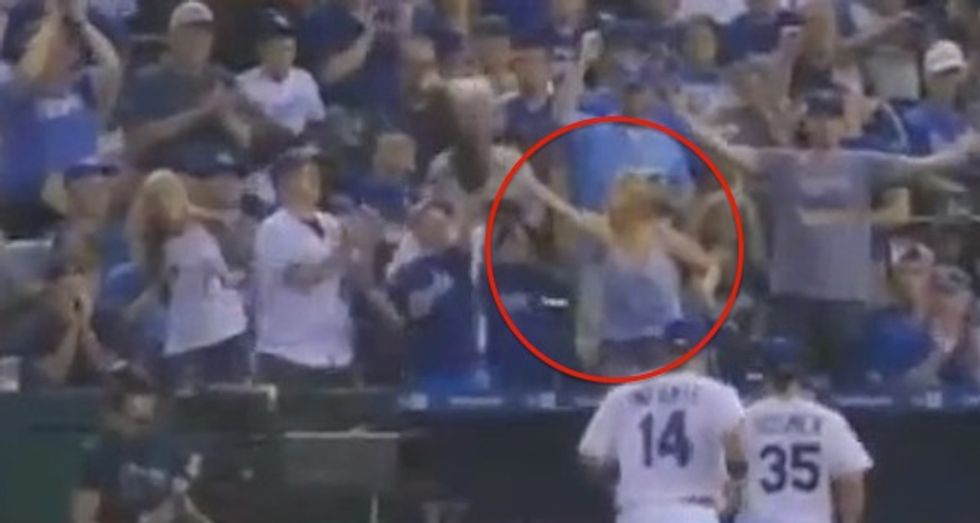 Woman catching the ball tossed into the stands. (Image source: KCTV-TV)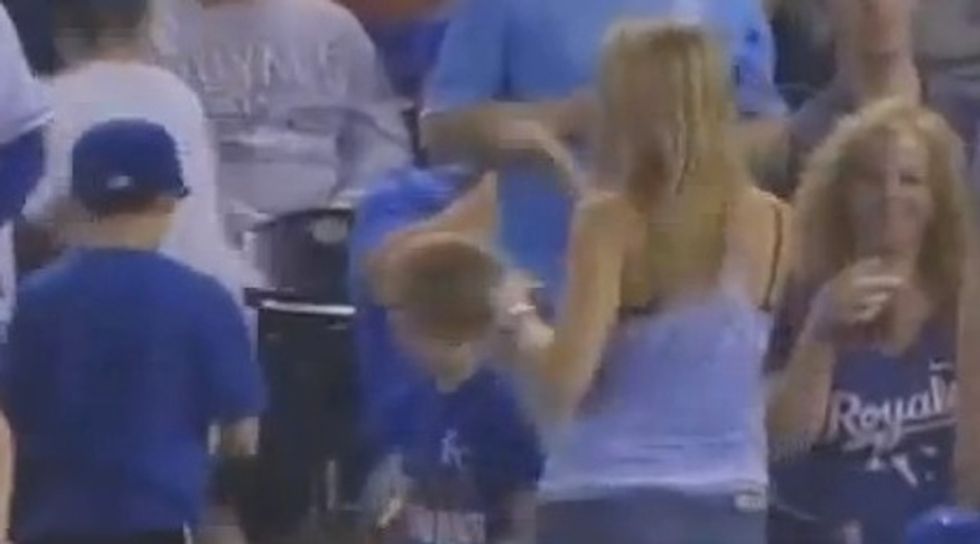 Woman giving the ball to a young boy nearby. (Image source: KCTV-TV)
The woman later appears to say the words "Give me my ball back."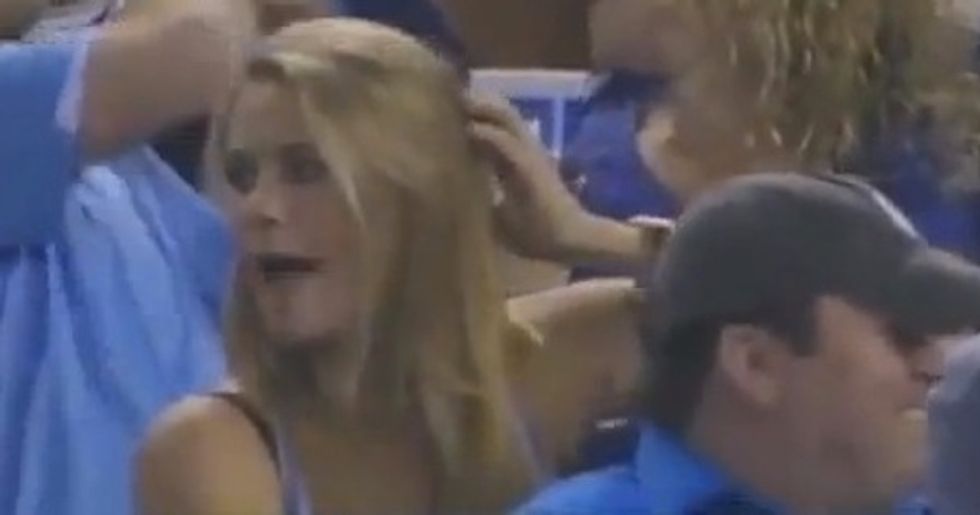 Reading her lips, the woman appears to say "Give me my ball back." (Image source: KCTV-TV)
Watch the footage:
SportsGrid provides these theories as to what might have happened:
Thought cameras were no longer on her.

Claims it was just a loan.

Kid was heckling her.

Companions were telling her she's an idiot for giving ball away — it could be worth thousands.

Kid was her brother.
The sports website also pointed out that the same woman might have lost out on catching a fly ball to a kid a few years ago, finding a picture of a strikingly similar looking woman with the same tank top reaching out but missing the ball in 2012.
Watch MLB's footage of that incident:
(H/T: KCTV-TV, Daily Mail)