Among the approximately 1,000 weapons recovered from the scene of Sunday's shootout between rival motorcycle gangs in Waco, Texas, were a number hidden in strange spots.
Investigators found everything from knives and guns to an AK-47 and even body armor, Waco Police Sergeant W. Patrick Swanton told KWTX-TV — and some of those weapons were abandoned or hidden inside the Twin Peaks restaurant where the fighting began.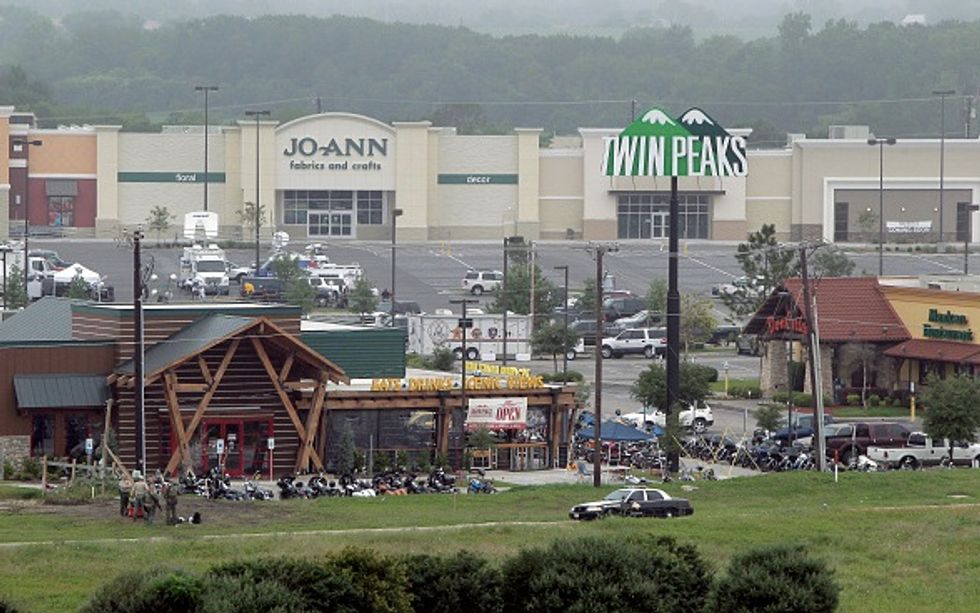 The Twin Peaks restaurant, the scene of a motorcycle gang shootout, is seen May 18, 2015 in Waco, Texas. (Image source: Erich Schlegel/Getty Images)
A few of the more imaginative hiding places there included toilets — as well as a bag of chips, he said.
"When you enter through the doors, it is just an eerie feeling knowing what occurred there," Swanton told the station, adding that among the "blood-splatter ... everywhere" is "food on the tables, half-eaten hamburgers, half-drunk margaritas. It's the most surreal thing I've ever seen."
The shootout left nine dead, 18 injured and 170 arrested. Twin Peaks' franchise license was revoked by its parent company after reports that it failed to cooperate with police by not serving the gangs who met there.
KWTX also noted that one of arrested is a retired San Antonio, Texas, police officer. Martin Lewis 62 — who worked for the department for over 30 years and retired in 2004 — remained in jail Wednesday in lieu of $1 million bond on charges of engaging in organized crime.
(H/T: Mediaite)
—
Follow Dave Urbanski (@DaveVUrbanski) on Twitter