Last month, Walmart closed five stores, spurring accusations from a labor union that it did so because of a history of labor activism. The retailer, however, said it was to fix plumbing problems. Now, there's a leaked training video that reveals more on how Walmart talks to is employees about unions.
"Labor unions are really interested in Walmart and have spent millions of dollars specifically focused on us. Now, I think you know by now that our company prefers to have open and direct communication with our associates. We don't think that a labor union is necessary here," a person says in the video posted by Gawker. And because our employees have said time after time that they don't want a labor union, we don't spend a lot of time talking about them. But, as a new member of our team, we do think you need to know this."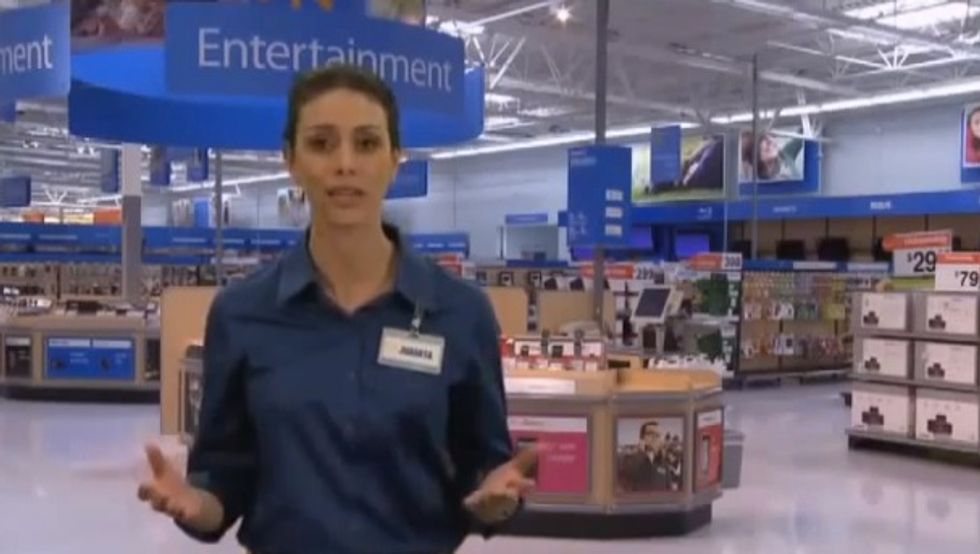 Image source: YouTube
The man in the video goes on to explain how labor unions have spent a lot of money to try to get employees to join a union and telling customers to boycott stores.
"The truth is, unions are businesses, multimillion dollar business that make their money by convincing people like you and me to give them a part of our paychecks," one woman goes on to say in the video.
Another man later says he was once in a union and explains that one of the reasons he chose to work at Walmart is because of its lack of a union, putting him "in control of my own career."
"With a union, you put that control into someone else's hands," he said.
Some of the versions of the training video posted to YouTube have been removed, but here's one that's still active now:
The Washington Post reported that Walmart confirmed that the video was developed for orientation in 2009.
"Essentially, we know third party groups reach out to our associates and can sometimes provide inaccurate information so we think it's important to provide our associates accurate information about their rights and opportunities," spokesman Brian Nick told the Post.
In April, United Food and Commercial Workers International Union filed the charge on behalf of the group OUR Wal-Mart, arguing the chain's closings were retaliation for labor activism.
"This is a new low, even for Walmart" Venanzi Luna, an eight-year Walmart worker and member of OUR Walmart, said in a statement. "Through OUR Wal-Mart, we're going to keep fighting back until the company gives us our jobs back."
One affected store, in Pico Rivera, California, has been a hotbed for worker protests against Walmart. It was the first store to wage such protests, in October 2012. The other stores are in Midland and Livingston, Texas; Tulsa, Oklahoma; and Brandon, Florida.
"As we have said all along, these stores were closed temporarily so we could fix the ongoing plumbing issues and it would be unfortunate if this outside group attempts to slow this process down for our associates and customers," the company said.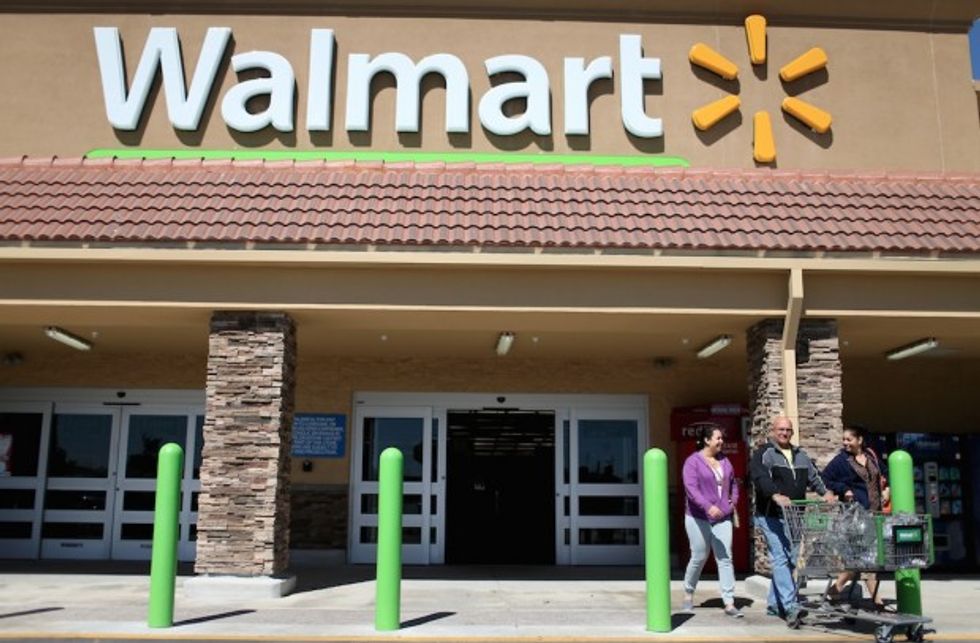 Walmart customers exit from the store on February 19, 2015 in Miami, Florida. The Walmart company announced Thursday that it will raise the wages of its store employees to $10 per hour by next February, bringing pay hikes to an estimated 500,000 workers. (Joe Raedle/Getty Images)
The stores will remain shuttered for up to six months, Walmart spokesman Lorenzo Lopez said. The company has said that the workers would be put on paid leave for two months and it would look to transfer some to nearby stores.
Walmart's stance on unions is no secret. Gawker has pointed out other leaked training documents that asks employees to report "all union talk" and provides talking points on what managers should say about unions. What's more, the Canadian Supreme Court ruled in 2014 that Walmart violated labor laws when it closed a store in Quebec. The employees in that location had voted to join a union. That made it the first unionized store in North America just before the store was closed.
Walmart has been making moves to increase pay for its workers. The company announced in February that it was increasing the minimum wage it pays its hourly workers to at least $9 this month and to at least $10 in February 2016. The federal minimum wage is $7.25 per hour.
—
The Associated Press contributed to this report. This story has been updated to correct a typo.