Shortly after North Korean state media reported the test of a ballistic missile launched from a submarine, it also apparently claims to have accessed technology that has allowed it to make small nuclear weapons that could fit on a long-range missile.
According to Yonhap News, South Korea's largest news agency, the Korean Central News Agency, the North's state-run outlet, reported a spokesman saying the Democratic People's Republic of Korea had "entered the stage of producing smaller nukes and diversifying them."
"The DPRK has reached the stage of ensuring the highest precision and intelligence and best accuracy of not only medium- and short-range rockets, but long-range ones," the spokesman said, according to Yonhap.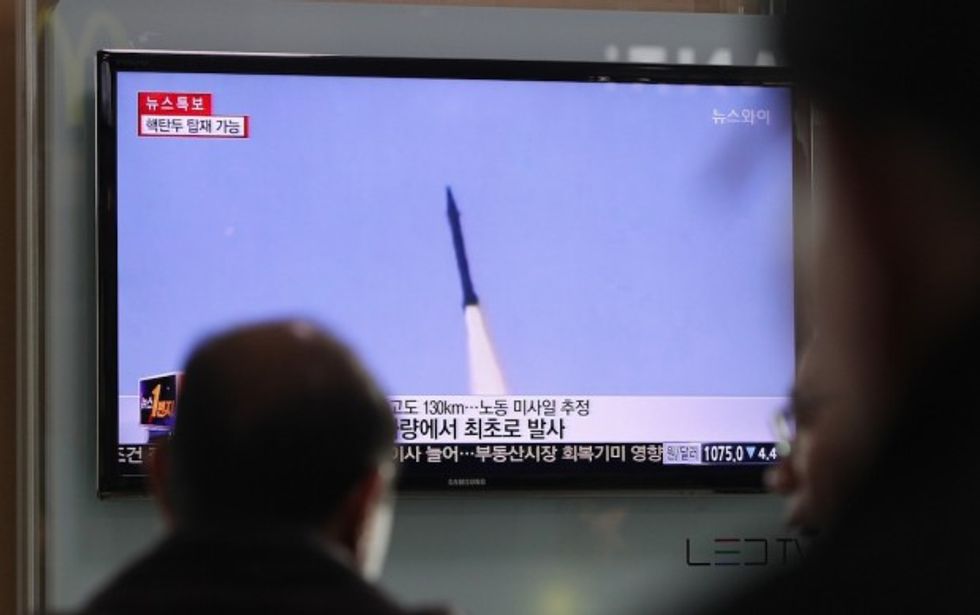 People watch a television broadcast reporting the North Korean missile launch at the Seoul Railway Station on March 26, 2014 in Seoul, South Korea. North Korea test-launched two Nodong medium-range ballistic missiles into the sea off Korean peninsula's east coast, according to South Korea's defence ministry. Now, the country claims to have technology to make nuclear weapons small enough to fit on long-range ballistic missiles, according to Yonhap News. (Chung Sung-Jun/Getty Images)
The news outlet reported that Pyongyang sources claim the country has technology to fit a nuclear warhead on an intercontinental ballistic missile.
As for the photos showing Kim Jong Un observing a submarine-launched missile test earlier this month, Adm. James Winnefeld, vice chairman of the U.S. Joint Chiefs of Staff, told a Washington think tank this week that the North Koreans "have not gotten as far as their clever video editors and spinmeisters would have us believe."
"They are many years away from developing this capability. But if they are eventually able to do so it will present a hard-to-detect danger for Japan and South Korea as well as our service members stationed in the region. This only reinforces the importance of regional ballistic missile defense," Winnefeld told the Center for Strategic and International Studies.
He did not elaborate on what deception may have been involved in the portrayal of the test by North Korea. Experts at U.S.-based think tanks say that the missile is in an early stage of development and may have been launched from a submerged barge rather than a submarine.
The test, nevertheless, deepened international concern over North Korea's weapons development despite sanctions intended to impede that effort. The North already has hundreds of land-based ballistic missiles. U.S. officials have said North Korea may be capable of fielding a nuclear-armed missile that could reach U.S. soil but has not tested it yet.
This week, North Korea also cancelled its invitation for U.N. Secretary-General Ban Ki-moon to visit a factory park in the country that represents the last major cooperation project between the rival Koreas.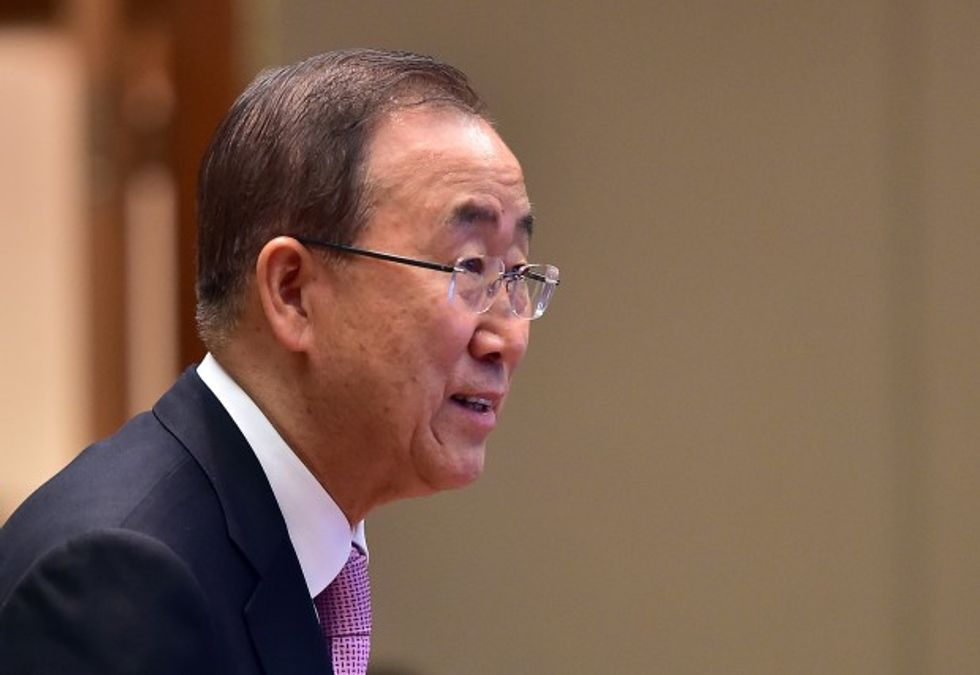 The U.N. Secretary General Ban Ki-Moon is on a five day trip to his home country South Korea. (Jung Yeon-Je/Getty Images)
Ban had previously said that he wanted to go Thursday to the Kaesong industrial park just north of the heavily fortified Korean border to help improve ties between North and South Korea, which jointly run the complex but have seen always tense ties worsen in recent weeks.
He would have been the first U.N. chief to visit the factory park, which opened in 2004 and is a rare, legitimate source of foreign currency for the impoverished North, and the first U.N. head to visit North Korea since Boutros Boutros-Ghali in 1993.
North Korea gave no reason when it told the U.N. of its decision to cancel his trip, Ban told a forum in Seoul on Wednesday. Analysts had said Ban's trip wouldn't likely bring any major breakthrough in ties between the Koreas, and some have calculated that Pyongyang made a last-minute determination to cancel because it was unlikely to get much out of such a visit.
"This decision by Pyongyang is deeply regrettable," Ban said, adding he will spare no effort to encourage the North to work with the international community for peace and stability on the Korean Peninsula and beyond.
Lim Byeong Cheol, a spokesman for Seoul's Unification Ministry, also expressed regret over the North's decision, saying the country must accept offers for dialogue and cooperation by the U.N. and other members of the international community instead of isolating itself.
North Korea has sometimes invited high-profile figures such as former U.S. President Jimmy Carter under the expectation that those people would listen to its concerns and then mediate in various standoffs with the outside world, including allegations of human rights abuse and its pursuit of nuclear armed missiles that could hit the U.S. mainland. But Pyongyang now appears to have determined that Ban, a former South Korean foreign minister, would only back the views of Seoul and Washington during his trip, Lim Eul Chul, a North Korea expert at South Korea's Kyungnam University, said.
North Korea likely didn't want to see Ban "delivering a peace message ... and asking them to come back to six-nation nuclear talks without any preconditions and to talk to South Korea to improve ties," Lim said. "I think North Korea has concluded Ban's visit won't be helpful for them."
U.S. Secretary of State John Kerry criticized North Korea's "flagrant disregard for international law" and its continued efforts to pursue nuclear and ballistic weapons:
—
The Associated Press contributed to this report.