An ultra-Orthodox Jewish website digitally altered this week's official photo of Israeli Prime Minister Benjamin Netanyahu's new cabinet, blurring out the three female ministers, including, ironically, the minister for gender equality.
But the website B'hadrei Haredim apparently overlooked one key detail, as it left the bare legs of one of the women in full view, an oversight first noted by Haaretz.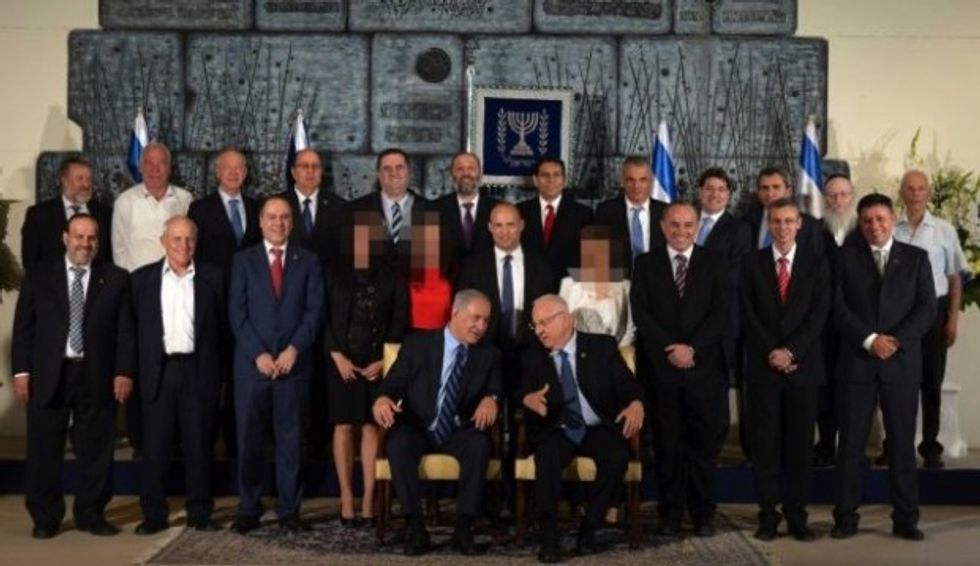 The digitally altered version of the photo blurred out three female ministers but left in the bare legs of one of the women. (Image via Twitter)
The website later digitally blurred out the errant legs as well.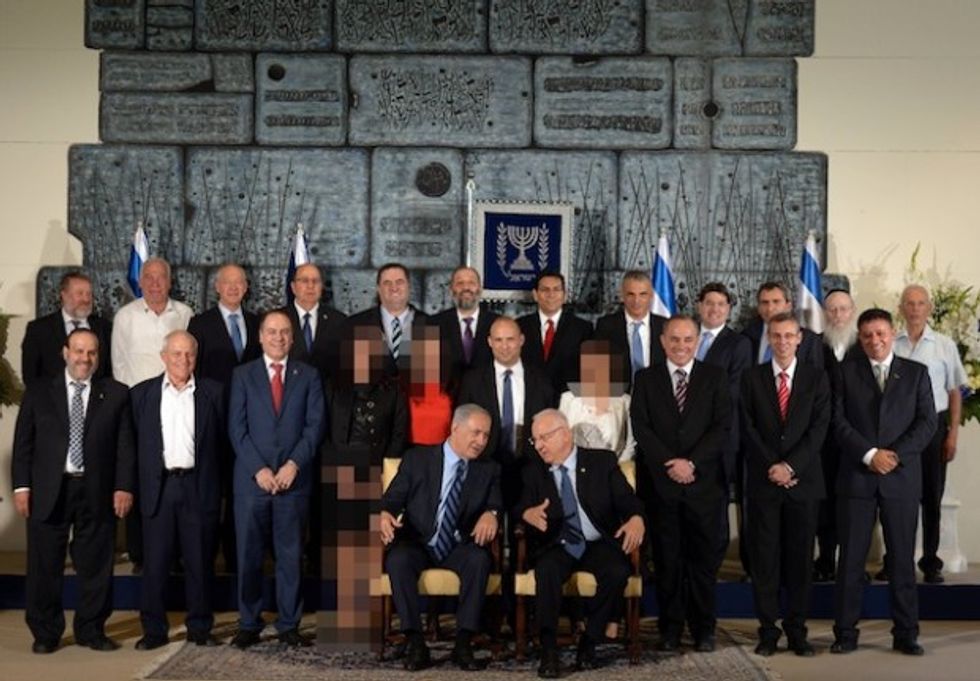 A subsequent photo published on the ultra-Orthodox website blurred out the legs as well. (Image source: B'hadrei Haredim)
The three ministers blurred out are Culture and Sport Minister Miri Regev, Justice Minister Ayelet Shaked and Senior Citizens, Minorities and Gender Equality Minister Gila Gamliel.
Netanyahu tweeted this from the same photo shoot showing all of his ministers:
Congratulations to Israel's 34th Government! pic.twitter.com/rhbuHC3FNC

— PM of Israel (@IsraeliPM) May 19, 2015
Some ultra-Orthodox news organizations do not print photos of women for what they believe to be an effort to uphold their modesty.
Similar recent efforts that received wide media attention includ the obscuring of reality television star Kim Kardashian's image from a photo taken of a meeting she and her husband Kanye West held with Jerusalem Mayor Nir Barkat in Jerusalem.
In January, another ultra-Orthodox newspapers edited out the women from a photo of world leaders standing arm-in-arm at a unity rally in Paris following the terrorist attacks targeting Charlie Hebdo magazine and a kosher grocery store.
(H/T: JTA)