Students and residents marched flag back and forth in front of Martinsville Junior-Senior High Tuesday after allegations that a Illinois high school teacher stomped on an American flag in front of his classroom.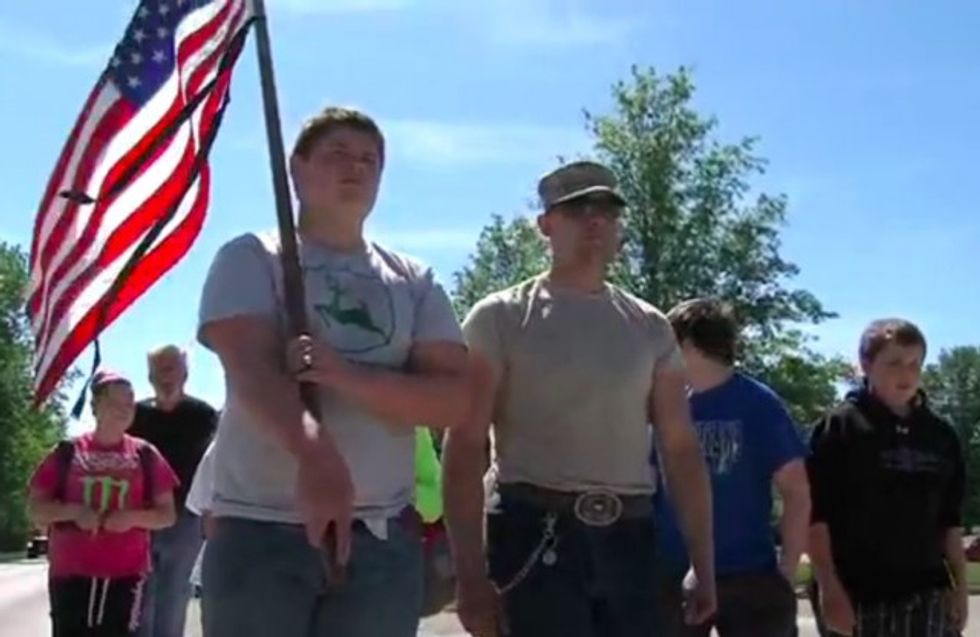 Image source: WTHI-TV
"It's just disgraceful," Navy veteran Clifford Clouser told WTHI-TV of Friday's alleged incident.
"There's just so much history in that flag," he added, his voice breaking. "Some good, some bad, but it's still our flag."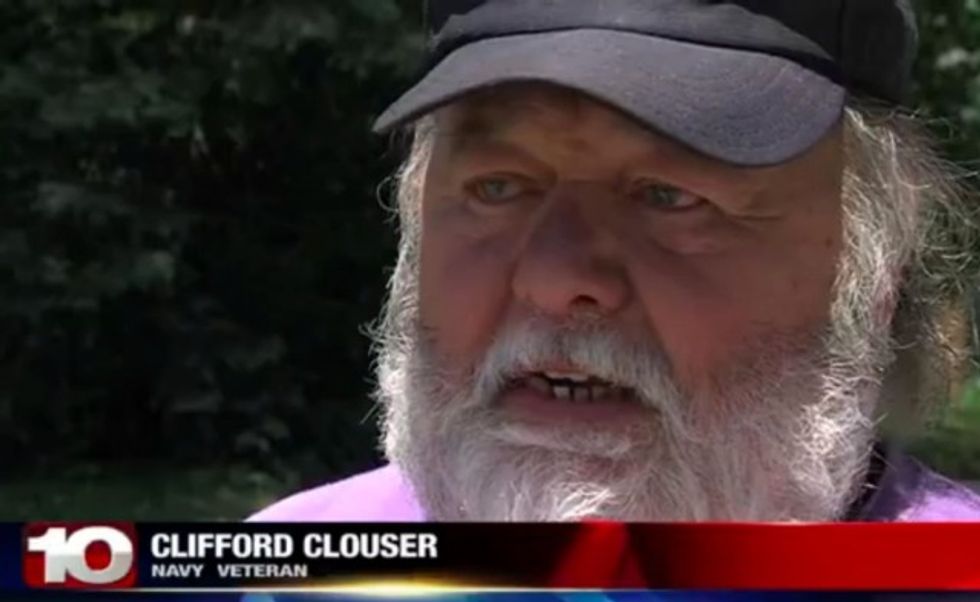 Image source: WTHI-TV
According to parent Gina Gibson, students said things got heated during a class when the teacher in question used the flag as a pointer. When a student told the teacher using the flag that way is disrespectful, Gibson said the teacher got angry, dropped the flag on the floor and stepped on it, the Journal Gazette & Times-Courier reported.
Arguments between students and the teacher ensued for the rest of the class — and heated up again during the next class, as those students heard about the flag-stomping incident, Gibson told the Journal Gazette.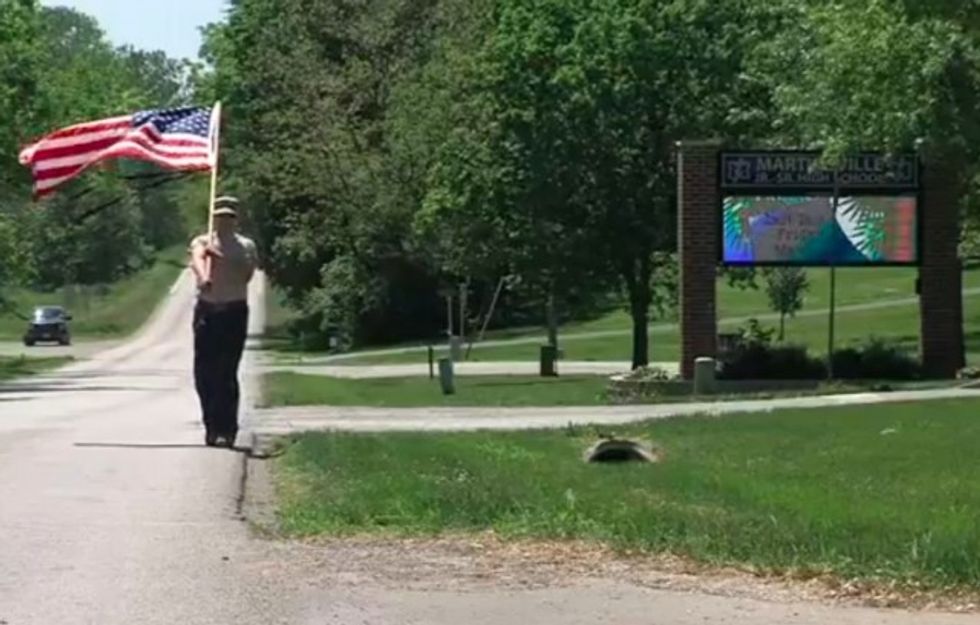 Image source: WTHI-TV
Gibson — who's also the daughter of Clifford Clouser — told the paper that her son Seth and another student protested by placing their heads on their desks and refusing to look at the teacher. Gibson said the teacher got angry, touched her son's shoulders to get his attention and sent him to the office, threatening detention.
"This is a situation in which I am proud of our students," Gibson told the Journal Gazette. "Our students are standing up for our nation."
"We can't figure out why he actually went to the simulations of actually doing it," senior Jonathan Smith told the Tristate Homepage of the alleged flag-stomping incident. "He talked about it being the right to do whatever he wants. That's why it was there, so he could do whatever he wants, but we have no idea why he would actually take it down and basically start all this."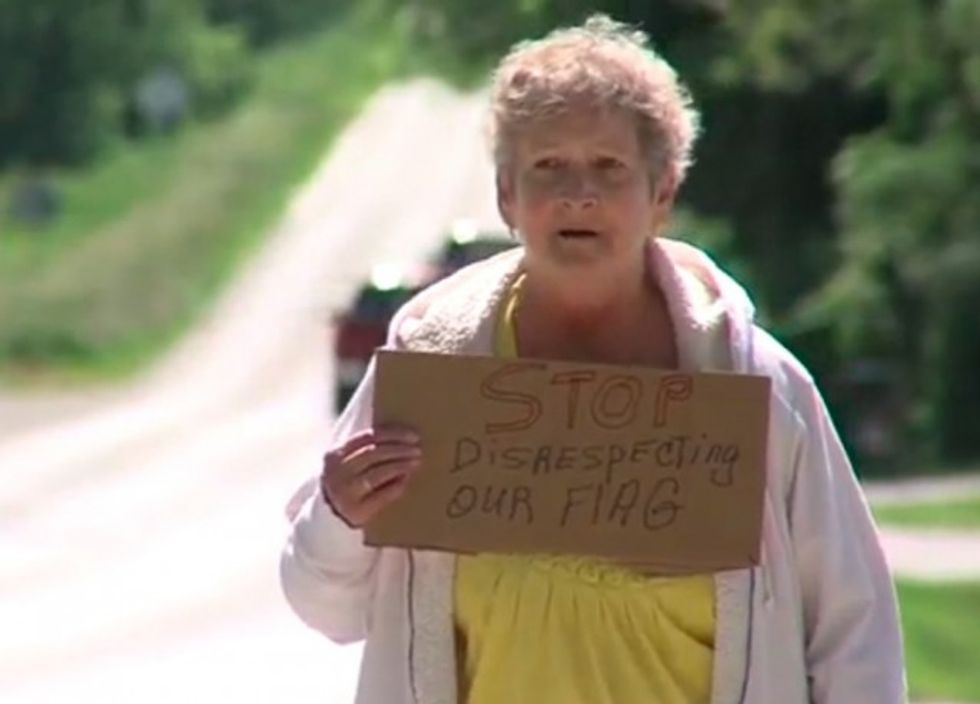 Image source: WTHI-TV
Superintendent Jill Rogers learned of the alleged incident Friday and then placed the teacher on leave Monday for the rest of the school year while officials investigate.
"We are also aware that community members have made threats against the teacher on Facebook.," the district said in a statement. "We have notified the police of the threats. We encourage everyone in the community to teach our students by example that we can express our disapproval with a situation without becoming threatening and/or potentially violent. To ensure the safety of the teacher involved, as well as the safety of his family, we will not be releasing his name at this time."
A decision on the teacher's status could be reached during June's school board meeting.
(H/T: The Daily Caller)
—
Follow Dave Urbanski (@DaveVUrbanski) on Twitter