Ye Olde Fighting Cocks in St. Albans, Hertfordshire, is the oldest pub in Britain. It's been around since the eighth century and has held its current name since 1872.
But now, People for the Ethical Treatment of Animals wants the bar to change its name — to something that instead will "reflect compassion" for chickens, the U.K. Mirror reported.
PETA's suggestion? Ye Olde Clever Cocks.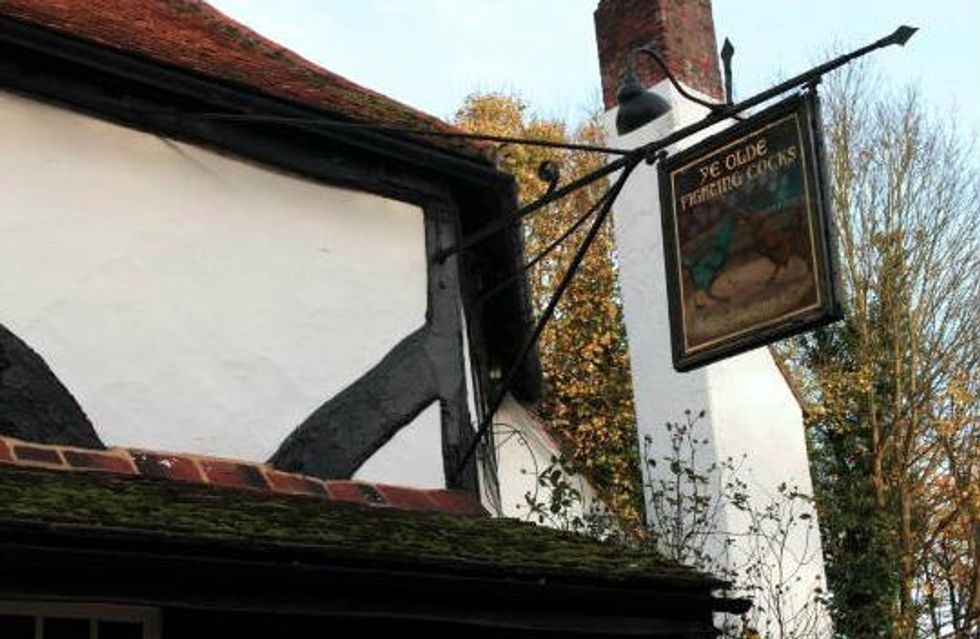 Image source: TripAdvisor
Ye Olde Fighting Cocks takes its name from the once-popular sport of cockfighting, which was banned in Britain in the 1800s. PETA Director Mimi Bekhechi told the Mirror that people today are "appalled" by the idea of forcing birds to fight each other.
"Changing the name would reflect today's rejection of needless violence and help celebrate chickens as the intelligent, sensitive and social animals they are," Bekhechi said.
But some locals don't see the proposed name change as a matter of animal rights. They say the current name honors the country's heritage and reminds them of how far they've come.
"The thing that appalls me is the total lack of appreciation of history," Robert Oakhill, who frequents the bar, told the Mirror. "The current name informs us about the past. It enables us to contemplate the great advances that have been made.
"The new name is, to use the most appropriate critical term, 'bonkers,'" Oakhill added.
Former pub employee Alasdair Melville said PETA should be worrying more about what's going on with actual animals rather than the name of a bar.
And for Esme Rice, who has lived in St. Albans for 20 years, the issue is more personal.
"I remember eating in their garden when I was young and my dad explaining about the sport and how barbaric it is but how this pub is a mark of heritage and history, not a celebration of the sport," Rice told the Mirror.
Others have chimed in on Twitter in support of keeping the name as it is.
Changing the name of @FightingCocksSA because of being offensive to PETA is the most preposterous thing I've heard! http://t.co/RzTS3mQ2N5

— ClaireSuzanne (@Claire_Suzanne_) May 21, 2015
@FightingCocksSA@matthertsad bloody ridic suggestion from @PETAUK about changing name of Ye Olde Fighting Cocks.Focus on real animal abuse

— Laura Berrill (@LauraBerrillPR) May 21, 2015
@FightingCocksSA Glad Ye Olde Fighting Cocks, oldest pub in England not bowing to pressure to change name.

— Dr. Michael Wilson (@DrMikeBDS) May 20, 2015
@FightingCocksSA Glad Ye Olde Fighting Cocks, oldest pub in England not bowing to pressure to change name.

— Dr. Michael Wilson (@DrMikeBDS) May 20, 2015
(H/T: National Review)
–
Follow Jon Street (@JonStreet) on Twitter