Milwaukee Brewers reliever Will Smith's seventh-inning appearance against the Atlanta Braves ended after just four pitches Thursday night.
Smith was brought in with the bases full of Braves. After hitting the first man he faced with a pitch and tossing a strike past the next batter, Braves manager Fredi Gonzalez asked the umpires to examine what appeared to be a shiny substance on Smith's right forearm.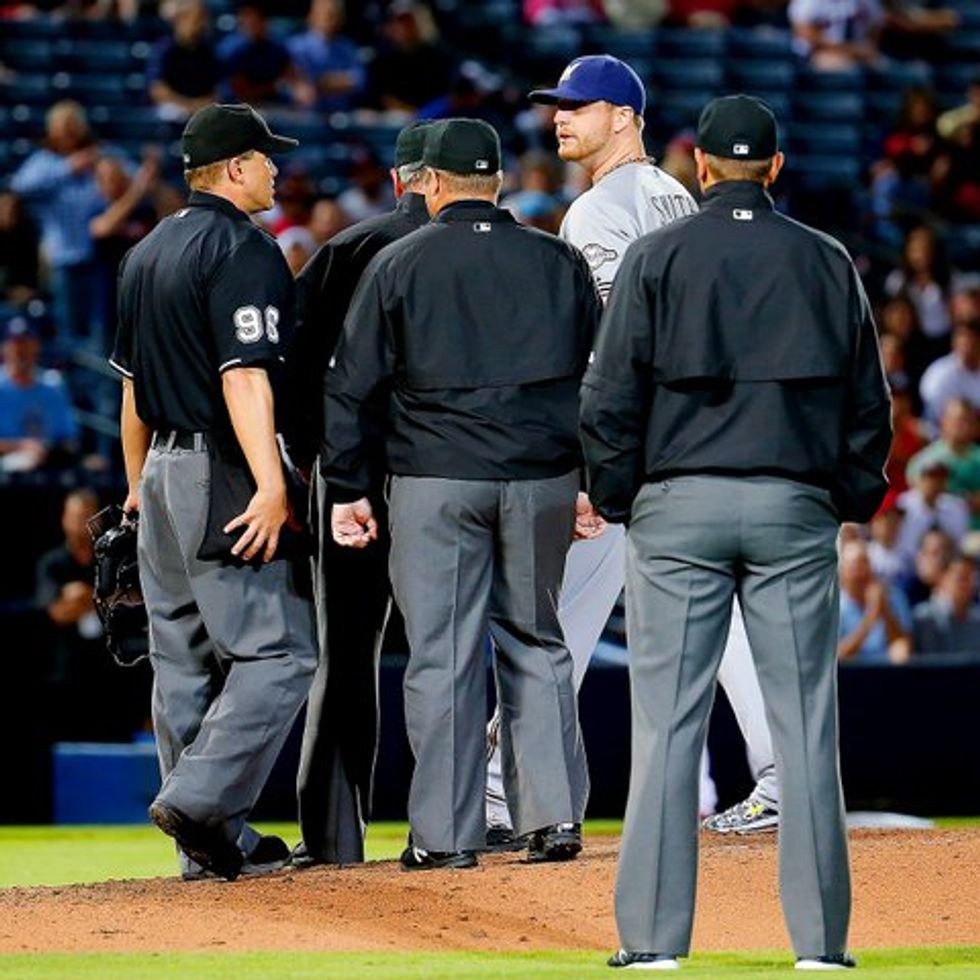 Image via Twitter
The umpiring crew gathered around Smith and inspected the stuff on his forearm, then immediately ejected the left-hander.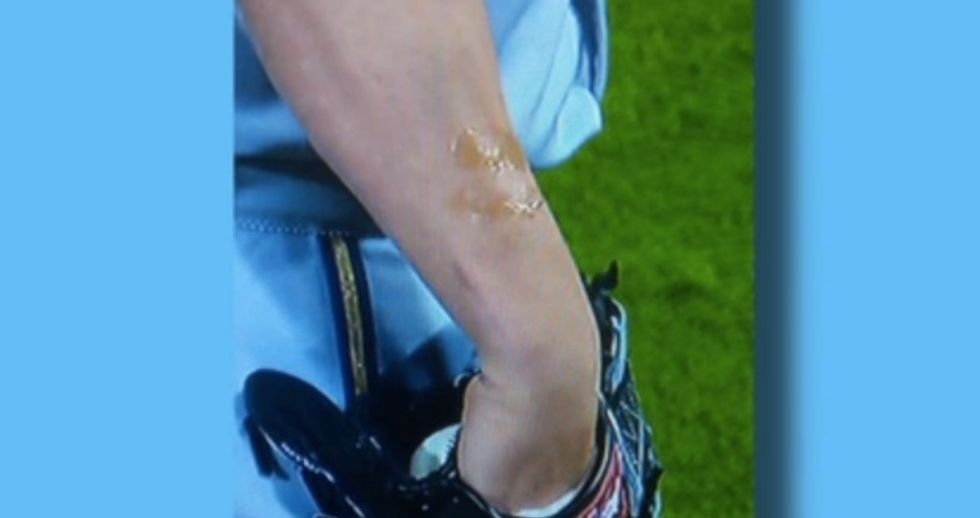 Image source: si.com
The Brewers pitcher claimed the substance was a mixture of rosin and sunscreen, telling reporters that in a rush to get into the game from the bullpen, he forgot to wipe it off.
Milwaukee Journal-Sentinel's Tom Haudricourt covered the game and posted a series of tweets about the incident and Smith's explanation:
Will Smith was furious as he left field, gesturing at Braves' bench.

— Tom (@Haudricourt) May 22, 2015
#Brewers Will Smith said he put a mixture of rosin and sunscreen on arm while warming up and forgot to remove it after coming in.

— Tom (@Haudricourt) May 22, 2015
The substance on Smith was easily recognizable but #Brewers stance is pitchers everywhere do it to get grips and hitters actually want it.

— Tom (@Haudricourt) May 22, 2015
Will Smith: "I had to kind of get ready in a hurry and I forgot (to remove the substance)."

— Tom (@Haudricourt) May 22, 2015
More Smith: "I'm a competitor. You want to stay in the game and pitch. It was a big situation. I was pissed I got thrown out."

— Tom (@Haudricourt) May 22, 2015
The league is expected to review the incident. Smith could face a suspension, fine or both.
—
Follow Mike Opelka (@Stuntbrain) on Twitter