NFL hall-of-famer Jim Kelly likens the collective mix of monumental success and heartbreaking adversity that he's experienced in both his personal and professional life to a "roller coaster ride."
"I've been ... up and down, up and down," Kelly, the famed former quarterback for the Buffalo Bills, told TheBlaze in an interview this week.
The key moment in Kelly's life that changed everything came after his 8-year-old son, Hunter, died in 2005 after suffering from Krabbe Disease, a fatal condition that impacts the nervous system. It wasn't long after that Kelly turned to God.
"It really came to a point in my life where I was at my lowest after my son passed away and really knowing, 'Okay, what am I going to do?' and being lost," Kelly said. "And then finally understanding what it was all about — that I needed the Lord in my life."
Watch him detail his struggles and his faith below:
Kelly, who was raised Catholic, became more serious about his Christian faith in 2007 when he decided to turn his life over to God, though his path since hasn't been an easy one.
Despite his many successes on the football field — which included leading the Bills to four consecutive Super Bowls — his son's tragic death was followed by two very serious bouts with jaw cancer in 2013 and 2014.
Kelly, like anyone else facing a potentially terminal illness, wasn't immune to pondering why he was facing such monumental challenges.
"Having gone through my cancer battle — how you sometimes do question God, why all these things are happening to me from neck surgery, back surgery, cancer, and all the things that went on in my life," he said. "You do come to a point where you do start questioning him, but then I understand and I start realizing that, after talking with my wife in detail about it, that I needed God in my life. I needed to continue to pray."
Kelly continued, "Bottom line is, we all get thrown to our knees and I was a few times over, but I understand that I am here for a reason. I am a chosen father with a little boy named Hunter that through all of our experiences, we've been able to make a difference."
He said that his faith has enriched his life and he credited his wife, Jill, with being a faith leader in his home. Kelly also expressed how proud he is of his daughter, Erin, who recently coauthored the book, "Kelly Tough: Live Courageously By Faith," alongside her mother; the book details her father's struggle for survival.
Through everything that they have faced, Kelly said that he and his family wouldn't be where they are if it weren't for their faith, explaining that he and his wife were absolutely "lost" before God came into the picture.
"We weren't sure where we were going, our marriage wasn't going very well," he said. "We needed that in our life."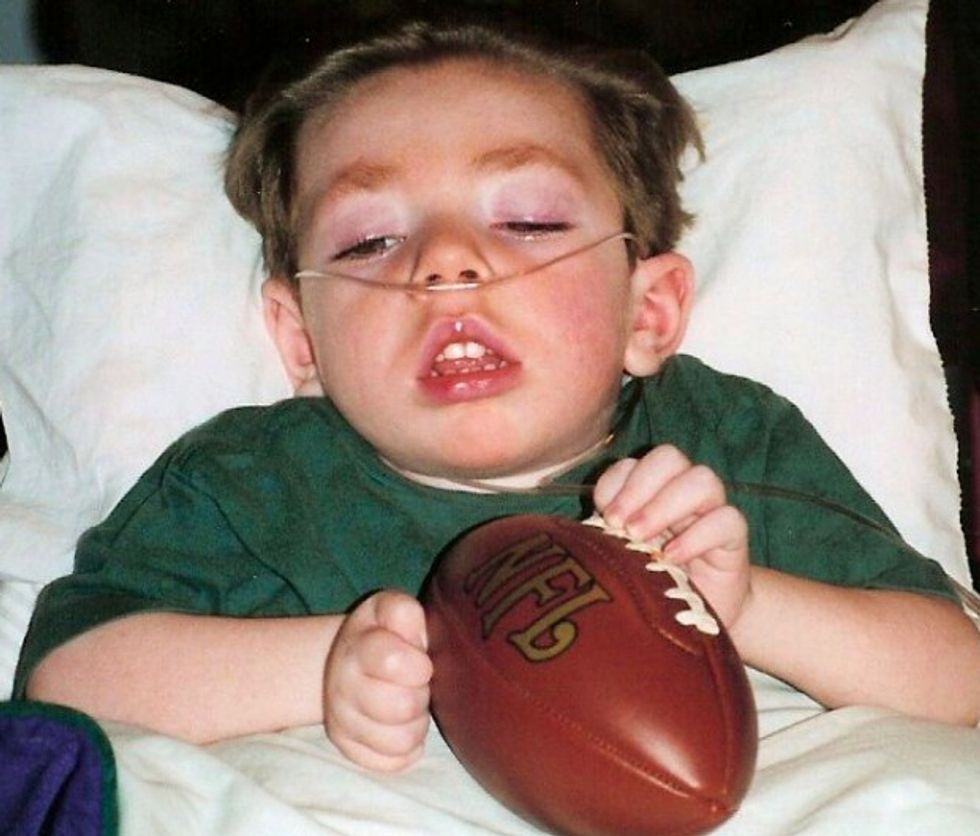 Hunter Kelly, son of football great Jim Kelly (Kelly family)
Today, Kelly says that he's fully confident in his faith and that he believes that he will one day be reunited with Hunter.
"I truly believe I know where I'm going," he said. "I truly believe that one day I will be walking alongside my son."
Erin Kelly also sat down with TheBlaze to discuss "Kelly Tough," a book that she hopes will "inspire the reader to be courageous and live fearlessly," explaining how her faith in God guided her and her family through both her brother's death and her father's bouts with cancer.
"Ultimately, we don't know what tomorrow holds, but I trust in the one who holds tomorrow," she told TheBlaze. "I know that I would not be who I am today without those circumstances that happened in my life."
Erin Kelly said that she wants to encourage others to hold on to every moment and to realize that God can and should be sought in times of great and harrowing uncertainty.