LONDON — Nick Evlogimenos came from Greece to Britain three years ago and now wants to see limits on both illegal and legal immigration into the country he now calls home.
"I understand the agony some people face but from my point of view, whoever wants to make a living in a country that is not his own should prove he can provide for that country by being productive," Evlomenos told TheBlaze.
Fresh off his Conservative party's reelection victory this month, British Prime Minister David Cameron proposed a sweeping crackdown on illegal immigrants and employers who hire them that would allow confiscating illegals' paychecks and cutting government benefits for legal immigrants. The announcement came after reports that net immigration into Britain in 2014 reached a near record at 318,000, an increase of more than 100,000 from the previous year.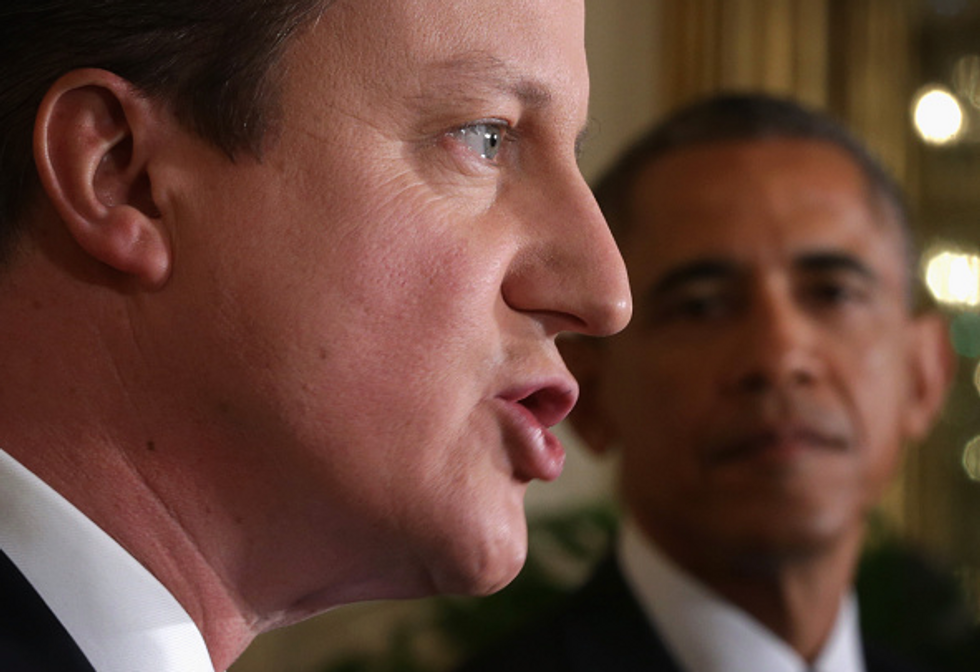 President Barack Obama and British Prime Minister David Cameron participate in a joint news conference at the East Room of the White House January 16, 2015 in Washington, D.C. (Image source: Alex Wong/Getty Images)
Though Cameron and President Barack Obama have displayed a close friendship — with the president reportedly calling the prime minister "bro" — the two leaders have starkly different approaches to immigration.
In November 2014, Obama issued executive actions to shield about 5 million illegal immigrants in the United States from deportation.
"The U.K. is a smaller country than the U.S., so you can probably accommodate more immigrants," London resident Ann Salmon told TheBlaze regarding the contrasting policies between Obama and Cameron. "We feel here that immigration is a big problem. A lot come into this country just for benefits."
Salmon said her own family has borne the burden of mass immigration.
"Immigration really affects the building industry," she said. "My husband is a bricklayer and has seen his wages cut and cut. It's ongoing."
Both American political parties should be more responsive to the problem, said Ira Mehlman, spokesman for the Federation of Americans for Immigration Reform, a U.S.-based pro-border enforcement group.
"For whatever reason, the British political system seems to respond to public concern about the impact of illegal immigration on the British public," Mehlman told TheBlaze in an email. "Here the interests of the American people are largely ignored by the two parties, as one party seeks to build a voting bloc while the leadership of the other seeks to satisfy the demands cheap labor business interests."
Under Cameron's proposal, as reported by the Times of London:
Illegal immigrants convicted of the "illegal working" can have her pay seized by the government.
It would be illegal for a company to recruit workers abroad before recruiting workers in Britain.
Illegal immigrant tenants can be evicted and landlords that do not check papers can be prosecuted.
Banks will have to check the names of account holders against a national database of known illegal immigrants in Britain.
Cameron announced the proposal Thursday after Britain's Office of National Statistics reported net immigration increased in 2014 to 318,020. That's up from 209,000 in 2013. Cameron failed on a pledge five years ago to keep immigration levels below 100,000 per year.
"Prime Minister Cameron has the right idea: eliminate the incentives for people to immigrate illegally. Illegal aliens are extremely rational people," Mehlman said. "If they believe that their actions will be rewarded with access to jobs, public benefits, protections from removal, etc., they will come in large numbers. If they believe laws are being enforce in a way that prevents them from getting jobs, restricts their access to non-essential, non-emergency benefits and services, they will also respond rationally. Fewer will come, and more will get discouraged and leave."
In years past, most immigration to Britain came from poorer eastern European countries. But the 2014 stats show more than a third — 133,000 — came from France, Spain, Italy and Greece, the Daily Telegraph reported.
Jodie Casey, a resident of London, is no supporter of Cameron or the Conservative party. Still, on the issue of immigration she finds herself in agreement with the prime minister.
"I don't mind immigrants coming here to work, but if they are here illegally it's not fair," Casey told TheBlaze. "Or if they are here just to collect the benefits and not pay into the national health service."