More than four years ago, Chris Norton made a tackle on a kickoff that would change his life. But on Saturday, Norton demonstrated how he didn't let incredible hardship get in the way of his success.
On Oct. 16, 2010, playing for Luther College in Decorah, Iowa, Norton as a freshman fractured his C3-C4 vertebrae and was paralyzed with a 3 percent chance he would ever move any of his limbs again, according to the SCI CAN Foundation.
Norton would spend the next four and a half years going through intensive therapy all with the goal of what happened Saturday in mind. That goal was being able to walk across his college graduation stage.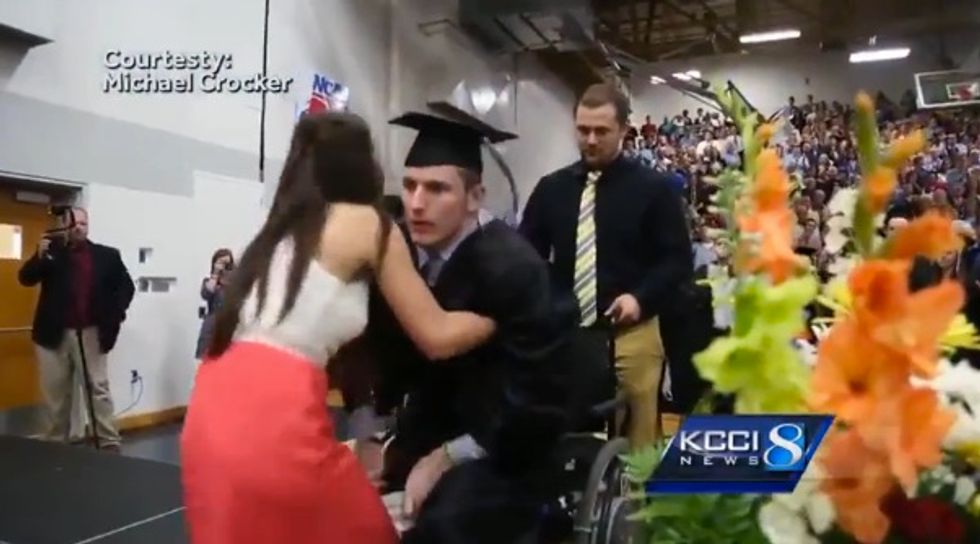 Chris Norton is helped up by his now fiancee Emily Summers. (Image source: KCCI-TV)
His girlfriend Emily Summers helped pull up the business management major from his wheelchair, his hands shaking as he stood with the crowd cheering encouragement. With support from the Summers, who (spoiler alert) became his fiancee over the weekend, Norton put one foot in front of the other and walked forward to receive his diploma.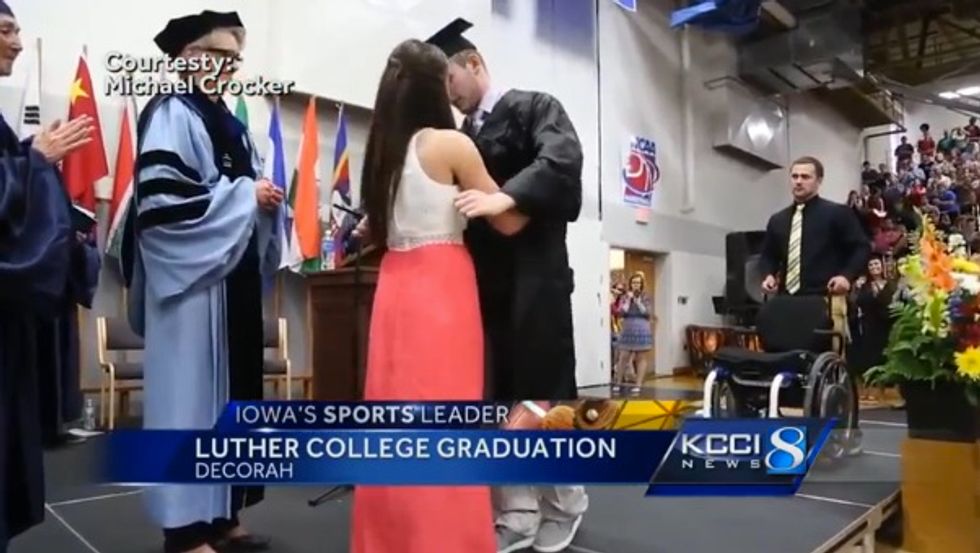 Image source: KCCI-TV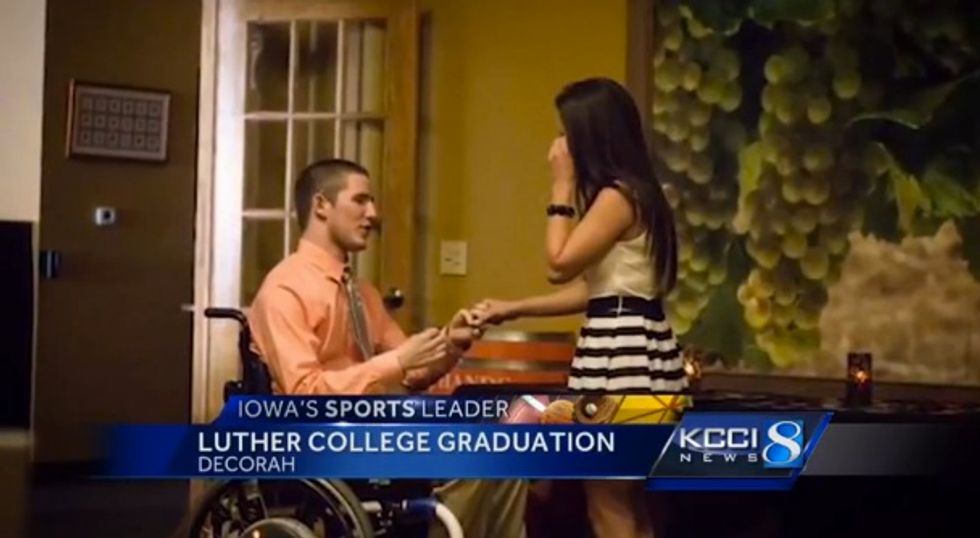 Image source: KCCI-TV
According to KCCI-TV, the crowd cheered Norton for two minutes during the ceremony.
Watch the footage in KCCI's report:
"Man! So what did you guys do this weekend?" one of the news station's reporters said to his colleagues after running down how much Norton had to overcome to reach this milestone weekend.
In addition to Norton's recent accomplishments — walking, graduating and getting engaged — he founded the SCI CAN Foundation after his injury to help others with spinal cord injuries who might not have access to the therapy equipment they need.
"Chris attributes much of his success to the array of therapy options he has had access to during the past three years," the foundation's website explained. "Having been injured in an NCAA athletic event many of Chris's therapy costs - ranging from his $25,000 RT300 leg and arm bike, to his $15,000 bioness hand stimulator – have been covered by the associations high risk insurance. No matter how great his determination and work ethic are, Chris's circumstances would be completely different if it wasn't for the continued support of this extraordinary insurance policy."