The Islamic State group has suggested it could buy a nuclear weapon over the next year and smuggle it into the U.S. from Mexico.
The claim was made in an article allegedly penned by British hostage John Cantlie in the latest issue of Dabiq, the group's English-language propaganda magazine.
The article titled "The Perfect Storm" alleges that the group has amassed enough funds to purchase the weapon from Pakistan.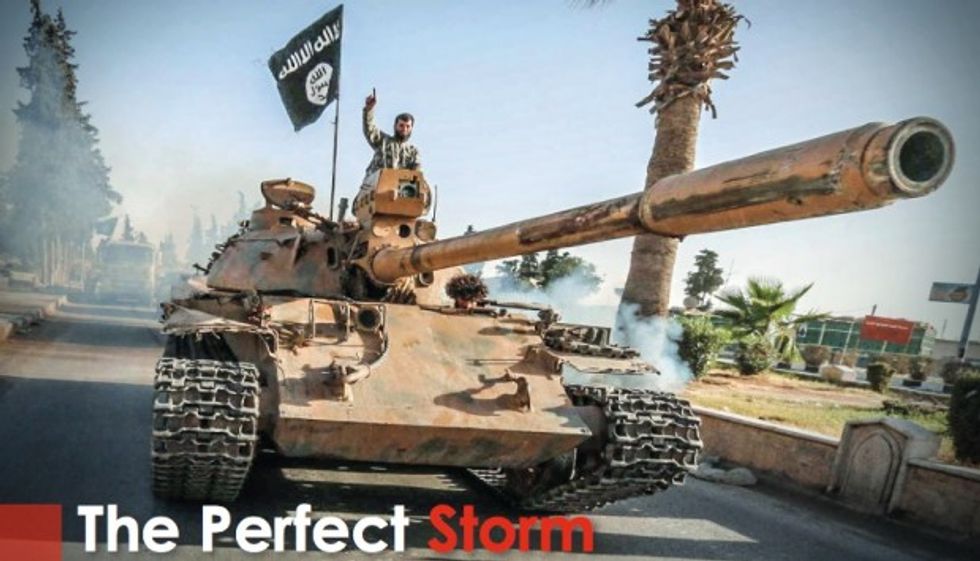 The Islamic State group's English-language propaganda magazine threatened the "Perfect Storm" of purchasing a nuclear weapon and smuggling it over the southern U.S. border (Image source: Dabiq)
"Let me throw a hypothetical operation onto the table. The Islamic State has billions of dollars in the bank, so they call on their wilayah [province] in Pakistan to purchase a nuclear device through weapons dealers with links to corrupt officials in the region," the magazine stated.
According to the hypothetical scenario, the weapon could be transported on land to Libya then moved to Nigeria, after which it would be loaded onto a ship used normally for illegal drugs. Eventually it would get to Central America, then Mexico and into the U.S.
"From there it's just a quick hop through a smuggling tunnel and hey presto, they're mingling with another 12 million 'illegal' aliens in America with a nuclear bomb in the trunk of their car," Cantlie allegedly wrote.
"Perhaps such a scenario is far-fetched but it's the sum of all fears for Western intelligence agencies and it's infinitely more possible today than it was just one year ago," the article stated. "And if not a nuke, what about a few thousand tons of ammonium nitrate explosive? That's easy enough to make."
The magazine asserted that the Islamic State is "looking to do something big, something that would make any past operation look like a squirrel shoot, and the more groups that pledge allegiance the more possible it becomes to pull off something truly epic."
(H/T: Independent)