Actor Kristoffer Polaha, whose ever-growing resume has included appearances in "Mad Men," "Stalker" and "Atlas Shrugged: Who Is John Galt?," among a plethora of other TV shows and films, is a rarity in Hollywood; he's a Christian who has stuck closely to his faith and values.
Polaha, who stars in the new film "Where Hope Grows," recently told The Church Boys podcast about his life-long relationship with God — and the terrifying, bizarre and life-altering moment that brought him closer than ever to the Lord.
"I always grew up with a real sense of God," he said of his younger years.
It was during his junior year of high school, though, that Polaha said his faith changed dramatically. At the time, he was meeting girls who found him attractive and picking up leads in school plays; by all accounts, his life was moving in a positive direction.
"I remember praying specifically one day in the fall, and I said, 'Lord, I want to know if this is you acting in my life or if this is me. And I'm just not going to pray for six months,'" Polaha recalled. "And I took this sabbatical from praying, which ended up being this six-year journey of it being, I call it my 'wilderness journey,' just kind of lost in the wilderness."
Listen to Polaha describe losing and regaining his faith below (interview starts at 41:00 mark):
That journey led Polaha to New York University in New York City, where he began exploring a multitude of religious perspectives.
"I did this thing called Semester at Sea and it was literally a journey around the world on a boat. And I went to Japan and China and Vietnam and India and the Middle East," he said. "I was studying, just invested myself in Buddhism and Shintoism and Muslim and Judaism and Hinduism and, you know, all of the 'isms,' and I went into it … at the time even practicing yoga and going through this spiritual, you know… and it was Jesus, he just kind of gripped me and called me up and said, 'Dude, I want you back.'"
There was a specific moment, though, that Polaha recalls — a "bizarre experience" that was so scary and life-altering that it is forever singed into his memory. He recalled walking up 9th Avenue in New York City with a friend named Catherine. As the two strolled down the street, he said that he was standing to her right until something he couldn't quite put his finger on told him to move to the other side.
[sharequote align="center"]"Jesus ... just kind of gripped me and called me up and said, 'Dude, I want you back.'"[/sharequote]
"I switched places with her. I just moved to the other side of her. And I said, 'I don't know why, but I feel better on this side of you,' and a block later, we heard this ticking sound," he said. "And I look down, and the grates to the sidewalk blew open and we were engulfed in a fireball. The fireball went back into the thing, and hissed out and blew out the storefront window and we were showered with glass."
Polaha, who was wearing a think jacket and corduroy pants, ended up blocking Catherine and protecting her from the frisbee-sized pieces of glass that flew at them, though he was a bloody mess after sustaining wounds to his face, hand and arms — wounds that required 180 stitches.
A scar on the left-hand side of his face still shows the remnants of that fateful evening.
"I completely eclipsed the glass from hurting her, and she was in jeans, a t-shirt, and a windbreaker — like I was overdressed for the night and she was underdressed for the night," he said.
[sharequote align="center"]"We were engulfed in a fireball."[/sharequote]
But that's not the only miracle that unfolded that night. Polaha said that the incident threw him into the middle of a New York City street, but that a red light at that very moment meant that the typically busy road was momentarily devoid of moving cars.
"The fireball engulfs us, the glass hits us, the next thing I know, I'm standing in the first lane of traffic, looking downtown. ... she's standing, but she's above the blast facing uptown," he said. "The lights were all red, so there's no cars on this one block, but then the lights change and it's full of traffic, full of New York traffic."
Polaha continued, "But at this particular moment, the block was empty. And we're standing on our feet, so it's just like something picked us up and then set us down."
After he and Catherine rushed to the hospital, he said that the fire marshall was astounded that they were alive, saying, "You know, it's a miracle that you're alive right now. You should have been decapitated." It was a moment that left the actor thinking deeply about just how closely he had come to death.
[sharequote align="center"]"You know, it's a miracle that you're alive right now. You should have been decapitated."[/sharequote]
"So for me, it was this moment of like, 'I should have died.' I really technically should have died," he said. "Catherine should have died. I should have been on the other side of her. And it was just weird."
Polaha said that the experience was like an "epiphany moment" that left him in a state of virtual shock for two weeks afterward.
"My heart was just, it was broken for humanity, it was broken for myself," he said. "I'd … just see somebody, and I'd see their hurt. I'd have extreme empathy for people."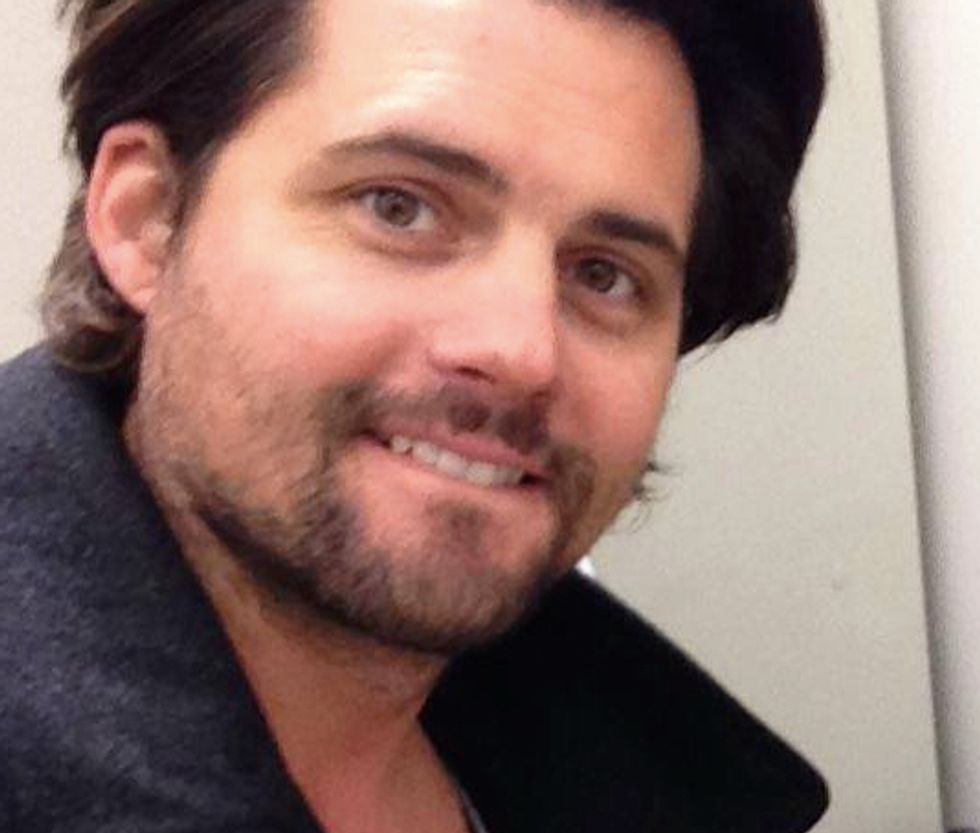 Actor Kristoffer Polaha (Image via Facebook/Kristoffer Polaha)
But it did more than merely build empathy. Polaha said that the near-death experience left him looking at life in an entirely different way.
"Every day we're on this A-track and our life is goals, it's social exchanges, and it's all these things that we do to just kind of get through the day to get on with it to make our meat, earn our bones, and earn a living, our status and all that stuff," he said. "And I was moved to this track B, which I considered a higher track and was looking around going, 'Wow, there's more life than this race that I'm in.'"
Polaha admitted that, though he continues living on track B, it's sometimes hard working in Hollywood in an environment in which status and success are so highly valued. And despite his successes, he has had moments in which jobs have dried up and he's found himself asking, "God, what's the plan?"
[sharequote align="center"]'I should have died.' I really technically should have died."[/sharequote]
In the end, though, it's faith that has gotten him through. The actor has stuck so closely to God throughout his career that he revealed that he once jogged regularly to one of ABC's buildings and laid hands on it in an effort to fervently pray for one of the shows he appeared on.
Today, Polaha says that he's a work in progress, as he allows God to continue to transform him.
"It's been God working in me and daily sort of making me better — and by that I mean just more holy, I guess. But for me as an actor, you got to take all of it. And I'm broken and fallen, and I'm full of sin," he said. "So, it's like I'm human and I'm going to fail, and I'm going to make mistakes. So I can't be held to a standard, but at the same time, I'm accountable for my actions. And my accountability comes with my relationship with Christ."
Find out more about Polaha's new film "Where Hope Grows," which focuses on a budding friendship between characters Calvin Campbell, an ex-baseball player who faces some major life struggles, and Produce, a young man with Down syndrome, here.
TheBlaze's Marissa Abbott contributed to this report.