A police officer is dead and a suspect in custody after a shooting Monday night in Rio Rancho, New Mexico.
Police said the officer stopped a man and a woman in an SUV just after 8 p.m. Monday. Exact details of the confrontation were not immediately clear, but investigators said someone inside the vehicle fired a gun at the officer just before the vehicle fled.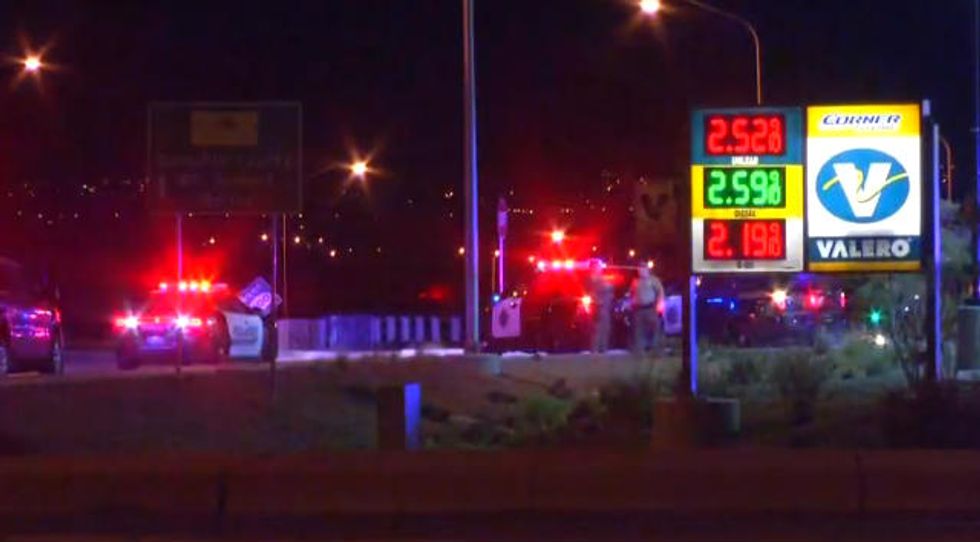 Image source: KOB-TV
"There [were] four shots – just went pop, pop, pop, pop – four real quick shots," Elijah Ortiz Y Pino, a high school student who witnessed part of the confrontation, told KOB-TV.
"And I was looking that direction, you know right away ... it's like, where is it coming from, and then I looked a little bit closer to me, and then that's when I saw the actual person giving him CPR and some dude laying on the ground."
The officer was taken to a nearby hospital where he died of his injuries.
The name of the officer was not immediately released, but Captain Paul Rogers said that he was 49 years old and married with five adult children. He had had served with the department for four years and was an Air Force veteran.
"Losing him is going to have a great impact with the officers, on the department, with the employees on the department. I'm sure once we're able to identify the officer to the community, they will feel a loss as well," Rogers said.
One person has been arrested in possible connection with the crime, although it was not immediately clear which suspect it was. The second suspect is still at large, according to KOB.
Watch more coverage below:
(H/T: KOB-TV)
–
Follow Jon Street (@JonStreet) on Twitter