© 2023 Blaze Media LLC. All rights reserved.
Parents Rally Support for Mother Issued an Arrest Warrant After Son Had Too Many Unexcused Absences From School
"I was actually placed in ankle shackles!"
Update May 27, 2014, 2 p.m. EST: David DeLugas, executive director of the National Parents Association, which is representing the Giles family legally in this case, told TheBlaze Tuesday that its arguing that the state might have an interest in ensuring children obtain a minimum level of education, but attendance should not necessarily be considered a requirement to achieve that goal.
Giles' son, for example, even though he exceeded the limit set for unexcused absences was still an honor roll student.
"When the child is not harmed ... it's the fundamental right of a parent to raise their own child [as they see fit,]" DeLugas said. "Good grades in school, [in this case,] means there was no harm to the child and thus, the state has no right to infringe on the right of the parent."
DeLugas added that it "seems absurd that we're using state resources to prosecute a parent when the child is progressing in school and doing well."
Original story is as follows. 
—
On May 12, Julie Giles asked for a prayer, something she admitted she did often. But this time was different, more serious.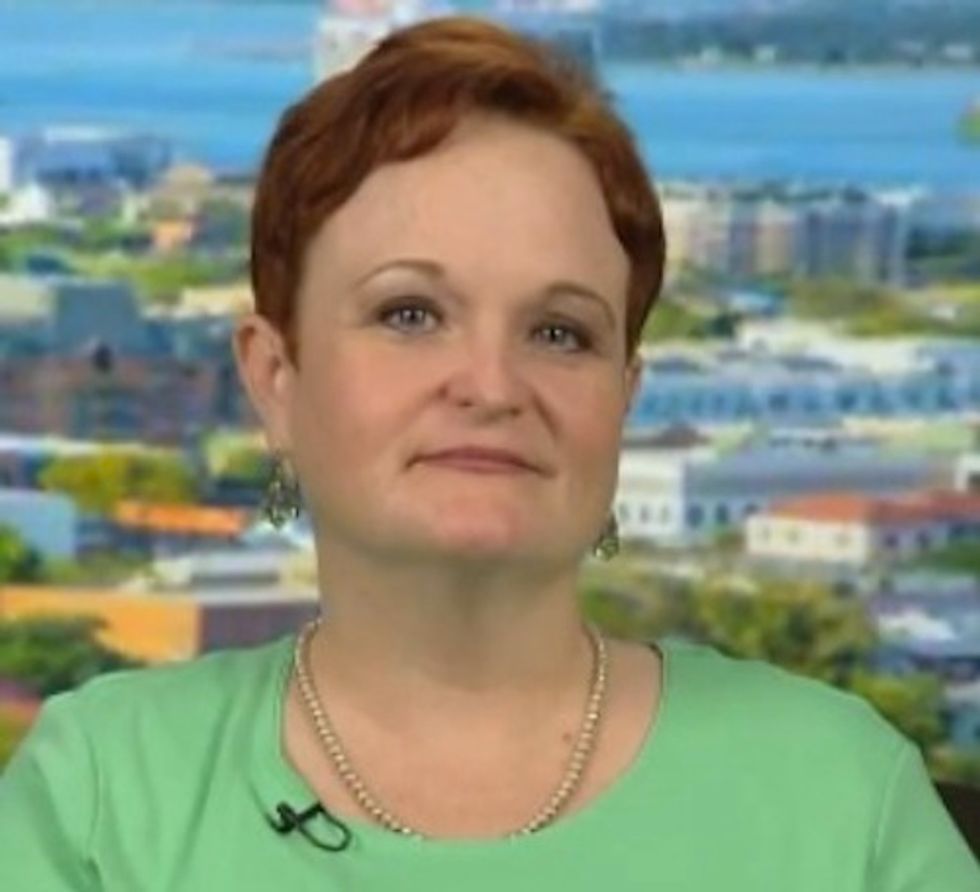 Julie Giles turned herself in when she learned of a warrant for her arrest, which was the result of her son having too many unexcused absences at school. (Image source: Fox News Insider)
She was notified about an impending warrant for her arrest. The reason for it now has many parents around the collective Internet rallying more than just prayers for her.
Giles son, Sam, exceeded the number of unexcused absences (those without a doctor's note) allowed by the school district.
"As all of you know, my boys being sick often is nothing new. Their [nurse practitioner] jokes that the practice should be cutting me a paycheck, but the truth is [I] cannot afford a copay every single time they are sick, but I never want to send them to school when they feel bad or could possibly get others sick," Giles wrote on Facebook. "I have NEVER been in trouble before in my life and the boys are beside themselves. We need prayer! I know that God is good and is with me in all things!!"
Two days later when a warrant was issued, she turned herself in.
"I was actually placed in ankle shackles!!" the mom wrote on Facebook after being released. "I was told that doing so is procedure. I was respectful and followed directions. Sheriff Mike Kile allowed me to leave after being booked and photographed without having to call a bondsman."
According to a Screven County School District document, after five unexcused absences occur, a letter is sent home to the child's parent or guardian. The school will make two reasonable attempts with this notice.
"An appointment will be scheduled for the parent to meet with the attendance officer to discuss a plan for improving the child's attendance and to prevent possible court intervention," the document stated.
At six unexcused absences, the school district document detailed how the courts could get involved.
WTOC-TV reported that Giles' son exceeded the acceptable number of unexcused absences by six. Three of those, his mother said, she had a doctor's note for, but her son failed to turn it in. This, the news station reported, would suggest that Giles was served a warrant for three unexcused absences over the limit.
Watch Giles talk about the case on Fox News:
Superintendent William Bland told WTOC "several" parents have been convicted of a similar offense this year, noting that the school was just following the law.
"It's important for these children to be in school and I think the courts recognize that," Bland told WTOC's Don Logana.
A law, which some people have said they find "insane."
"This is huge problem," Ashlea Mask wrote in a comment on Facebook. "Parents can only write 5 excuses. Otherwise they have to have dr's excuses. For those of us that don't carry their child to the dr for every runny nose or stomach virus this is a huge problem. Not only is is costly to those who have copays or have to pay out of pocket but it can be a huge financial strain. I believe it perpetuates sickness in school as well. ... It's insane."
Stephanie Reese wrote that she was caught in a similar situation as well, though no legal action was taken.
"I'm sorry, but every fever doesn't deserve a Doctors visit, usually just rest and fluids," she continued. "This is also a child who's lowest report card grade for the year was a 96. But whatever...keep up the insanity and I'll yank him out and homeschool him faster than you can say 'Just lost funding on a Special Ed student.'"
"Just another reason to homeschool," Lindsay Morris Olivares wrote. "I don't need that much government in my life."
Debra Haley wrote that, in this case, they're "taking the law too far out of hand."
And the comments along these lines go on and on.
After WTOC's report and Giles story started going viral, the family announced their plan to consider moving out of the school district all together, home-schooling or enrolling their son in private school. Though they are receiving legal assistance pro bono from the National Association of Parents, Giles' husband Keith Giles, wrote on a GoFundMe page that they have the "possibility of some serious expenses coming our way in the very near future due to this battle."
"Any funds that are given that are not needed for this purpose will be given back to charity," Keith Giles wrote.
The National Association of Parents stated on its website:
Her son has been sick a lot, but not so sick as to make going to the doctor necessary. Doctor visits mean going to where other people are sick, where her son's illness could affect others, call for a co-pay, and take up valuable time of the doctor and staff. Yet, school officials can decide an absence is unexcused because a parent's word is not sufficient, even for a child clearly doing well in school. The National Association of Parents is defending Mrs. Giles from the criminal charges that could land her in jail as well as cost her family fines, because parents, if not harming their child, have the right to decide. This isn't about whether or not school is important. By this child's grades, the Giles family knows school is important; So is their son's health and well-being.
Neither Julie Giles nor the National Association of Parents were immediately available to comment to the TheBlaze.
(H/T: Daily Mail)
Want to leave a tip?
We answer to you. Help keep our content free of advertisers and big tech censorship by leaving a tip today.
more stories
Sign up for the Blaze newsletter
By signing up, you agree to our
Privacy Policy
and
Terms of Use
, and agree to receive content that may sometimes include advertisements. You may opt out at any time.