OMAHA, Neb. (TheBlaze/AP) -- An Omaha police officer who had planned to celebrate her daughter leaving the hospital three months after being born prematurely was mourned Tuesday by family members and fellow officers.
Kerrie Orozco, 29, was shot to death last Wednesday by a fugitive who was fatally wounded by another officer. The 29-year-old Orozco, whose last name was pronounced or-ROHZ'-koh, lived in Council Bluffs, Iowa, and was a native of nearby Walnut, Iowa.
But the slain cop didn't just receive support from fellow cops and family as crowds descended on Omaha to honor Orozco. Here are just some of the photos that emerged from Omaha on Tuesday:
A young supporter stands holding his heart as @OmahaPolice officer Kerrie Orozco precession passes by. #SupportBluepic.twitter.com/fEPOIr8suu

— Thomas O'Gorman (@TommyOGorman) May 26, 2015
A sea of blue saying good-bye to a fallen officer. An emotional assigment. #KerrieOrozco#kerrieON#suppprtBluepic.twitter.com/HNFC1KFKxe

— Cesar gonzalez (@cesarnews4) May 26, 2015
Sombering but beautiful day in #Omaha. Time to #KerrieOn & #SupportBlue, @OmahaPolice! #KerrieOrozco#Kerrie1969pic.twitter.com/w2bwhhvZek

— Wes Jensen (@wesjensen86) May 26, 2015
There are no words. #KerrieOn#KerrieOrozco@KETVpic.twitter.com/wJirfWAZAn

— Alex Hoffman KETV (@hoffman_alex) May 26, 2015
Omaha grieves. #KerrieOrozco#KerrieOnpic.twitter.com/X4HgepA0B8

— Eric Purcell (@EricPurcell1) May 26, 2015
View from middle of Douglas Street. #KerrieOrozco's procession will pass right through here @WOWT6Newspic.twitter.com/rwUHQOa9VC

— Joe Chiodo WOWT (@JoeChiodo) May 26, 2015
Students at Thomas Jefferson High School supporting #KerrieOrozco@KETVpic.twitter.com/eD0IZEh3ta

— Alex Hoffman KETV (@hoffman_alex) May 26, 2015
Law enforcement lining Street as the procession for #KerrieOrozco nears. Will pass under flag to cemetery @WOWT6Newspic.twitter.com/pzWJFqd3nK

— Joe Chiodo WOWT (@JoeChiodo) May 26, 2015
our city today. #KerrieOrozcopic.twitter.com/kdorYpxdTf

— Abby Sindt (@ASindt) May 26, 2015
#SupportBlue#KerrieOrozco#KerrieOnpic.twitter.com/zn2mFvFlAd

— Casey Wood (@caseyjwood) May 26, 2015
Honor to pay respect #SupportBlue#KerrieOrozcopic.twitter.com/F2A9QlZ6p2

— Kelli Higgins (@KelBell0926) May 26, 2015
Her funeral at St. John's Catholic Church at Creighton University in Omaha included traditional hymns and a remembrance of Orozco's baptism.
The Rev. William Bond said Orozco loved the work she did helping others in their time of need. He said she had strong faith.
"I'm glad that Kerrie had a regular habit of prayer, not only in her church but also in her squad car," Bond said.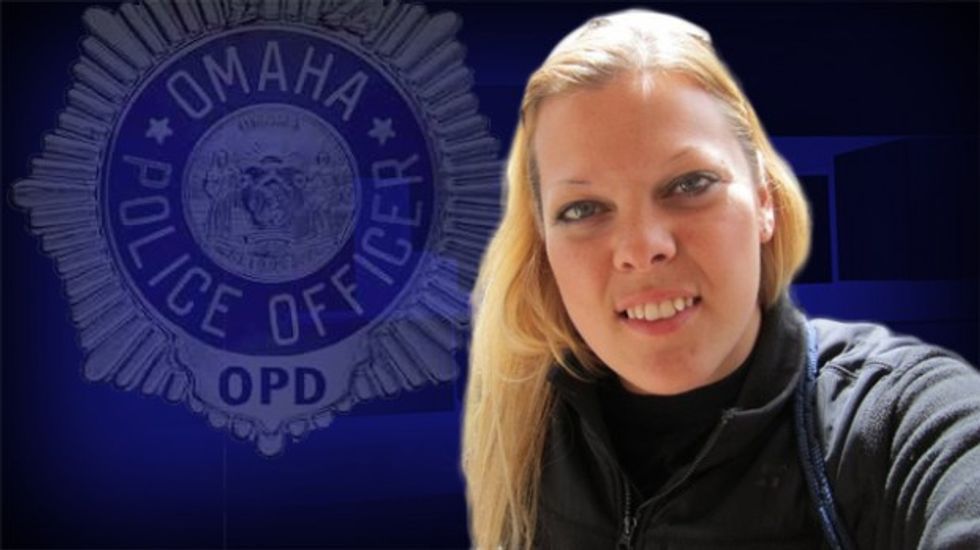 Screengrab via WOWT-TV
Before her daughter, Olivia Ruth, was born prematurely in February, Orozco's original due date had been Tuesday. Instead, it became Orozco's funeral date after Marcus Wheeler, 26, opened fire on officers trying to arrest him in connection with another shooting.
Orozco was hit just above her protective vest by one bullet. Another officer returned fire and hit Wheeler. Both Orozco and Wheeler died at an Omaha hospital.
Besides 3-month-old Olivia Ruth, Orozco was stepmother to Natalia, 8, and Santiago, 6. They are the children of her husband, Hector Orozco Lopez.
Omaha Police Chief Todd Schmaderer said Orozco was a remarkable person and officer.
"I can't think of a better representative of our profession than Kerrie Orozco," Schmaderer said.
Orozco was active in the community she patrolled and volunteered to coach a youth baseball team for the Boys & Girls Club in Omaha. Players she coached attended the funeral.
Hundreds of people lined the streets outside the church Tuesday to pay their respects to Orozco. Several thousand other mourners - many of whom are law enforcement officers from other departments, including from across the country - sat in Omaha's downtown arena watching a video feed of the funeral.
Thousands of people braved rain and unseasonably cool temperatures to line streets along the funeral procession route as Orozco's casket was taken to a Council Bluffs cemetery for her burial after the service.
---