A 7-year-old boy pedaled along the sidewalk in a Boston neighborhood over the weekend past a barber shop on his way to buy a bottle of water. Surveillance video shows him happily cruising in one view, but when it cuts to another, the boy is seen off the seat of his bike on the sidewalk, rolling onto his side.
He had been shot.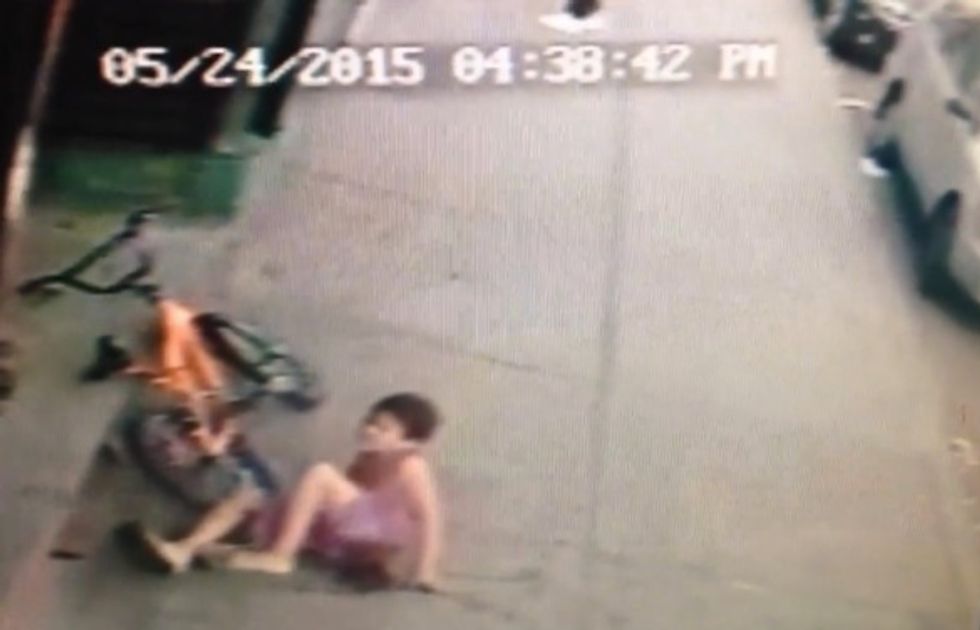 Diven Silva, 7, was shot by what police say was a stray bullet Sunday. He is recovering at a children's hospital and will be OK, but police are still seeking out leads to find the suspect. (Image source: Boston Globe)
A minute later, the boy's mother ran onto the scene and saw something that would make any parent's heart drop — her son's blood starting to stain the concrete.
"It was very emotional to see my son like that," DijaniraDeAndrade, who was inside an apartment when she heard a gunshot, told the Boston Globe. "I thought I was going to lose my son."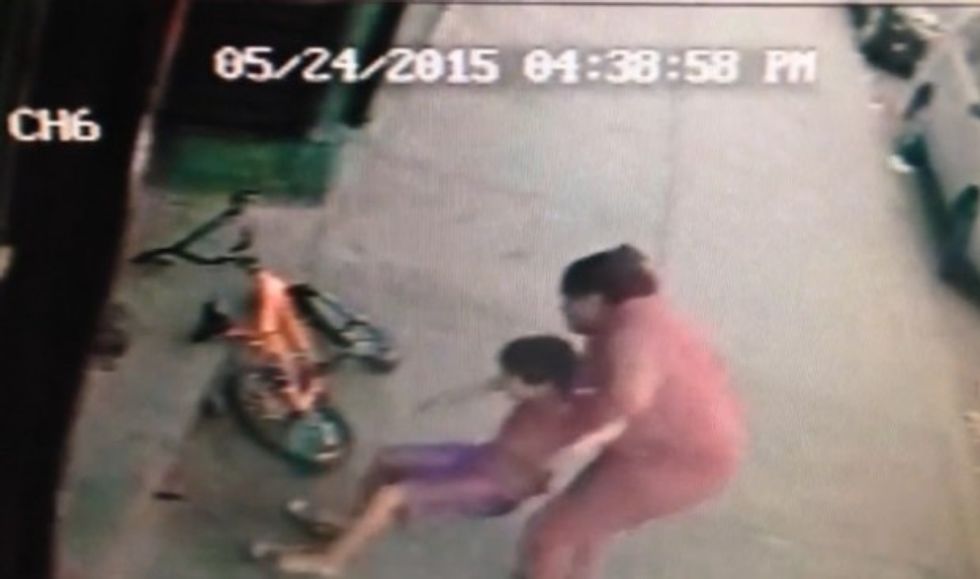 Divan's mother heard a gunshot sound from an apartment. When she rushed outside, she found her son wounded on the concrete sidewalk. (Image source: Boston Globe)
Watch the surveillance footage of the incident:
According to the Boston Police Department, Divan Silva was shot by an apparent stray bullet in his rear thigh after 4:15 p.m. in Dorchester Sunday. Fortunately, Divan is recovering from his wound at a local hospital, but police are still seeking a suspect for this shooting and that of a 20-year-old male who was also treated for a non-life threatening gunshot wound.
The Globe reported that Divan was listed in good condition at Boston Children's Hospital as of Tuesday, and his mother said he can walk with a little help and a little pain.
Though the physical wounds will heal, DeAndrade and the police department are making emotional appeals for anyone with information to come forward.
"It's sort of sad that I'm having this conversation with a 7-year-old boy and his mother," Police Commissioner William Evans told the newspaper.
As of right now, police are searching for a black male between the ages of 14 and 18 years old who was about 5'8", considered heavy set and was wearing a red hoodie with white shorts.
"I hope anyone with information that could help this investigation feels an obligation to share that information," Evans said in a statement posted to the police department's Facebook page. "The 7 year-old boy (Divan Silva) injured in this incident deserves as much. He didn't do anything wrong. He was simply riding his bike to the store when the suspect in this case fired the shot that could've killed him. Our detectives are working around the clock to identify the individual responsible but we need the community's help. If you have information, holding onto it only helps the suspect. Every little bit of information matters. And the person who shot Divan needs to be held [accountable]."
Watch WCVB-TV's report:
DeAndrade told the Globe that she "can't wait for the police to catch him."