Seeking appeal beyond his traditional social conservative base, former Pennsylvania Sen. Rick Santorum launched his second bid for the presidency sounding a populist conservative tone by pledging to stand up for American workers.
"Working families don't need another president tied to big government or big money," Santorum told supporters Wednesday in his hometown of Butler, Pa. "Today is the day we begin to fight back."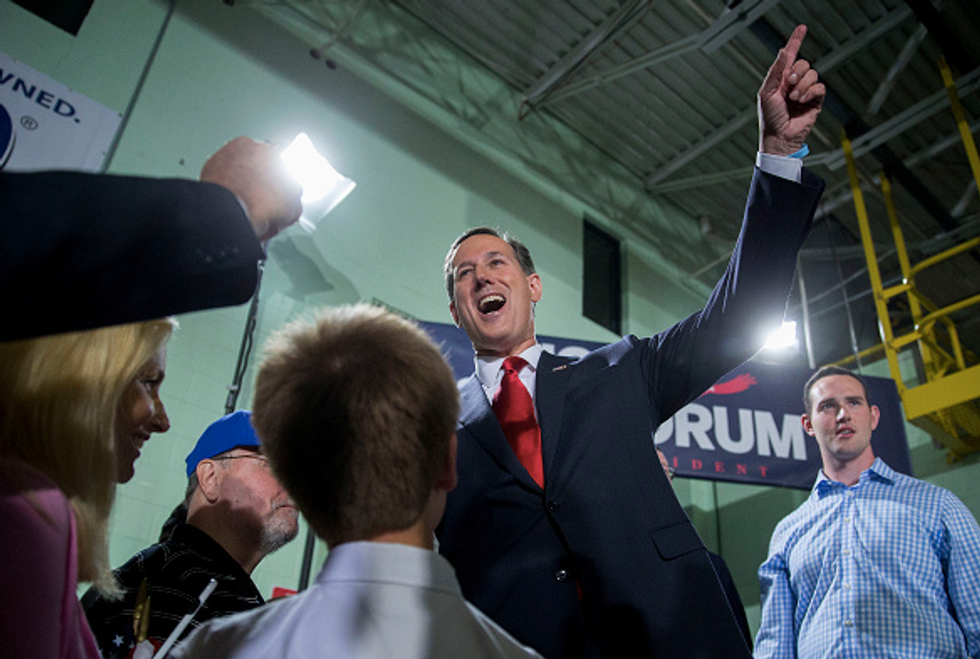 Rick Santorum, former U.S. senator of Pennsylvania, gestures after announcing he will seek the Republican presidential nomination at Penn United Technologies Inc. in Cabot, Pennsylvania, U.S., on Wednesday, May 27, 2015. (Andrew Harrer/Bloomberg via Getty Images)
Santorum said for too long there have been "excesses and indifference of big labor, big government and yes, big business."
Santorum won the Iowa caucus and 10 other states in the 2012 GOP primaries, finishing second behind eventual Republican presidential nominee Mitt Romney.
"Four years ago, no one gave us much of a chance, but we won 11 states and 4 million votes,"  he said. "Not because I stood for something but because I stood for someone, the American worker."
He weighed in on the immigration debate, saying that big business wants more immigrants for cheap labor and Hillary Clinton, the likely Democratic president nominee, wants more immigration for votes.
"There priority is profit and power," Santorum said. "My priority is you, the American worker."
On education, he said that every child deserves an education to help them reach their maximum potential.
"The first step is to join me and drive a stake through the heart of Common Core," Santorum said.
He also called for a flat tax, saying it's time to "scrap the corrupt federal tax code and the IRS that goes with it." On the national defense front, the former senator said, "If I am the next president, we will defeat," the Islamic State.
Though historically he would seem to have an advantage in a party that has a tradition of nominating the previous runner-up, Santorum is entering a more competitive field of GOP contenders for 2016. 
In 2012, the contest was largely Romney versus a field of second-tier candidates, of which Santorum emerged as the last man standing. Moreover, Santorum was the candidate who appealed most to social conservative voters that year. This year, social conservatives can choose from former Arkansas Gov. Mike Huckabee, Texas Sen. Ted Cruz and others.
Santorum is perhaps most known for being a staunch opponent of abortion and same-sex marriage. Though he clearly expanded beyond that during the announcement, he did not forget talk of social value, declaring, "Every life matters: the poor, the disabled and the unborn."
Santorum has long advocated for a rebranding of the Republican Party to appeal more to blue-collar voters. As he noted in the speech, Santorum has  shown himself able to appeal beyond a narrow base as a two-term senator in Pennsylvania, a state that typically votes Democratic in presidential campaigns. He lost his Senate seat in the 2006 Democratic tidal wave to Democrat Bob Casey Jr. by a 17-percent margin.
Santorum has complained about the rules limiting candidate for Republican presidential debates based on their polling, citing that he was at single digits in national polls before surging to second place after his narrow Iowa caucus win over Romney in 2012.