A Colorado teacher is suing his school district over alleged religious discrimination, claiming that the public school where he teaches has an inappropriate relationship with an evangelical church, and is actively promoting Christian ideals.
Robert Basevitz filed a lawsuit against Fremont Re-2 School District in Florence, Colorado, on Tuesday, alleging that Florence High School is promoting the faith-based values of a local church, the Denver Post reported.
The battle reportedly surrounds a local house of worship called the Cowboy Church at Crossroads, which is lead by Pastor Randy Pfaff.
Pfaff, who rents cafeteria space at Florence High School for services on Sunday mornings, hosts prayer meetings around the flagpole before school each day and facilitates Bible studies during lunch periods, told the Post that he doesn't believe that the U.S. Constitution bans God from the public school system.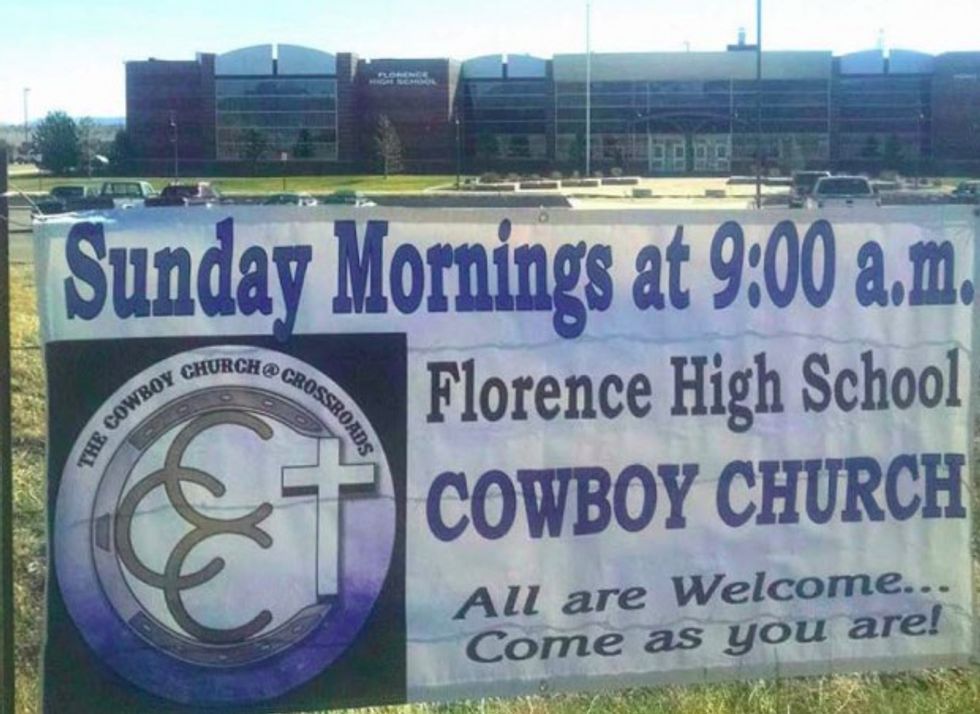 A photo included as evidence in the lawsuit shows a sign advertising church service outside of the school (Basevitz complaint)
"That's absolutely absurd," the preacher said. "This nation was founded on Christianity."
But Basevitz, who is Jewish, takes issue with the relationship between the church and the school, claiming through his attorney that he has felt excluded, and that the public school has endorsed various religious activities.
He also claims that there are signs outside of the school that advertise church services and that the pastor is permitted to hand out fliers advertising Christian events — dynamics that he believes are inappropriate for a pubic school, according to KMGH-TV.
These religious activities reportedly unfold under a student group called the Fellowship of Christian Huskies, which, like any other club, is permitted on campus.
"This is not one or two isolated incidents. On a single day, there were no less than five school-sponsored religious events," Basevitz's lawyer Paul Maxon said. "That is a pervasive involvement with religion, which is illegal."
Basevitz, who reportedly reached out to school and district leaders before taking his complaint to the courts, is seeking an end to allowing the church to be at the school; he also wants to stop Bibles from being given to students, among other grievances, the Post reported.
Pfaff, though, has said that all of his activities at the school have been voluntary and that the student club he oversees hasn't been favored more than any other.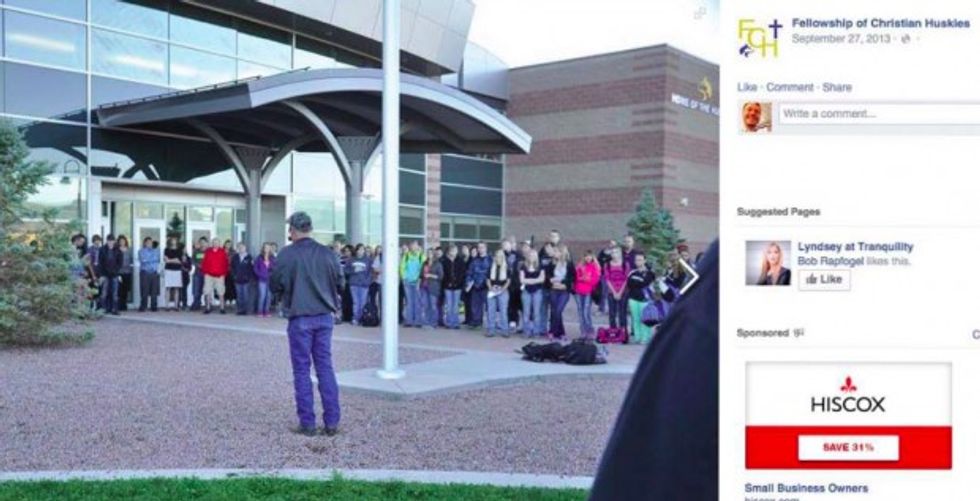 A Facebook post shows kids praying around the flagpole — a common event before school hours at schools across the nation. (Basevitz complaint)
The lawsuit lists the district as well as Florence High School Principal Brian Schipper and Superintendent Rhonda Vendetti. 
"This action seeks declaratory and injunction relief and damages for the pattern and practice of the Defendants' endorsement and promotion of religion in a public school setting," the complaint reads. "Plaintiff states that Defendants' actions are in violation of the Establishment Clause of the First Amendment of the United States Constitution ... Plaintiff asks that Defendants' actions be declared unconstitutional and illegal, and that this Court enjoin them from engaging in any further such activity."
Schipper, for one, has joined Pfaff in pushing back against these claims.
"We're a school. We educate kids. We educate kids in every academic area and social area and life area," he told KMGH-TV. "Religion's not in our curriculum anywhere."
Basevitz also claims that he was sent to a local elementary school to work rather than the high school after he filed an official district complaint.
Read the complaint in its entirety here.
(H/T: Denver Post)