Amid a searing heat wave in Israel, a celebrity chef took the opportunity to demonstrate cooking a pizza in a closed car as a reminder to parents just how dangerous it is to forget or leave their kids in a parked car, even for a very short time.
"It's easy, it's simple and it's sizzling," Haim Cohen of Israel's Master Chef television show said in a video posted Wednesday called "Cooking in the Car" and produced by a child safety advocacy group.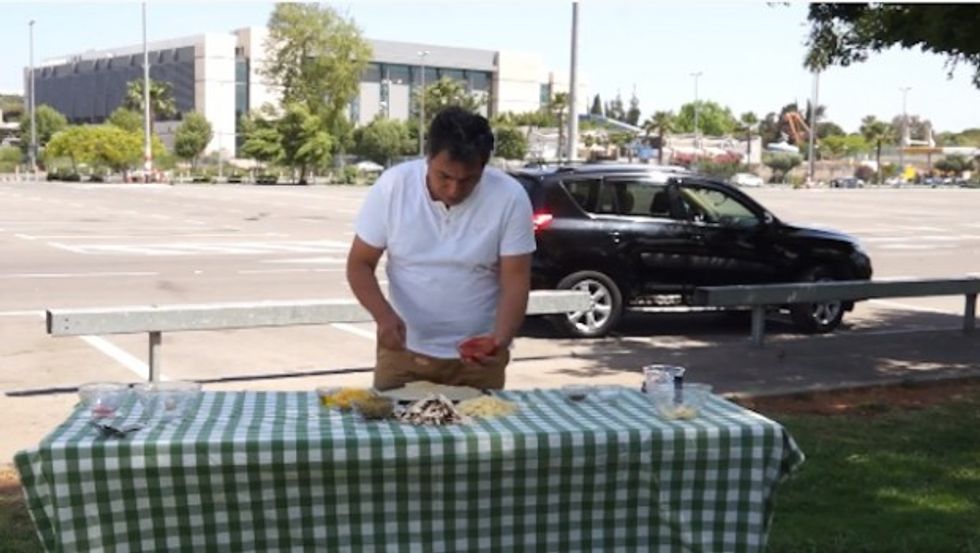 Israeli celebrity chef Haim Cohen began his demonstration by assembling the dough, sauce and toppings. (Screenshot: Facebook/ChefHaimCohen)
Working at a table set up next to a parking lot, Cohen spread the tomato sauce then sprinkled on the cheese and toppings.
"All the toppings that are loved: corn, olives, mushrooms. Now, to the car!" he said.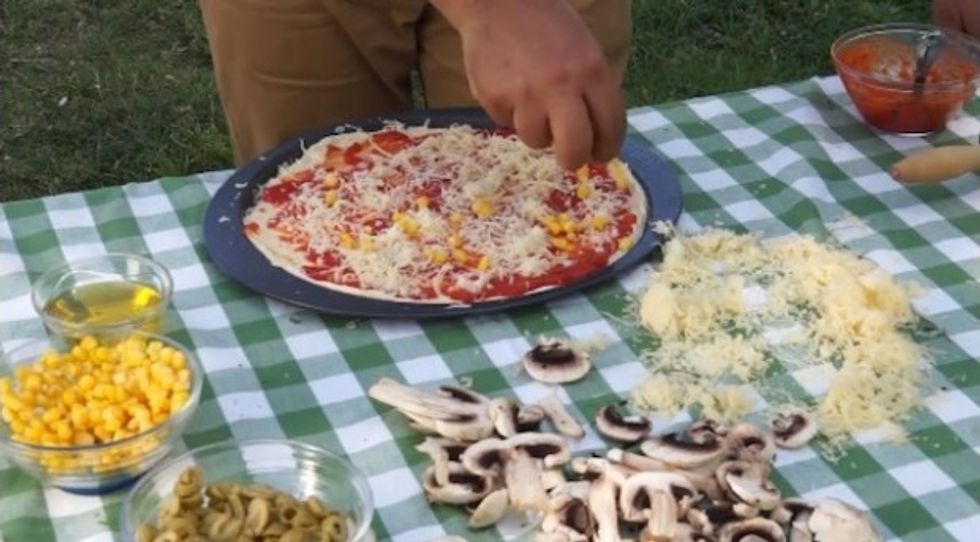 Screenshot: Facebook/ChefHaimCohen
"Half an hour in the car and we'll come back to check," Cohen said.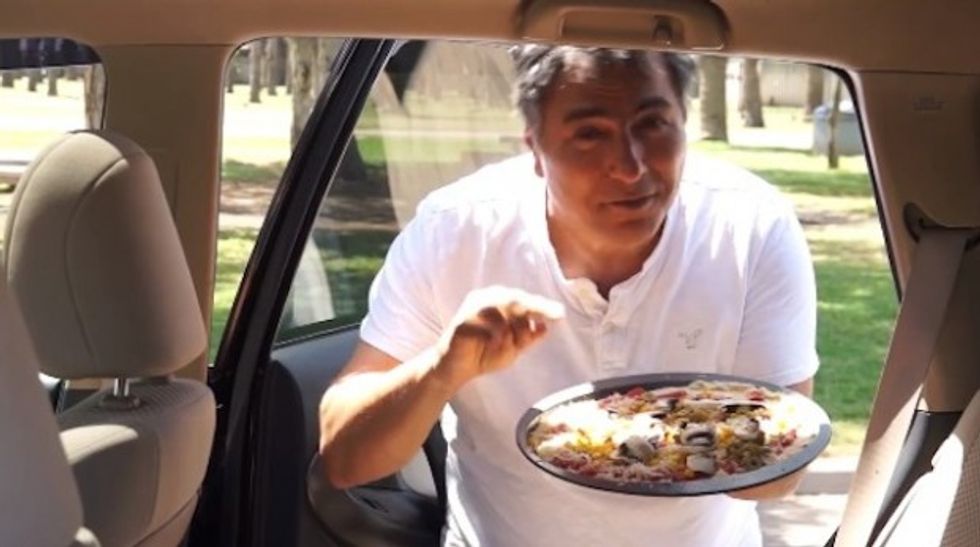 Chef Haim Cohen said, "Half an hour in the car and we'll come back to check." (Screenshot: Facebook/ChefHaimCohen)
Half an hour later, the camera zoomed in on a pizza with a burned crust, which prompted viewers to question the authenticity of the demonstration — even if they agreed with the message.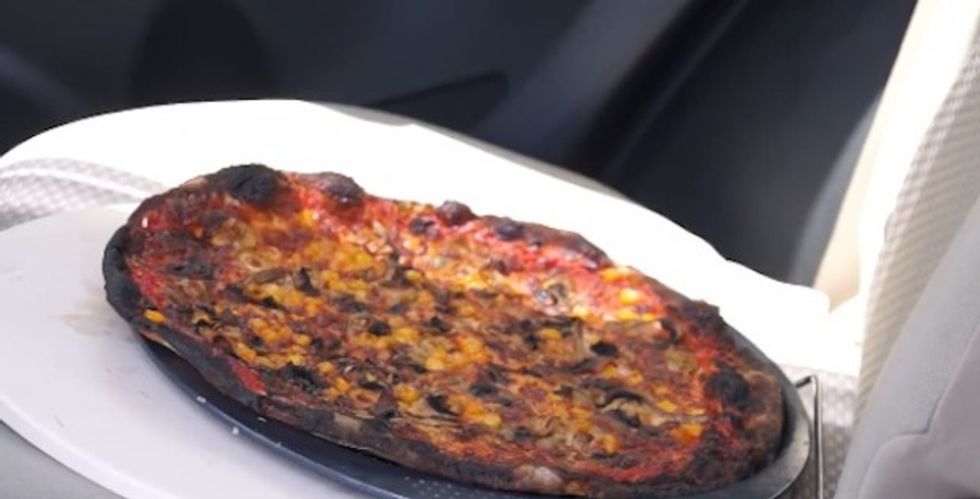 Screenshot: Facebook/ChefHaimCohen
"We also tried this, but a pizza didn't come out even after an hour. True strong message but no need to exaggerate," wrote commenter Ze'ev.
Another online observer called it "rubbish," adding "otherwise all vehicles would burn their apholstery every day. Every newspaper and every bag, no?"
"How is it that there's burned pizza? Perhaps in an oven but in a car, where is the logic ???," wrote a man who identified himself as Yossi.
Beterem-Safe Kids Israel, the group that commissioned the video, told TheBlaze that leaving the pizza in the car for 30 minutes didn't do a good enough job of conveying the message, so the production team put it into an oven for an additional minute to crisp it up.
Though the pizza looked "terrible, horrible" after half an hour in the scorching hot car, Galit Gilad, Beterem's vice president for government relations and public policy, said they "had a problem with the message. The camera didn't know how to convey the message, so we gave it some help."
Gilad urged caregivers not to let that production detail deter from the stark message not to leave children in a car.
"I invite all the skeptics to prepare pizza, put it in a parked car and see what happens in a car," she said and pointed out there are numerous videos online showing demonstrations of cooking using the heat accumulated in a closed car.
"We want people to understand 'it wont happen to me' isn't true. It can happen to anyone," she said of forgetting children in a parked car.
She said raising awareness is especially important these days, not only because Israel has a hot climate and every year children are forgotten in vehicles, but because many drivers face modern-day distractions in the car.
Skepticism aside, the public response to the video was overwhelmingly positive, with Israelis posting comments on Facebook including one woman who wrote, "I still do not understand why parents need to be reminded not to forget children in the car. You may want to ask parents to remain in the car for 10 minutes with the windows closed and then they'll never forget their child."
Another woman said that the scenario of cooking in a car was so powerful it should be "posted online every day," because it could "save lives."
The ultra-Orthodox Israeli website Kikar HaShabbat called Cohen's message "particularly shocking" and said the demonstration was a "must see" for both parents and other family members.
"Dear friends. In the summer, the car is exactly like an oven. Check thoroughly that no child was left in the backseat," Cohen warned parents at the end of the demonstration.
On Wednesday, a toddler was taken to the hospital after he was left in a car for two hours near Tel Aviv, the Times of Israel reported.
According to the U.S. National Highway Traffic Safety Administration, "Cars parked in direct sunlight can reach internal temperatures up to 131 degrees Fahrenheit to 172 degrees Fahrenheit" in summer temperatures.
The raging heat in Israel has led to forest fires, an uptick in reported hospitalizations for dehydration, power outages and even flight delays, according to the Times of Israel.