A high school senior class in New Hampshire is forgoing their overnight senior trip and instead giving the money to their principal battling cancer.
The 2015 class at Profile Junior-Senior High School in Bethlehem, New Hampshire, took the $8,000 they were going to spend on a four-day trip to Rydin' Hi Ranch in Upstate New York and gave it to their principal, Courtney Vashaw, who has a rare form of soft tissue cancer, WBZ-TV reported.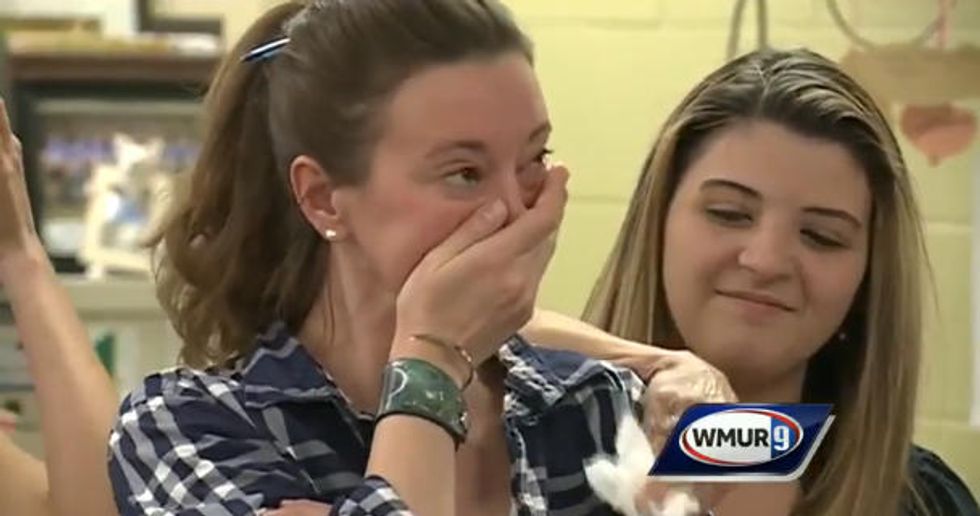 Image source: WMUR-TV
Vashaw said the students had been saving up the money for four years to pay for the out-of-state trip.
"They just have heart," Vashaw told WBZ. "They have some students in the class who have experienced significant health challenges and they know that can take a huge toll on the family."
Senior class president Christopher Sirois said he and his classmates decided to give Vashaw the money because of their connection with her. Sirois said they wanted to give back to their principal because she has given so much to them.
"She's just very caring, very selfless, and we wanted to be selfless, too," senior Ian Baker said.
Vashaw had told her students less than a week before that she had been diagnosed with cancer. She told WMUR-TV that she is usually a private person but since she would not be at school for a while, she felt it was necessary to let them know.
"It is very hard for me to accept help, and I have no idea what to say to you," Vashaw said.

ABC News Videos | ABC Entertainment News
The class is still planning on taking a senior trip, just a little closer to home.
In addition to giving up the trip they'd been saving for, the students will also host a vintage car rally in August to help raise more money for Vashaw, WBZ reported.
"To help raise money for her cause, the students of Profile School will be putting on a vintage rally...on Saturday, August 1, and be holding a car show in town on the Dow on Sunday, August 2. All proceeds from the event will be going straight into Ms. Vashaw's fund," the event website reads.
School alumni who were inspired by the current students' willingness to give have set up a GoFundMe page. More than $800 had been raised as of Thursday morning.
"We, as alumni, have all been influenced by Courtney's strong leadership: whether in the classroom, on a stage, or as we navigate the world at large. She helped us graduate, get into college, and taught us to uplift our communities though caring acts," the page reads.
More here:
(H/T: WBZ-TV)
—
Follow Jon Street (@JonStreet) on Twitter