Two fast food workers in Washington have been fired after a marijuana advocate and another individual caught them on video accepting weed as payment for food.
Jonah Tacoma was ordering through the drive-thru at Frugals in Tacoma, Washington, last month when he offered to give the employees hits of marijuana in exchange for free meals.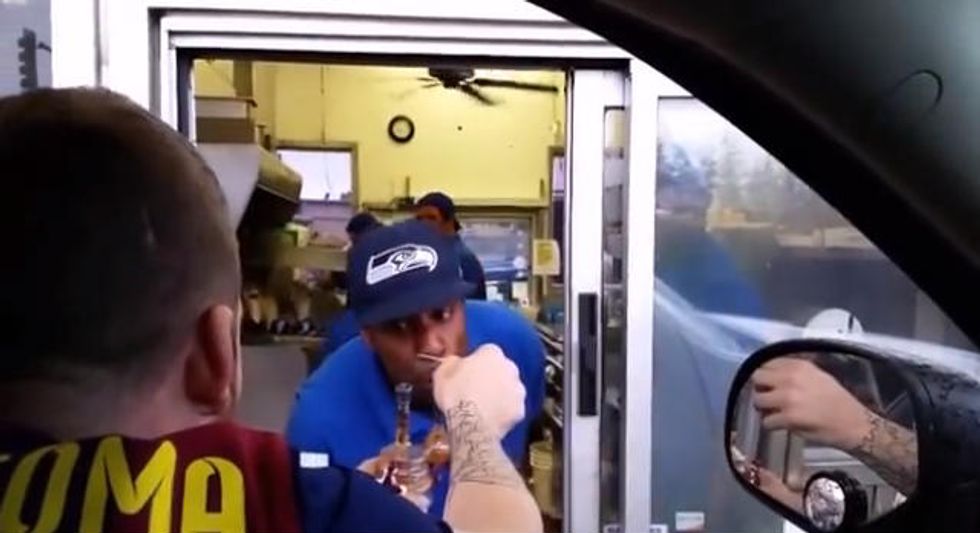 Image source: YouTube
"She said, 'Yeah, sure.' We started filming when we pulled up," Tacoma told KOMO-TV.
The two employees who were caught just asked that Tacoma and his friend not publish the video for at least a week, KOMO-TV reported. So they waited a month and put it on YouTube.
"Who's first?" Tacoma is heard asking workers as he pulls up to the window. Several employees didn't want to have anything to with it, but two others were quick to take the bait.
Watch:
It wasn't long after the video went public that the manager at the store was notified of the incident and terminated both employees. Both had worked there since 2012.
"Frugals has a zero tolerance drug policy in the workplace, and we in no way condone the type of conduct captured," Frugals spokeswoman Laurie Macarty said.
Macarty said it's "very unfortunate" that the behavior by two employees is being "sensationalized" since it does not represent the company as a whole.
Tacoma runs Dabstars, a website that advocates for marijuana use. The drug is legal for anyone over 21 in Washington.
"It was kind of just funny thing that happened," Tacoma said.
Tacoma further argued that he never put the workers' jobs in jeopardy.
"I think they chose to participate. The reality is we are making a statement," he said.
Tacoma told KATU-TV that he parked the vehicle right after taking a dab himself.
"There were some concerns that it was done inside a vehicle... we went right into our parking spot and we were there for the rest of the afternoon because it was right next to where we were going," Tacoma said.
(H/T: KOMO-TV)
–
Follow Jon Street (@JonStreet) on Twitter