Six years ago Heather Ortiz, a captain in the U.S. Air Force, arrived at Evans Army Community Hospital in Colorado ready to welcome her daughter through a scheduled cesarean section. What happened in the events of that birth left her child with permanent brain damage, prompted the family to sue and had some advocacy groups as a whole calling for an evaluation of an over half-a-century-old legal doctrine.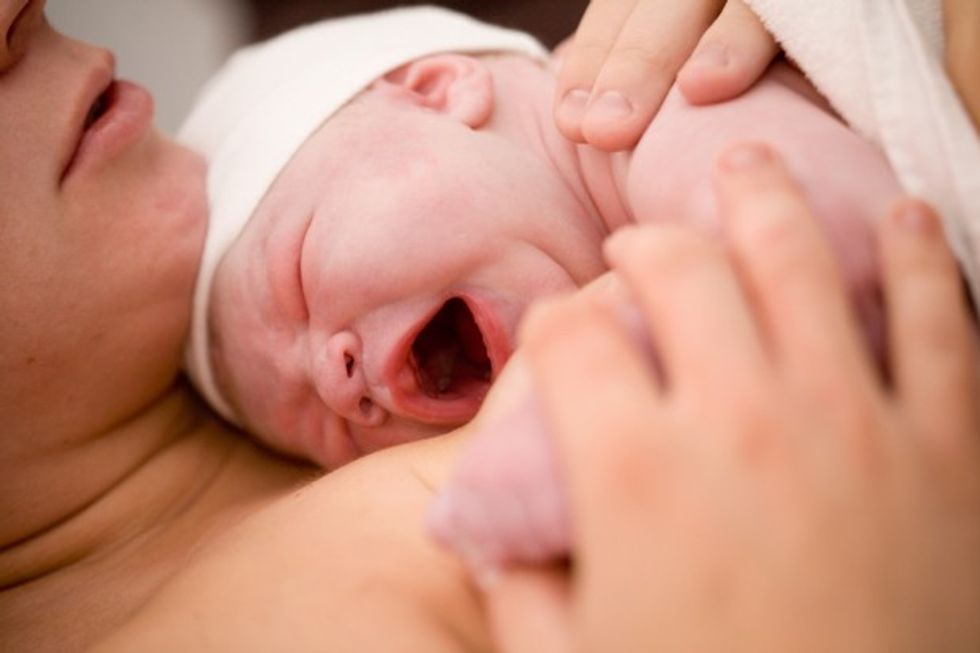 Photo credit: Shutterstock
According to court documents, on March 16, 2009, Ortiz was given Zantac, an antacid that can reduce risk of upset stomach during a C-section. Ortiz though is allergic to Zantac — it says so on her medical records. So to counteract this action, doctors then gave her Benadryl. And that's where things went from bad to worse.
Giving her these drugs led to a significant drop in Ortiz' blood pressure and hypotension, which then deprived her baby, identified as I.O. in court documents, of oxygen while she was still in the womb. As a result, I.O. suffered brain injuries and has cerebral palsy.
The complaint that lists Jorge Ortiz, Heather Ortiz's husband and the baby's father, as the plaintiff also alleges that hospital staff was negligent in its attendance of fetal monitoring strips and "negligent with regard to their care and treatment of Heather Ortiz and I.O." during the whole ordeal. He sought payment for the lifetime of care his daughter now needs.
Jorge Ortiz previously brought the case to court but a district judge sided with the defendant, the United States of America, citing the Feres doctrine, a legal doctrine that dates back to the 1950s and prevents people injured "as a result of military service" from suing the government under the Federal Tort Claims Act.
Jorge Ortiz appealed this decision and earlier this month a judge in the Tenth Circuit Court again sided with the government.
"This case requires us to consider whether the federal government is immune from damages for injuries its agents caused to an active-duty servicewoman's baby during childbirth," Judge Timothy Tymkovich wrote.
"In the many decades since its inception, criticism of the so-called Feres doctrine has become endemic," Tymkovich continued. "That criticism is at its zenith in a case like this one — where a civilian third-party child is injured during childbirth, and suffers permanent disabilities."
In its analysis, the court pointed out how the Feres doctrine has come to include injuries "that are even remotely related to the individual's status as a member of the military." As for the issue of third-party claims, Tymkovich wrote that Feres has "applied to cases beyond those brought by service members to recover for their own injuries."
"A number of cases have analyzed in utero injuries under the Feres doctrine," Tymkovich wrote. "And like with the genesis test more generally, these courts have struggled to ascertain the crux of the genesis test for in utero injuries, disagreeing about whether the starting point is an injury to the service member or simply treatment directed at or for the benefit of the service member."
In relation to I.O.'s injury, the court turned to see if the baby's brain trauma was "derivative of (i.e., had its genesis in) an injury to Captain Ortiz."
"When we weigh all of the competing evidence, and view it in the light most favorable to plaintiff, we find that the injuries that I.O. sustained forming the basis of the complaint are derivative of the injuries to her mother, Captain Ortiz. [...] Accordingly, only if I.O.'s injuries are truly separate from Captain Ortiz's injuries can plaintiff overcome Feres," Tymkovich wrote.
"At bottom, the source of I.O.'s ultimate brain injury was her servicewoman mother's blood-pressure problems," the court analysis continued, noting that these problems were caused by a government employee working at the base hospital. "It does not matter that Captain Ortiz does not allege legal injuries within the complaint; the point is that she was injured incident to service, which would bar her claims and anything derivative of them. The plain fact is that Captain Ortiz's service-related injury led to an injury to her civilian daughter. Even construing those facts in plaintiff's favor, the Feres doctrine — in conjunction with the genesis test — bars I.O.'s claims related to her brain injury."
The family's attorney Laurie Higginbotham told the Military Times that if the situation were reversed — if Jorge Ortiz was an active-duty member of the military and his wife a dependant — it would have been more likely for them to win the case or settle.
Kathy Beasley, a retired navy captain now with the Military Officers Association of America, told the Military Times that "this pathetic situation brings attention back to the Feres doctrine itself. I think, based on what I read in the case, that a re-examination of Feres could be in order."
As Beasley alludes to, Feres has been a point of contention for years now. Rachel Natelson, a legal Director at Service Women's Action Network, wrote a piece for Time in 2013 in which she called Feres "not only a judicial invention, but, more alarmingly, the seed of an ever-increasing body of flawed doctrinal offspring." Feres, for example, has prevented service members who were victims of rape from suing the military.
"Caught in an endless game of hot potato, the Feres doctrine has eluded ownership for over half a century — if the courts won't accept responsibility for their creation, then it's time for Congress to rescue it from their hands," Natelson wrote, calling for a re-examination like Beasley.
Higginbotham told the Times that she plans to appeal this decision to the U.S. Supreme Court.
—
Front page image via Shutterstock.