Vice President Joe Biden announced the death of his son, Beau, after a battle with brain cancer on Saturday. He was 46.
"We know that Beau's spirit will live on in all of us—especially through his brave wife, Hallie, and two remarkable children, Natalie and Hunter," the vice president said in a statement.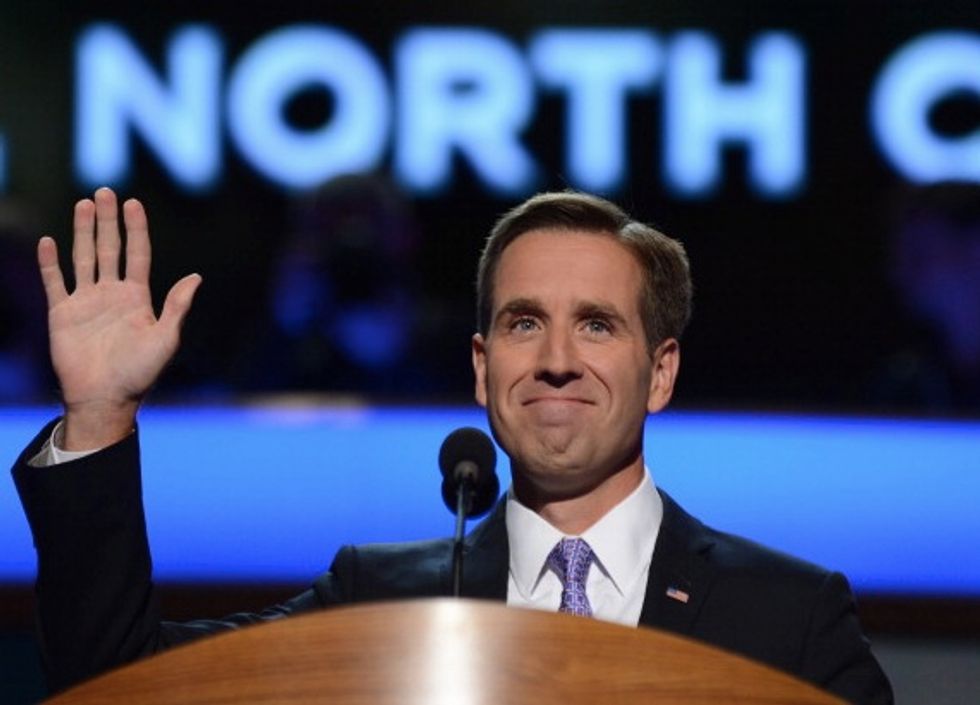 Beau Biden died Saturday after a battle with brain cancer. (Robyn Beck/AFP/Getty Images)
Beau Biden was hospitalized earlier this month at Walter Reed National Military Medical Center. At the time the vice president's office declined to say why he was being treated.
Beau Biden suffered a mild stroke in 2010 and underwent surgery at a Texas cancer center in 2013 to remove what was described as a small lesion.
He announced last year that he would not seek a third term as attorney general and instead planned to run for governor in 2016.
"Beau's life was defined by service to others. As a young lawyer, he worked to establish the rule of law in war-torn Kosovo," the vice president's statement said. "A major in the Delaware National Guard, he was an Iraq War veteran and was awarded the Bronze Star. As Delaware's Attorney General, he fought for the powerless and made it his mission to protect children from abuse."
More from Biden's statement:
More than his professional accomplishments, Beau measured himself as a husband, father, son and brother. His absolute honor made him a role model for our family. Beau embodied my father's saying that a parent knows success when his child turns out better than he did.

In the words of the Biden family: Beau Biden was, quite simply, the finest man any of us have ever known.
President Barack Obama said he and first lady Michelle Obama "are grieving tonight."
"Beau Biden was a friend of ours. His beloved family – Hallie, Natalie, and Hunter – are friends of ours," Obama's statement said. "And Joe and Jill Biden are as good as friends get."
"Like his dad, Beau was a good, big-hearted, devoutly Catholic and deeply faithful man, who made a difference in the lives of all he touched – and he lives on in their hearts," Obama's statement continued.
"But for all that Beau Biden achieved in his life, nothing made him prouder; nothing made him happier; nothing claimed a fuller focus of his love and devotion than his family," the statement added.
The Associated Press contributed to this story.
—
Follow Dave Urbanski (@DaveVUrbanski) on Twitter