After she was bitten by a deadly Komodo Dragon Sunday, an Omaha zookeeper was released from a hospital and is expected to make a full recovery.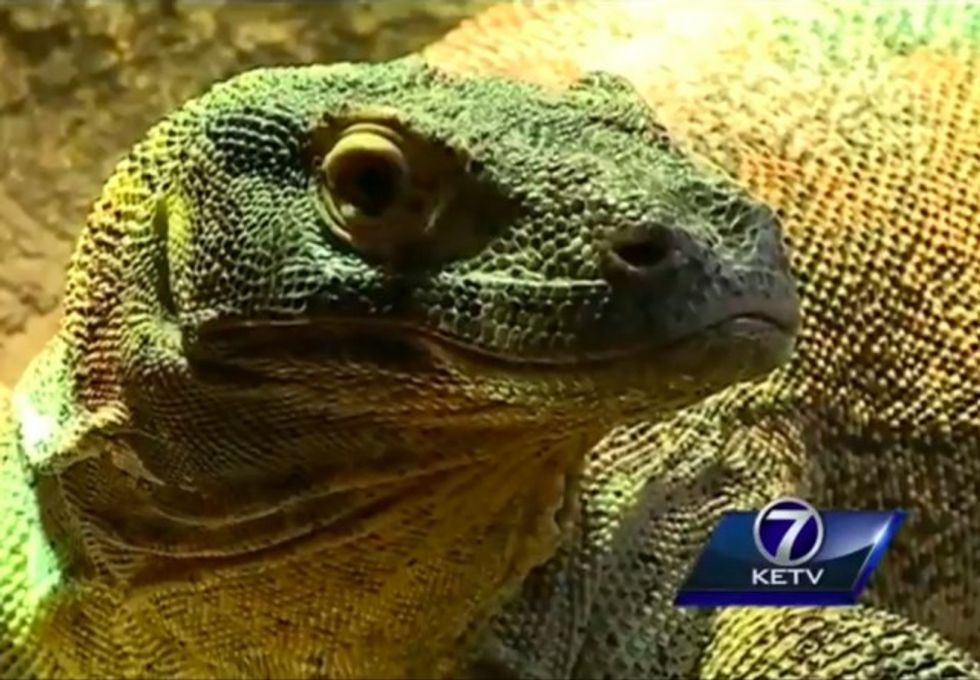 Image source: KETV-TV
The zookeeper was bitten in the hand by the lethal lizard while performing routine animal care at the Henry Doorly Zoo and Aquarium, KETV-TV reported. She was transported to a hospital in critical condition, the station said, but was soon stitched up and given antibiotics.
The Komodo Dragon in question is one of the younger ones at the zoo — about 4 feet long. But once in adulthood, they can grow to 10 feet in length and tip the scales at 300 pounds. They're the heaviest lizards on Earth.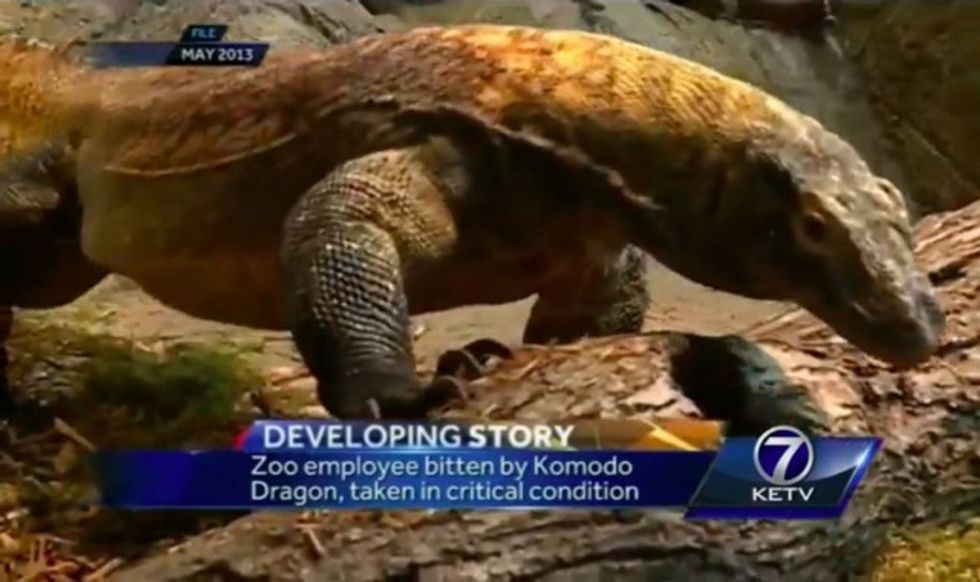 Image source: KETV-TV
"Komodos, even though they've got this fierce reputation — they eat deer, they're scavengers, they're venomous, they have a bacterial mix in their mouth — all that said, they're nice," Zoo Director Dennis Pate told KETV earlier this month. There are two other Komodos at the zoo.
According to National Geographic, Komodos will eat humans: "When a victim ambles by, the dragon springs, using its powerful legs, sharp claws and serrated, shark-like teeth to eviscerate its prey."
More from National Geographic:
Animals that escape the jaws of a Komodo will only feel lucky briefly. Dragon saliva teems with over 50 strains of bacteria, and within 24 hours, the stricken creature usually dies of blood poisoning. Dragons calmly follow an escapee for miles as the bacteria takes effect, using their keen sense of smell to hone in on the corpse. A dragon can eat a whopping 80 percent of its body weight in a single feeding.
—
Follow Dave Urbanski (@DaveVUrbanski) on Twitter