A fawn in Cedar Springs, Michigan, born with a rare genetic mutation that left his face and other parts of his body completely white is being cared for at a farm after he was rejected by his mother.
The irony is that the baby deer's own mother is a genetic mutation herself, known as a piebald whitetail deer.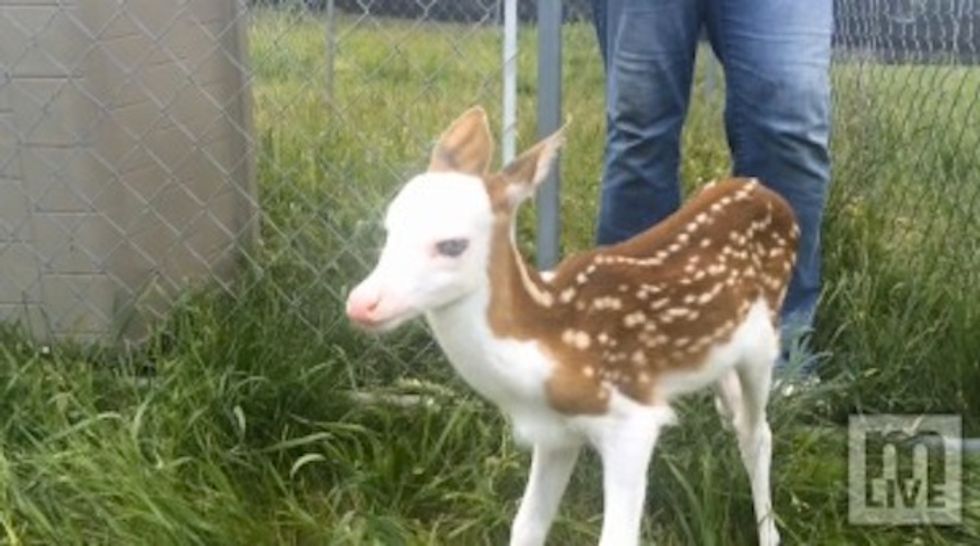 Image source: MLive
Hilary Powell told MLive the 1-week-old deer named Dragon born at Deer Tracks Junction was likely rejected by his mother because of his physical differences. For now, Dragon is bottle fed, but when he's old enough he'll join other deer in a larger pasture.
According to the Virginia Department of Natural Resources, the piebald genetic anomaly is different from albino in that true albino deer would have pink eyes and white hooves. The piebald condition is seen in less than 1 percent of the deer population.
Watch MLive's report about the animal:
The fawn's name, in case you're wondering, was chosen by Powell's 19-year-old son who thought the farm could stand to have an animal with a more masculine sounding name, MLive reported.
Deer Tracks Junction is a working farm with a variety of animals and is open to tourists during certain parts of the season.
This isn't the first time we've seen deer that have unusual coloring. Check out other instances here, here and here.
—
Front page image via Shutterstock.