Last week, a bit of aviation history was made and cameras were rolling to capture it.
Amy Butler, a senior editor for Aviation Week, was on board the USS Wasp, an amphibious ship, where she witnessed the first F-35B Lightning II operational test trials. One of the most amazing parts is seeing the aircraft hover and descend slowly in a vertical landing.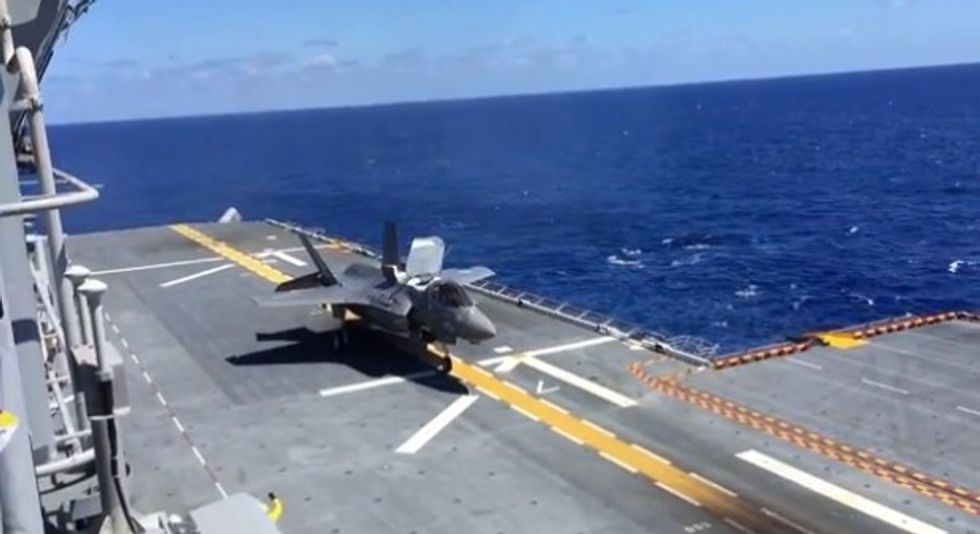 Image source: YouTube
"During OT-1, actual Marines — not test overseers — are operating the six F-35Bs that embarked May 18 for the tests; this includes pilots and maintainers," Butler wrote. "During DT (developmental testing), we got to see firsthand the first vertical landing and short takeoff at sea, but in OT-1, the Marines are demonstrating a cadence to operations to gain confidence the single-engine, stealthy fighters can assimilate into an air wing onboard the amphibious ship, which will include other platforms: the MV-22, CH-53E/K, AH-W/Z and unmanned air systems among them. This is all leading up to what the operational debut of the F-35B, slated in July."
The F-35B Lightning II by Lockheed Martin can do short takeoffs and vertical landings. According to the defense contractor, the plane also features supersonic speed capabilities and "radar-evading stealth, extreme agility."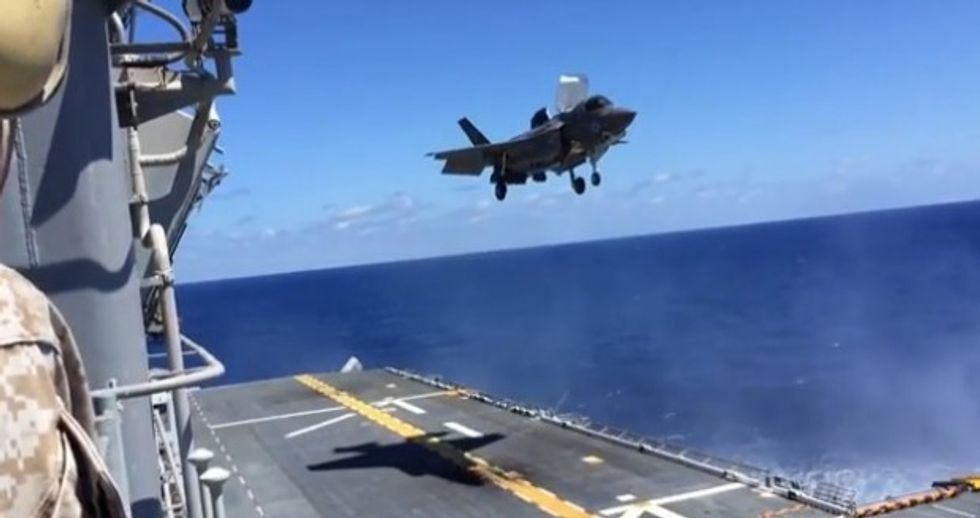 Image source: YouTube
"The F-35 Lightning II is the most versatile, agile and technologically advanced aircraft in the skies today, enabling our Corps to be the nation's force in readiness, regardless of the threat, and regardless of the location of the battle," Lt. Gen. Jon Davis told WTRK-TV. "As we modernize our fixed-wing aviation assets for the future, the continued development and fielding of the short take-off and vertical landing, the F-35B remains the centerpiece of this effort."
Butler's video is about eight minutes long, but it features the plane's short takeoff capability (around 2:10) and a stunning vertical landing (starting around 3:00). Then there's a bit of a lull in the action until around 6:10 when another F-35B comes in for a vertical landing and then pulls forward to take off only a couple of minutes later.
Butler offered a "word of caution" for watching the video.
"Turn down your speakers or headphones, or grab a cranial," she wrote. "[It's] very loud."
Check it out: